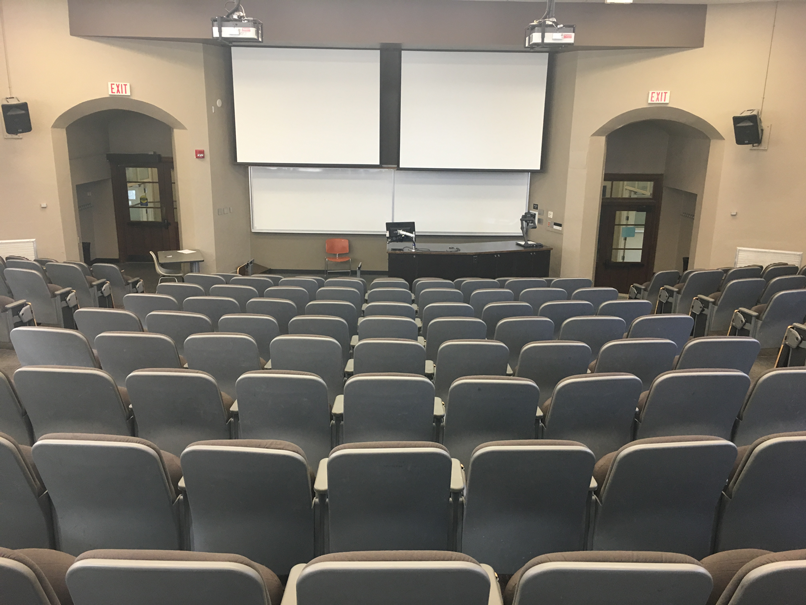 Alumni go back to school
Arts homecoming event brings alumni back into the classroom on Sept. 14 and 15
September 6, 2017 —
While it might have been a while since they last received instruction in the Faculty of Arts, alumni had the opportunity during Homecoming 2017 to return to the classroom and see how teaching and learning in the liberal arts has changed, or if it hasn't changed as much as they would have expected.
For the two days where Back to School events were held, instructors opened their classes to alumni who wanted to sit in. Using Thursday and Friday of Homecoming week, a diverse cross-section of classes were opened for alumni to experience, from courses in the reading of Latin to quantitative methods in economics, and even sociology of the body. Alumni were invited to attend classes on the list of open classrooms, where they were asked to introduce themselves to the professor before the class begins.
Instructors who have opened their classes to alumni have found their presence beneficial to their own teaching as well. Professor Christopher Fries in the Department of Sociology said of the event, "I haven't had a lot of visitors but when I do, I value their contribution to the courses. Last year, as I prepared to begin my lecture on the scope of Health Sociology in Canada, a middle aged gentleman came up to the lectern and introduced himself as an [alumnus] participating in Back to School. While he didn't ask any questions during my lecture he did brighten my day by stopping on his way out of the classroom to shake my hand and thank me for the interesting lecture."
The presence of alumni provides professors with a diversity of instruction that they might not gain otherwise, as well as provide alumni with opportunities to experience the contemporary classroom. Together, they introduce one another to different ideas and perspectives on materials.
Professor Niigaanwewidam Sinclair, who routinely invites alumni into his class beyond Back to School says of the practice, "I always have alumni visit my classes throughout the year and their perspectives are valuable and appreciated."
The yearly list of classes available as part of Back to School are available on the Arts Homecoming webpage.
Homecoming 2017 is a chance to reconnect, reminisce, and celebrate. Join the U of M community at our Brown and Gold Brunch or meet up with fellow alumni at faculty, college, and reunion events all week long.