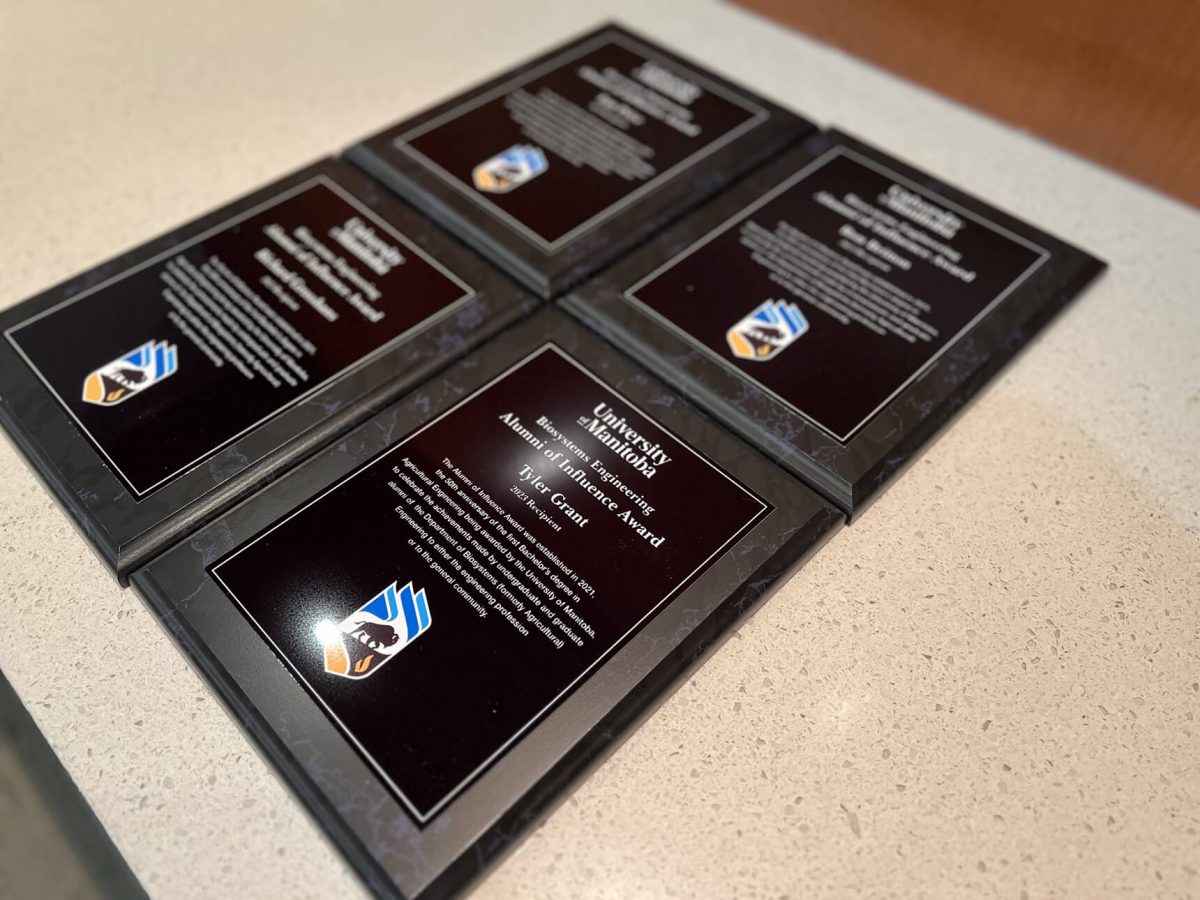 Alumni achievements celebrated by Department of Biosystems Engineering
November 15, 2023 —
Four alumni from the Department of Biosystems Engineering were recently recognized for their accomplishments.
The Biosystems Engineering Alumni of Influence Awards were established in 2021, the 50th anniversary of the first Bachelor's degree in Agricultural Engineering being awarded by the University of Manitoba. The Alumni of Influence Awards are intended to help celebrate the achievements made by alumni of the Department of Biosystems (formerly Agricultural) Engineering who graduated from either the undergraduate or graduate programs. Separate awards are selected for those alumni who graduated prior to 1995 from the Department of Agricultural Engineering and those who graduated after 1995 from the Department of Biosystems Engineering. Recipients of these awards are selected by the Department of Biosystems Engineering Alumni Awards Committee.
Recipients for 2023
Undergraduate (pre-1995): Tom Price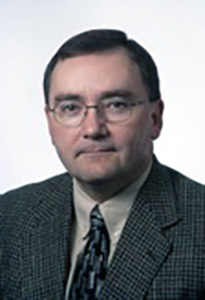 Tom immediately began to distinguish himself as an Agricultural Engineer when he entered the workforce as a design engineer with Cargill in the late 70's. Some if his early achievements included detailed machine design associated with some of the largest conveyor drives the industry had seen at that time. He also took a very deep dive into car progressioner equipment and solved the early functional problems plaguing the early models. Tom's guiding influence is evident in the evolution of many of the slipform concrete grain elevators which dot the prairies today. At the time of his retirement, Tom was generally seen as the most knowledgeable and talented grain handling design engineer in the industry in Canada.
Through the middle years of Tom's career, he mentored many young engineers. In a way, they became disciples. His influence is thus widened by those who had to privilege of working with Tom. Tom's focus remained throughout his career on innovative design and effective project management. He was always striving to improve and learn as the industry evolved. He also shared his knowledge broadly with anyone who asked for his help or advice. It did not matter whether requests came from internal or external, Tom was always willing to share his engineering knowledge and experience. Tom's influence extended to the international field in three major ways. One was his involvement in the CIDA sponsored Egypt Silos project. Another was his representation of Manitoba's Agri-Industrial sector through AgriTec. Tom traveled extensively internationally representing our industry throughout the world. Finally, Tom accepted volunteer leadership positions with the Grain Elevator & Processing Society culminating as International President. In the latter portion of his career, Tom directed the construction of the most technically advanced canola crushing facility in Canada, located in Yorkton, SK. Finally, as his swan song, Tom led the design for the most advanced and capable export grain terminal anywhere in the world: the G3 Terminal Vancouver. G3TV went into operation in May of 2020. It represents the single largest private investment in Western Canada in history. Not a bad way to go out.
Beyond Tom's leadership roles in grain companies, he also served the industry with extensive volunteer time at GEAPS (Grain Elevator and Processing Society), both locally and internationally. Ultimately, he was voted International President of GEAPS – a position that he held for two consecutive years.
Undergraduate (1995-present): Tyler Grant
After studying Biosystems Engineering and graduating in 2010, Tyler attended the University of Oxford as a Rhodes Scholar and MIT as a Max Planck Fellow to develop novel tissue engineering and drug delivery solutions. As a biotech entrepreneur, he went on to spin-off a company called Lyndra Therapeutics in Boston, where he leads research and development. Currently, he is the Senior Vice President of Pharmaceutical R&D at Lyndra, playing a critical role in translating the first ever Long Acting Oral (LAO) dosage form from concept to clinic. His primary responsibility was driving drug development (formulation, drug product, clinical manufacture, management). Tyler has accumulated over 10 papers and 15 patents along the way in addition to numerous awards for his leadership in the field.
Tyler is particularly passionate about a collaboration he established with the Bill and Melinda Gates Foundation whose goal is to eradicate malaria from the globe. He is developing a platform that has the potential to treat hundreds of millions in Africa and Southeast Asia. Tyler draws inspiration from meeting patients in the field and listening to their stories, from young mothers in Africa to a grandparent struggling with dementia here at home. The personal stories energize Tyler to continue innovating for those who need it most.
Graduate (pre-1995): Ron Britton
The University of Manitoba's Price Faculty of Engineering enjoys the reputation of being a national leader in terms of engineering design education. In many ways, this reputation can be traced back to the efforts of Dr. Ron Britton. Ron completed an MSc in Agricultural Engineering in 1969 before heading south for a PhD from Texas A&M University. Ron returned to the University of Manitoba in 1974 as an Assistant Professor in the area of structures. Ron honed his skill in teaching design during his days as a professor in the Department of Agricultural Engineering; this pre-dated the existence of a dedicated first-year engineering design class.
The creation of the first-year engineering design course, that we now know as ENG 1430 Design in Engineering, is due to Ron's vision and leadership – and he became the course instructor for several years. Ron was an inaugural recipient of an NSERC Design Chair in Canada, and subsequently became an Associate Dean (Design Education) in the Price Faculty of Engineering. The concept of the "engineer-in-residence" can be traced back to the original design chair proposal; the Price Faculty of Engineering now employs several engineers-in-residence to bring practical engineering experience into the classroom and to extra-curricular student teams. Ron created a solid foundation for the teaching of engineering design in the Price Faculty of Engineering that has continued to grow and evolve under the leadership of two subsequent NSERC Design Chair holders. In fact, the Price Faculty of Engineering now officially houses the Centre for Engineering Professional Practice and Engineering Education that has grown out of the original "design office" that Ron established. As a faculty, we no longer just teach engineering design. Individuals within the Centre for Engineering Professional Practice and Engineering Education also participate in engineering education research. Within the past couple of years, a Graduate Specialization in Engineering Education (GSEE) was introduced in the PhD program within the Department of Biosystems Engineering to enable doctoral students to get formal recognition for research conducted in the area of engineering education. Ron may not have personally done all of the work behind these recent innovations, but his initial efforts to promote the engineering design education within the Department of Biosystems Engineering and the Price Faculty of Engineering undoubtedly set us on the path we have taken.
Graduate (1995-present): Richard Grosshans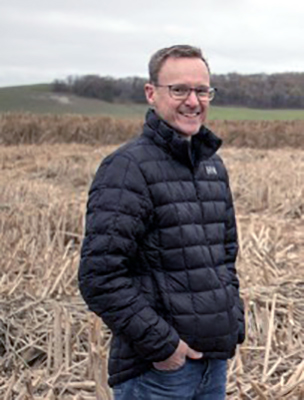 Richard received his PhD in Biosystems Engineering in 2014 for his thesis entitled "Potential water quality improvement in Lake Winnipeg, Canada, through Netley-Libau Marsh: utilizing a natural wetland for nutrient removal and bioenergy production". During this time Richard held the prestigious NSERC IPGS Research Scholarship. After graduation, Richard joined the International Institute for Sustainable Development and is currently serving as their Bio-remediation Lead in their Water Program. His current research crosses multiple disciplinary boundaries focused on integration of water, energy, and nutrient management with sustainable agriculture, bioproducts, and bioenergy.
Richard is the lead research scientist on the award-winning and internationally recognized Lake Winnipeg Bioeconomy project and Netley-Libau Nutrient-Bioenergy project, which have contributed towards policies on nutrient and surface water management, wetland protection, GHG emission reductions and offsets, and reduction of phosphorus loading in Canada and internationally. This research explores innovative watershed-based bioeconomy approaches that generate environmental and economic benefits to address integrated issues of flooding and nutrient loading. Richard is affiliated with the Paludiculture research group in Germany, and is collaborating on water and nutrient retention projects in Canada and the US.
Richard's work at IISD has included geographic analysis of water issues in Canada, watershed changes in Hungary, international policy influences to deforestation in the Amazon, Environmental Goods and Services (EGS), and biomass energy in Europe and Africa. Prior to IISD, Richard worked as a research biologist for Ducks Unlimited Canada, examining long-term trends and human impacts in wetlands.