Alum Jordan Miller shares her work with the UM community at her local gallery 
The St John's College alumni (grad, 2002) showcase her work at the upcoming "Journey to the Stars" exhibit as she tells her artist story.
October 4, 2023 —
It all started in 1997 for Jordan Miller, as a St John's college residence student. From the small town of Carman, Manitoba, Jordan was creative from a young age.
She discovered the Fine Arts program at the University of Manitoba, where she began her university career following in her families' footsteps as she joined St John's college residence.
Fast forward to 2002, when she graduated from Fine Arts with a minor in art history, where she opened a gallery with her friends to display her artwork. In 2002, she had nowhere to display her artwork, so a group of friends started a gallery and studio space. In 2006, Jordan left that space to renovate 2-125 Adelaide Street, along with her partner at the time and opened cre8ery gallery in Winnipeg, Manitoba.
Jordan has owned the gallery for 17 years and is a proud solo-entrepreneur. Going into her 18th year in business, Jordan is excited to launch her "Journey to the Stars" exhibition at the Pulse Gallery from October 1st until 31; the gallery will be open from Monday to Saturday, 11 am – 6 pm, and Sunday, 12 – 5 pm.
The story behind this exhibit comes from Jordan's story of letting go. As a child living in a small town, Jordan found peace when she looked up at the stars, which she used to guide her when she felt lost or overwhelmed. Bringing her story to life through her art, Jordan mostly shades of blue alcohol inks which she finds calming in exploring her connection to the land, the sea, and the sky. In March 2024, she will exhibit at cre8ery in an exhibition she calls "Letting Go."
Find below an example of her artwork displayed in this exhibit.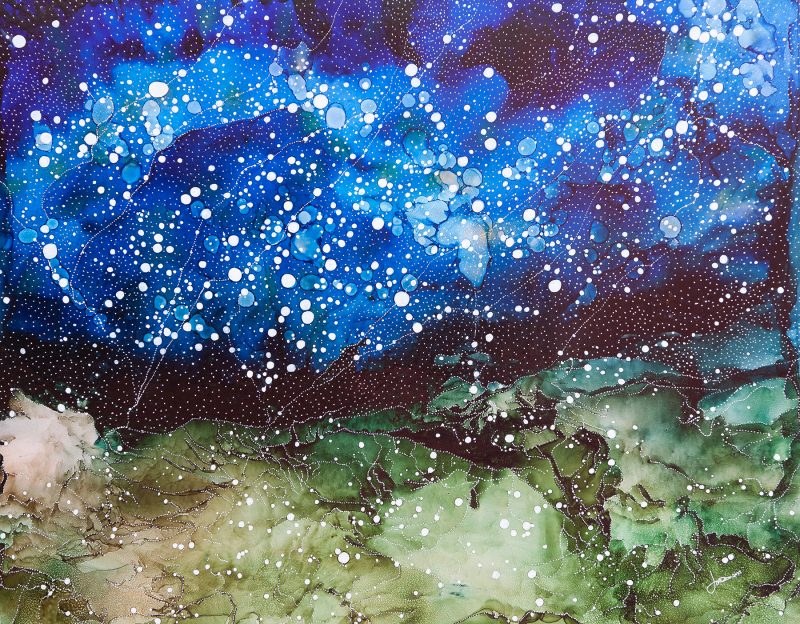 Thank you, Jordan, for sharing your story.
Read more about Jordan's work at the link here.