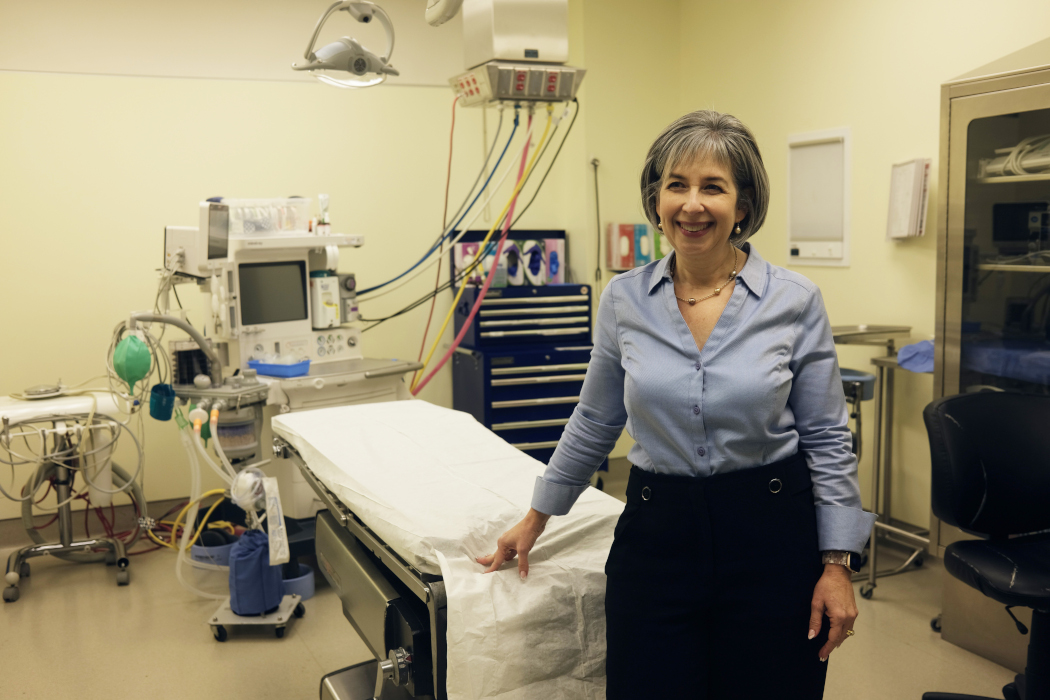 All Smiles
July 5, 2023 —
Carla Cohn [DMD/91] has spent her 30-year career making a difference in the lives of little ones.
The general dentist has devoted her life's work to treating children and helping them feel confident about dental care.
"I work with kids so they can feel that they've been successful in our office, so they leave feeling almost like a hero — like they've won, which empowers them," she says.
Cohn, a lifelong Winnipegger, is a passionate advocate for children's oral health. Children's "baby" teeth are often dismissed as unimportant, she says, by both parents and dentists.
But unhealthy baby teeth can affect sleep, eating, the proper growth of permanent teeth and the development of speech. And kids should be free from pain and infection, Cohn says, so they can have a fulfilling childhood.
"Those are the years when you learn to speak, try new foods and have the confidence to smile and make friends," she says. "That's the time we're forming our lives."
Although her patients have always been kids, Cohn made a big change two years ago. She launched Kids Sleep Dentistry Winnipeg, a solo practice at Western Surgery Centre, a private surgical clinic.
Now she exclusively sees kids who need treatment under general anesthetic because they are either too young, too fearful, have special needs, or require too much dental work to be able to tolerate treatment in the chair.
"I thought my time, energy and expertise would be better spent seeing kids in the operating room," she says. "There's a huge demand for surgeries across the province."
Cohn's knowledge and expertise have made her a sought-after speaker, across Canada and internationally. She lectures on all topics related to children's dentistry in the general practice, from materials and techniques to cutting-edge technologies.
"I'm motivated to teach practising dentists because I can make a bigger impact on more kids," she says. "For example, there's a recent innovation called esthetic pediatric crowns. For patients and their parents who are sensitive to esthetics, they now have an option for decayed teeth to be fixed with white, rather than silver, crowns."
Throughout her career, Cohn has also taught in the undergraduate pediatrics clinic at the UM dental school – now the Dr. Gerald Niznick College of Dentistry – from which she graduated in 1991.
Cohn, a former president of the Manitoba Dental Association, says she will always remember the first patients she treated as a student.
"There was the gentleman who received my first filling, the woman who was my first crown placement patient and the child who fell asleep while I was working on his teeth," she says. "The trust they had in me was remarkable to me at the time. It made me work even harder to give my best."
After dental school, Cohn completed a one-year children's dentistry internship at the Children's Hospital of Winnipeg. It made her realize that she preferred treating kids over adults. She loved making their dental experiences easier, whether it was by calming a fearful preschooler or gaining the trust of a child with special needs.
"Kids are just the best," she says.