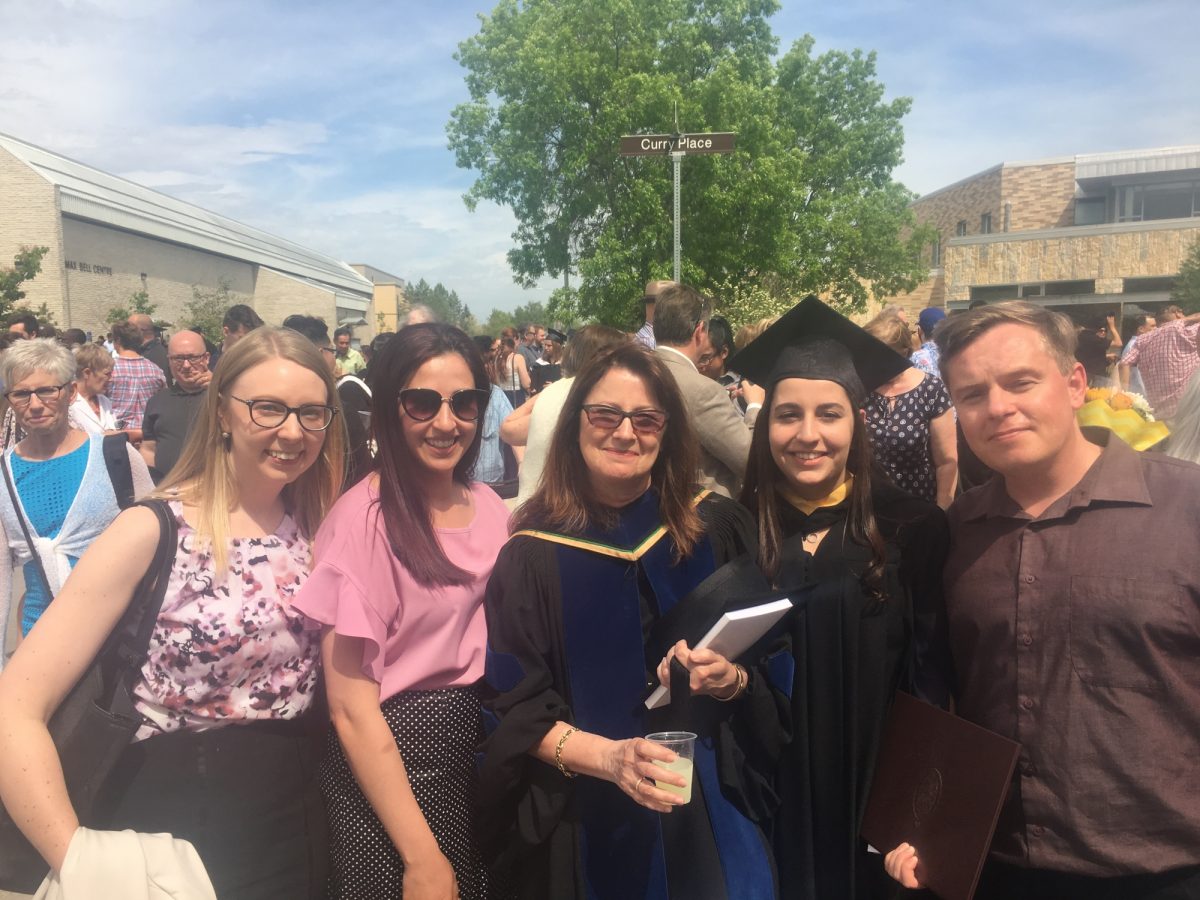 "A strong student advocate": Dr. Silvia Alessi-Severini wins mentorship award
June 25, 2020 —
Dr. Silvia Alessi-Severini, recipient of this year's Ed Kroeger Mentorship Award, has teaching in her DNA.
"I come from a family of teachers," says Alessi-Severini. "My grandfather was an excellent teacher. Other members of my family were teachers. It's just this call that came to me."
Alessi-Severini is an associate professor in the College of Pharmacy and a scientist at the Manitoba Centre for Health Policy. She received the award from the Health Sciences Graduate Student Association council, which recognizes excellence and distinction in mentorship, teaching and research.
The students who nominated her say she has supported them in numerous ways, such as helping them find them office space, serving as an advisor for their student club and giving them opportunities to gain teaching experience by teaching in her course.
Dr. Amani Hamad, a postdoctoral fellow at the George & Fay Yee Centre for Healthcare Innovation, was advised by Alessi-Severini as a PhD student.
"She is a strong student advocate," says Hamad. "She guided me through manuscript submissions and was there to review and edit and encourage me when I was faced with rejections. She always attended our presentations to give us feedback and cheer us on."
Alessi-Severini says she tailors her approach to mentoring students depending on their personality and level of experience.
"If the student is just starting out, you need to be a coach. As they progress to be more independent, you are a motivator, a facilitator, then a delegator." she says.
The students say Alessi-Severini celebrates their successes, hosting social events at her home to celebrate milestones such as student defences and graduations or to welcome new faculty members.
"She mentors not only grad students but junior faculty members. She really helps set a good work environment, very collaborative, and she made graduate school a very positive experience all around," says PhD candidate Donica Janzen, who is supervised by Alessi-Severini.
Master's student Olasumbo Ojo says that while Alessi-Severini is not her advisor, she takes the time to chat and answer questions and her passion for pharmacoepidemiology rubs off on those around her.
"It's inspiring because she's so passionately involved with pharmacoepidemiology. It makes me want to do and learn more. It's now my focus," says Ojo.
Janzen says she was a key person in growing pharmacoepidemiology as a research area at the University of Manitoba.
"For me she's a very good example to look to when considering a career in academia. She is very committed to service in the university and to teaching. She has very high standards for research, doing it with integrity and making sure the methods are rigorous and our research is well-designed," says Janzen.
Alessi-Severini credits her own mentors at the College of Pharmacy with helping her to build her skills and lending her support, including Dr. Colleen Metge and Dr. Keith Simons.
"I don't think I have a natural way of being a mentor, I just imitate what my mentors did with me," she says.
In turn she encourages senior students to mentor younger students.
"As a mentor, you can see the talents of some students, some have the qualities to be natural leaders."
One thing that Alessi-Severini feels strongly about is helping students secure financial support by writing letters of recommendation and encouraging them to apply for awards, saying the support available for students, particularly international students, is very limited.
"We should support graduate students more, and not only from the academic perspective. It's an important aspect that we need to address," she says.
Alessi-Severini says she was surprised when she found out about the award and that her students didn't tell her they had nominated her.
"I felt really humbled and honoured. You don't expect it, since this is my job, but when it comes from your students, it's very rewarding as a teacher. I would like to thank the students, it's been a privilege to work with them and they share this with me."
The Ed Kroeger Mentorship Award is named in honour of Dr Edwin Kroeger, professor of physiology and pathophysiology, Max Rady College of Medicine, who chairs the annual national Canadian Student Health Research Forum at UM, Canada's premier event for graduate student researchers in the health sciences. The forum provides a venue for health research trainees from across the country to present their work, network, attend presentations on innovative research, and be recognized for their scientific accomplishments.