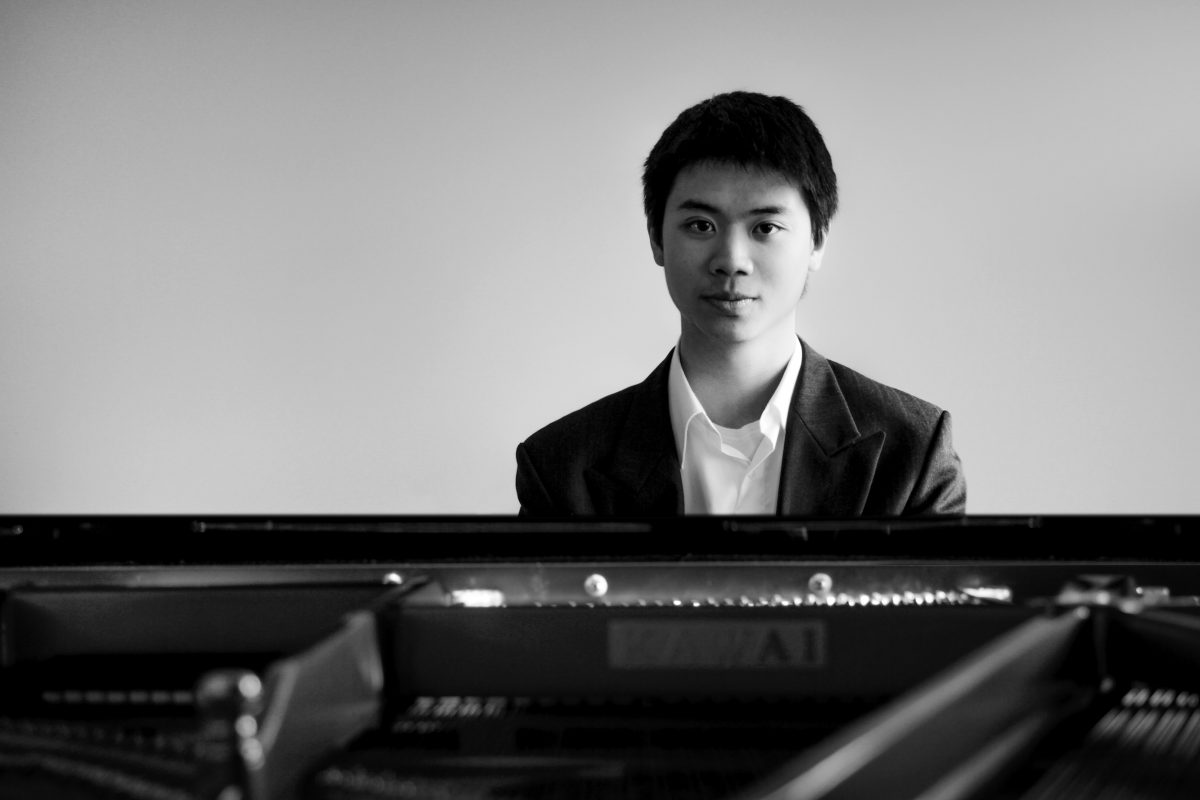 Albert Chen is not to be missed, and we will definitely miss him!
2020 DFOM graduate Albert Chen wows audiences across Canada and worldwide.
June 4, 2020 —
NOTE: We in the Desautels Faculty of Music are incredibly proud of our students. While COVID-19 is sidelining in-person commencement ceremonies around the globe, we want to find alternate ways to celebrate our graduates and give them the recognition due to them. Until we can gather together to properly applaud the years of study and practice that have led to this milestone, please join us in congratulating our 2020 Desautels Faculty of Music graduates.
Today we celebrate Albert Chen!
The 2020 graduate, who has earned his Bachelor of Music in piano performance, has been the recipient of every accolade available to him.
Prior to joining the Desautels Faculty of Music, Albert Chen was already making a name for himself as a musician and scholar. Chen, who was born in the United States, considers his hometown Taipei, Taiwan, and who moved to Canada as a child (first to Vancouver, and then to Winnipeg), was named a President's Scholar at the University of Manitoba (applicants must have minimum high school average of 95 percent). In addition to his high school academic achievements, at age 15, he was also a winner of the 2015 American Protégé International Piano Competition, for which he travelled to New York City and performed in Carnegie Hall.
There has never been a competition that didn't love him
In 2019 alone, at the Winnipeg Music Festival (WMF), Manitoba's premiere classical music competition, Chen won six different trophies and bursaries, including the Aikins Memorial Trophy, the Jean Broadfoot Trophy, the Ann Lugsdin Memorial Bursary, the Wednesday Morning Musicale Bursary and Award. He also won the 2019 Lieutenant Governor's Trophy, the WMF's top trophy, which is awarded for "the most outstanding solo or group performance during the Festival."
Chen's win of the Aikins Memorial Trophy, awarded for "the most outstanding performance in a competition of Diploma Level instrumentalists," came after placing as runner-up in the category for multiple years. In an interview with Winnipeg's Classic 107, Chen told interviewer Simeon Rusnak that in the year prior to his win, he had changed the way he approached the competition.
"I treat each year as an opportunity to share my music with more people," he said.
"I focus on my music, how I play, and what I want to express in the moment," he added.
The Aikins win earned him a place in the Virtuosi Concert Series, where he opened for renowned pianist Gabriela Montero. Chen had previously performed in the series as the 2018/2019 prize winner of the Young Artists Program, opening for the acclaimed Gryphon Trio.
Shortly thereafter, Chen found himself a feature of the CBC, where he was named one of Canada's "30 hot Canadian classical musicians under 30," a list that also included Desautels alumna Jillian Bonner and University of Manitoba Symphony Orchestra conductor Naomi Woo.
Among his many other honours, Chen went on tour across Manitoba and Saskatchewan as the winner of the biennial 2018 Canadian Federated Music Teacher's Association (CFMTA) Western Young Artist Series Competition, and received the 2019 WMC Scholarship in the Women's Musical Club of Winnipeg Scholarship Competition. He also appeared as a soloist with the Winnipeg Symphony Orchestra in June 2019, performing the 3rd movement of Tchaikovsky's Piano Concerto no. 1.
In his second year in the Desautels Faculty of Music, Chen won the faculty's Genser Competition, for which he earned a place performing a concerto with the University of Manitoba Symphony Orchestra. His performance was phenomenal, both technically fantastic and filled with incredible emotion.
"My proudest moment as a student was sharing the stage with the University of Manitoba Symphony Orchestra and Maestro Pellicano performing Beethoven's Piano Concerto no. 5 'Emperor,'" he says.
Of the many pieces he has learned and mastered during his time in the faculty, the Emperor concerto performance piece was one of Chen's favourites. Other favourites included Shostakovich's Prelude and Fugue no. 24 in D minor (the piece he performed when he won the Aikins Memorial Trophy), and Rachmaninov's Etude-Tableaux op. 39 no. 5. In ensemble performance, he performed with the University of Manitoba's Symphony Orchestra, Wind Ensemble, Concert Band, and Concert Choir.
Faculty mentors
Chen's musical relationship with this faculty mentor began in middle school.
"My main mentor was Dr. David Moroz, who has guided me on my musical path for 10 years now," he says, having first studied with Moroz in his private studio. He expounds on his thanks to Moroz in his acknowledgements below.
"It has been such a pleasure working with Albert these many years, guiding him through his early successes as a talented, focused youngster, watching his exponential growth as a young artist after joining us here at the Desautels Faculty, reaching the level where he performs the most demanding music with great ease and eloquence – all the while securely anchored by a calm, intense determination and unerring vision of his final goals!" says Moroz of Chen.
Credit Recital
Due to the disruption caused by COVID-19, the Desautels Faculty of Music had to cancel all of its remaining events for the 2019-2020 season. In addition to final ensemble performances, about 40 student credit recitals were cancelled, including those of many graduating students, whose final credit recitals serve as a sort of capstone project showcasing what they have learned throughout their studies. Unfortunately, Chen's recital was among the cancelled.
For what would have been his final performance in the faculty, Chen had chosen Beethoven's Piano Sonata no. 26 "Les Adieux", Scarlatti's Sonata in F minor K 69, Rachmaninov's Prelude op. 23 no. 4, and Pictures at an Exhibition, by Mussorgsky.
Acknowledgements
"I would like to thank both my parents for always supporting me with everything I do. My dad flew overseas from Taiwan to attend my concerto performance with UMSO and recital tour across Manitoba and Saskatchewan, and my mom has attended every single one of my performances and competitions, so I'm really grateful to have them by my side," says Chen.
"I would also like to thank Dr. Moroz for guiding me over the past 10 years – ever since I was in middle school! – and helping me develop into the musician I am today. He has given me numerous invaluable advice over the years and presented me with virtually all the opportunities there were that helped me get to where I am now," he says of Moroz.
"Last but not least, I would like to thank Ross Salvosa, who was my first piano teacher, introduced me to the world of classical piano and sparked my passion for it when I was 10 years old. Without him, piano would probably not be a huge part of my life the way it is now," he says, finally.
Next steps
As Chen plans for the future, he is preparing to apply for medical school, and we have no doubt that he will be every bit as successful a doctor as he has been a musician! While it might seem a surprising shift of course, doctors who studied music in school prior to medical school have a high rate of success.
Beyond the intricate manual dexterity and precision that all music students learn in their practice of music, they also have incredible focus, keen critical thinking skills, and real-life experience in expertly managing performance anxiety.
Perhaps most importantly, though, is a musician's ability to learn from both mistakes and successes, coupled with their humility to reflect on how they might improve, or how outcomes might be altered through the use of different approaches. Musicians make great doctors!
You can read more about doctors who have prefaced their medical careers with the study of music in this 2018 CBC article about why medical schools actively recruit music students.
As he embarks on this new path, Chen has the following advice for incoming students:
"Work hard, practice smart, and make the most out of every single opportunity available to you both inside and outside the faculty," he says.
Albert, we know that you will end up with a successful medical practice. We hope you will build in some time in your busy days to perform piano, as well, because the world is so enriched by your gorgeous music!
PS: Can we please be put at the top of the list when you begin to accept patients?