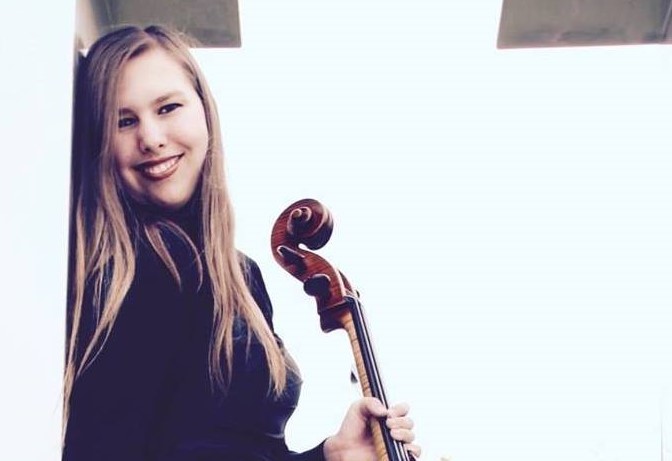 What CAN'T Alaina Majewski do?
2020 DFOM graduate Alaina Majewski gets it done, and by "it" we mean EVERYTHING.
June 25, 2020 —
NOTE: We in the Desautels Faculty of Music are incredibly proud of our students. While COVID-19 is sidelining in-person commencement ceremonies around the globe, we want to find alternate ways to celebrate our graduates and give them the recognition due to them. Until we can gather together to properly applaud the years of study and practice that have led to this milestone, please join us in congratulating our 2020 Desautels Faculty of Music graduates.
Today, we celebrate Alaina Majewski!
You may have seen Alaina Majewski around the faculty. We say MAY, because mostly, she's simply a flash of movement dashing between all of her activities and commitments.
Majewski has never encountered a musical endeavor that she didn't want to be a part of, whether in performance or in administration. While her concentration for her master's degree was cello, she is also an accomplished flutist, and she continued to perform flute at high levels throughout her degree.
"I have performed with UMSO [the University of Manitoba Symphony Orchestra], Collegium, the C-String Collective, and three piano trios. I also guested on cello with the choirs for one concert and wind ensemble for another," she says.
"Additionally I participated in the 2017/18 U of M flute choir though I am not sure if it was officially an ensemble," she says.
On the administrative end, Majewski was highly involved in organizing and representing the faculty.
"For this school year I was the Librarian and Orchestra Manager for UMSO as well as the Grad Rep for FMSA," she says.
In her role as librarian and manager, she would pore over the orchestra scores, programs, and recordings for UMSO, ensuring that the terms of the contract were satisfied, that all of the program notes were correct, and that all of the players were included in the programs. Her battles with the faculty photocopiers were epic, and she usually won, which is a massive accomplishment in itself, and a fight that many of us administrators have simply given up trying to win!
When she delved into the orchestral archives, she found that some of the information was missing or incorrectly organized, so she took it upon herself to come up with a meticulous and comprehensive cataloguing system that would make life easier for those who came after her. It was an incredible feat, and we are extremely grateful for her doggedness in getting it done!
Music has always been her life
It comes as no surprise that Majewski is so incredibly well-versed in all things music. It has been a major part of her life since she was a toddler. At an age when most children are still trying to master the gross motor skills to feed themselves without leaving most of their meal on the floor, Majewski was already on the path to musical greatness.
"I started piano lessons at age three, and cello at age four so this year was year 20 for me and the cello," she says.
"I started the flute around the age of nine and after a brief five month experiment with the saxophone returned to the flute at age eleven adding the piccolo at thirteen," she adds.
With her intense interest in music, a career in the field was a foregone conclusion for her.
"I don't think I ever considered a career or life plan where music would not be a component or at least a secondary form of employment," she says.
"For many years I wanted to be a meteorologist but that didn't mean I couldn't still compose, teach or potentially play in a symphony along with that or any other career choice," Majewski adds.
We're positive that she could do two highly-skilled careers with no problem, because we've seen her do it on a daily basis in the faculty!
In the faculty
From the very start of the program, she showed that she could do anything with one arm tied behind her back, and we mean this almost literally.
When she arrived for her audition for the DFOM master's program, the seasoned performer had an uncharacteristic bout of performance anxiety due to a serious injury from which she was still recovering.
"It was a particularly stressful audition for me, as it was one of my first major performances after fracturing my elbow at the end of November [only a few months earlier]," she says.
Still, her performance was impressive.
"Based off of that audition, I received the Marcel A. Desautels Faculty of Music Graduate Scholarship for the first two years of my degree," she says of that day, which was a proud moment for her, and gave her the confidence boost she needed to know that she was back on track, both health-wise and musically.
After that, she burst onto the scene in the Desautels Faculty of Music, taking advantage of every opportunity available to her. In addition to her extensive faculty ensemble work, she was also a fierce competitor.
"In first year I was one of the finalists for the concerto competition which was extremely exciting," she says.
"In second year my piano trio participated in the Winnipeg Music Festival [WMF] and we were recommended to compete at the provincial level of the national competition," she says.
While her trio did not progress further that year, she still marks it as being a favourite experience in the faculty.
"I really enjoyed the entire process," she says.
"Preparing our pieces and working with two other musicians that I really clicked with, as well as all the excellent coaching we received, amounted to an amazing experience."
That same year, she entered the WMF playing flute.
"With loads of encouragement from Layla, Dr. Chung and Emma – who was teaching for Dr. Chung while she was on sabbatical – I participated in Winnipeg Music Festival on flute in the National Class," Majewski says of her dual competition performances.
Though the preparation was likely stressful, it paid off in spades!
"I was recommended to provincials and from there I was recommended to the nationals where I represented Manitoba in Woodwinds at the National Music Festival last August," she says.
"It was a wonderful experience and I learned so much just from the process and being there to hear so many talented young musicians from across the country," she adds.
What an amazing representative she is for Manitoba. However, we think we'll have to train the Regina, Saskatchewan native in our ways and culture better if she is to ever represent Manitoba, again.
"A non-zip-up hooded sweater with a front pocket is a bunny hug not a hoodie!" she exclaims, following it up with "Go Leafs Go!"
In her third year in the faculty, Majewski showed no signs of slowing down, and even added arranging credits to her CV!
"For this year, aside from finishing all my degree requirements, the C-String Collective performed a Disney Medley which I arranged before the February MCO [Manitoba Chamber Orchestra] concert," she says of the concert.
"It was an honour to perform Alaina's stellar arrangement of Walt Disney medleys at the Manitoba Chamber Orchestra concert, our last ensemble concert of the year!" says Minna Chung, associate professor of music, Majewski's major practical study instructor, and the director of the C-String Collective.
"I was glad to receive positive feedback regarding the arrangement!" Majewski says humbly.
She also added her cello talents to the tours of professional musicians.
"Two other highlights from the last three years include playing in the backing orchestras for 2Cellos and Michael Buble," she says.
She and the C-String Collective even played with Grammy-winning cellist Nick Photinos this past year, performing for both the faculty, and Groundswell audiences.
Faculty mentors
"There were many members of the faculty – including some who are now retired – that I found inspiring," says Majewski.
"However for me four mentors stand out – Dr. Minna Rose Chung, Dr. James Maiello, Dr. Judy Kehler Siebert and Layla Roberts," she says of her faculty mentors.
"They were all incredibly supportive advisors and patient listeners concerning my cello playing, paper writing and beyond. Dr. Chung especially was a great influence on me and the way I play the cello," she adds.
"Alaina has impressed me with her studious approach to her assignments, admirable skills in research, and her dedication towards her musical studies at the Desautels Faculty of Music," says Chung.
"She is a shining example of our wonderful programme and an integral link for The C-String Collective!" Chung adds.
"Collegium turned out to be something I thoroughly enjoyed," says Majewski of her work with the ensemble.
"My first year in Collegium, we performed a Cantiga de Santa Maria involving a dancing pork chop that still makes me smile," she says of a piece that became one of her favourites.
"Participating in Collegium allowed me over the last three years to learn to play the Viola da Gamba – a long held dream – and sing as well," adds Majewski, as if learning more instruments was the thing that was missing from her life. (We're kidding, Alaina. You're absolutely amazing!)
For his part, James Maiello, associate professor of music and director of Collegium Musicum, the DFOM ensemble that focuses on early music, feels the same about the experience of having Majewski in his ensemble.
"It has been intensely rewarding to work with Alaina over the last several years," he says.
"Her intelligence and work ethic have a made an astonishing amount of musical and intellectual growth possible, and there's no limit on what she can accomplish," Maiello adds.
"Working in the Collegium Musicum, Alaina took on new instruments and responsibilities, and the ensemble will really miss her continuo playing. It was also a pleasure to share our love of history while working on her study of solo cello repertoire in England. I'm so proud of all Alaina has accomplished, and I'm excited for her as she moves on to a new chapter," he says of this rising star.
Credit Recital
Due to the disruption caused by COVID-19, the Desautels Faculty of Music had to cancel all of its remaining events for the 2019-2020 season. In addition to final ensemble performances, about 40 student credit recitals were cancelled, including those of graduating students, whose final credit recitals serve as a sort of capstone project showcasing what they have learned throughout their studies. Unfortunately, Majewski's was among the cancelled.
"I was supposed to play the Third Bach Cello Suite, Halcyon by Jocelyn Morlock (a Canadian Composer originally from St. Boniface), Vaughan-Williams's Six Studies in English Folk Song, Beethoven Cello Sonata No. 4, and three pieces by Gabriel Faure (Apres un Reve, Papillon and Sicilienne). Additionally the other members of the cello studio were going to join me for a surprise encore of the Disney Medley," she says.
The credit recital would have also provided a thread that bound together her entire musical career to this point.
"What I thought was especially unique about this recital is that in it there is a piece (or movement of a piece) that I had once studied with every one of my former cello teachers," she says.
"My performance of Sicilienne was going to be dedicated to Dr. Dominic Gregorio, who was the Director of Choral Activities at the University of Regina," says Majewski of one of her undergraduate mentors.
"He was a wonderful person and very inspiring to many people. Unfortunately he passed away unexpectedly last year. Now Sicilienne reminds me of a piece I sang in his choirs and conducted for his choral conducting class," she says of the piece.
Acknowledgements
Majewski would like to offer the following acknowledgements to those who have supported her:
"I would like to thank the entire faculty and staff of the DFOM for making the DFOM a great place to learn, especially Dr. Chung, Dr. Maiello, Dr. Kehler Siebert, Dr. Woo, Layla, Emma and Amanda. I would also like to thank [DFOM collaborative pianist] Lisa Rumpel who was an absolute joy to work with, as well as the rest of the cello studio, Collegium and UMSO. You were great colleagues and friends who I will dearly miss next year."
"Outside of school I would like to thank my Mom, Dad, Grandmothers, my extended family in Winnipeg, members of the CTK choir back in Regina and my friends who were always there for me. I am also very grateful for my former instructors/professors/teachers and collaborative pianists over the last 21 years of learning music especially Barbara Fitzpatrick, Sandra Cosbey and Michelle Wheeler who have all been extremely influential on my development as a musician and a person. Thank you for believing in me and I hope I have made you proud."
Next steps
This upcoming year, Majewski will be returning to the University of Regina to pursue its Secondary BEd After Degree Program, because why not add teaching to her long list of accomplishments and skills?
Alaina, when do you even sleep?!
As she departs, she has some words of advice for incoming DFOM students.
"Be prepared to work hard and understand that you will have loads of amazing experiences," she says.
We're not sure that anyone could work as hard as Alaina Majewski. She is absolutely unstoppable, and we will miss seeing her seemingly teleport across the faculty, accomplishing everything simultaneously!
Congratulations, Alaina!