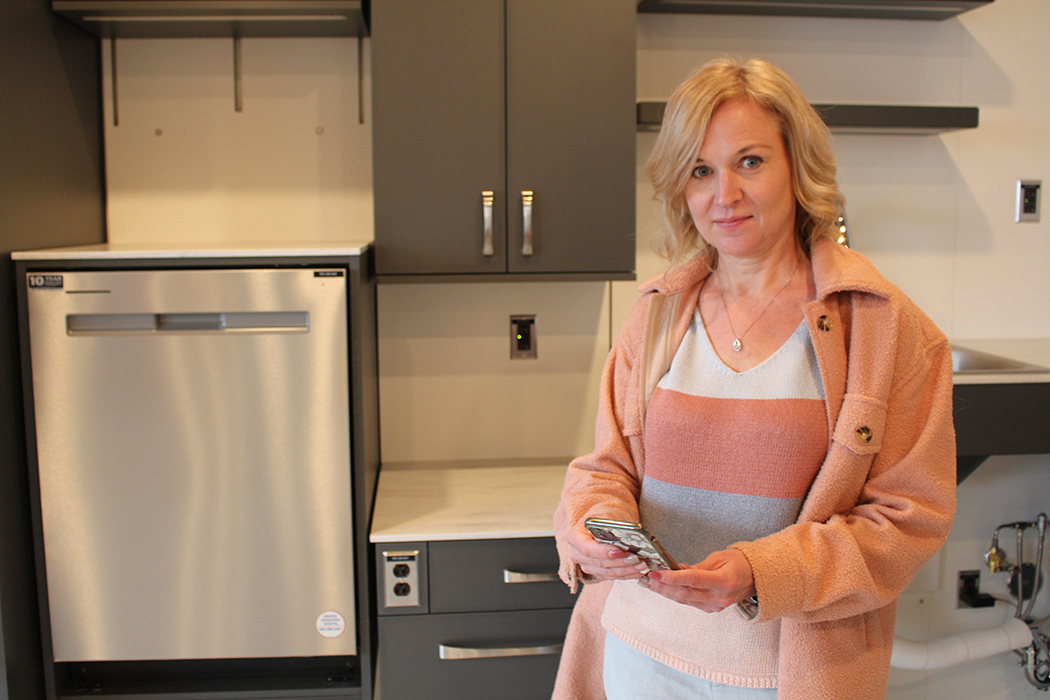 Advancing Assistive Tech
December 5, 2022 —
In her 30-year occupational therapy career, one of the biggest changes Jacquie Ripat [BMROT/92, M.Sc./98, PhD/11] has seen in her field is the mainstream adoption of technology that was once used almost exclusively by people with disabilities.
"Voice-to-text, for example, used to be really specialized technology for people who had limited hand function. Now we all use it," she says.
"I think back to the first time someone used their voice to control something, and how that raised people's eyebrows. Now, you go to an airport and so many people are on their Bluetooth, seemingly talking to themselves. Much of the stigma around using that technology is gone."
Ripat, an associate professor who joined the College of Rehabilitation Sciences, Rady Faculty of Health Sciences faculty in 2003, says her interest in occupational therapy started during her adolescence in Winnipeg. She used to babysit for an occupational therapist and often read her journals after the kids went to bed.
"She was very positive about her work and supported me to consider this path," Ripat recalls.
The three-time UM alumna has a research focus on how users of assistive technology participate in their occupations and communities and interact with their surroundings. She has published many studies, for example, of the experiences of people who use wheelchairs in winter conditions.
She is currently working on several projects to help people with disabilities participate in their physical, social, institutional or cultural environments. Many of the projects are technology based.
"I've always been interested in how we can leverage technology in different ways to advantage people," Ripat says.
Among the projects is the creation of a smart suite at Winnipeg's Health Sciences Centre – a model apartment outfitted with technology solutions, such as height-adjustable counters and kitchen appliances, that can be controlled using a smartphone app. Ripat is collaborating on the project with architecture faculty and interior design students.
"We're working with older adults to make kitchens healthier and safer for them to use, so they can continue to live in their homes longer."
Another project is the development of a smart bike. Ripat is working on it with kinesiology and biosystems engineering faculty and Freedom Concepts, a Winnipeg-based company that designs three-wheeled adaptive bikes for adults and children with disabilities.
"The smart bike would allow clinicians to measure and document some of the benefits of adaptive cycling," Ripat says.
"We're also looking at how the bikes make people feel. Do kids participate more with their peers at school? We want to learn how the adaptive bikes can be used to promote participation."
Health-care funders view adaptive bikes as mere leisure equipment, but Ripat's team is interested in learning more about the health and social benefits.
She sees a similar challenge when it comes to funding the use of tablets and smartphones as assistive technologies.
"The health-care system doesn't see these as health-related devices. But it makes good sense that we maximize the potential of all technologies for people with disabilities. We are continuing to see a convergence of mainstream and assistive technology, and this will mean that everyone benefits."
For more on Dr. Jacquie Ripat's work, view her Rady Researchers video.