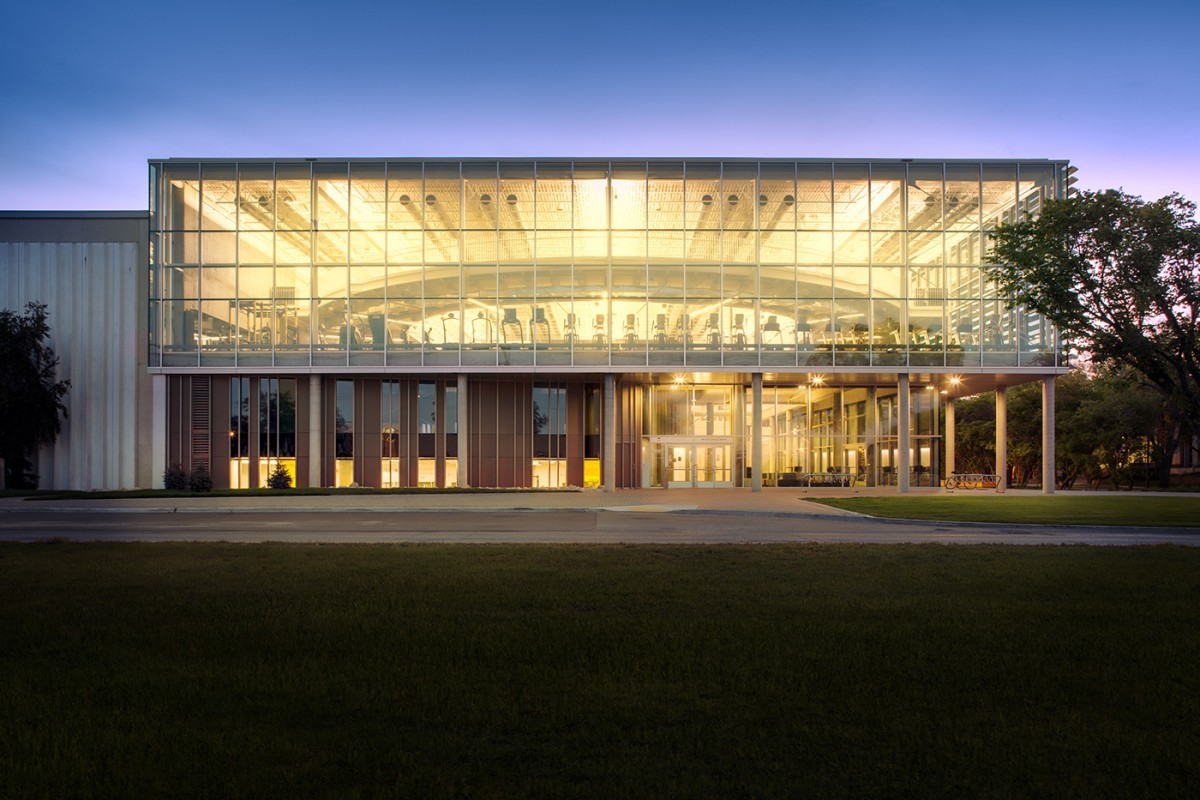 Active Living Centre wins prestigious award for design & function
First Canadian building to win the NIRSA Outstanding Sports Facility Award in nearly 30 years
April 21, 2016 —
The Faculty of Kinesiology and Recreation Management is thrilled to announce that the Active Living Centre is the first Canadian facility in almost 30 years to be named a recipient of a significant North American design award.
A project designed by Cibinel Architects Ltd + Batteriid Architects, the Active Living Centre was noted by the National Intramural-Recreational Sports Association (NIRSA) as a "facility that demonstrates excellence in a number of critical areas, including architectural design, functionality, and how well the facility meets its intended purpose." The Active Living Centre, along with 13 other facilities across North America, was bestowed with NIRSA's 2016 Outstanding Sports Facility Award.
A Canadian building hasn't won the award since 1988.
One of the architectural gems of the university's Fort Garry Campus, the 100,000 square foot, LEED Silver targeted facility boasts features and attractions such as a 12-metre climbing wall, an elevated 200-metre running track, and over 1000 pieces of free weights and accessories. A research centre, strength and conditioning facilities, and three group workout studios complete this state-of-the art facility.
"The Active Living Centre is indeed a pride point for our faculty, university, and community," says Dr. Douglas Brown, Dean, Faculty of Kinesiology and Recreation Management, University of Manitoba. "We believe it serves as a catalyst of health and well-being for our students, faculty, staff, and community as a whole."
Cibinel Architecture, the firm who led the project, has also been highly involved with the university through the creation of scholarships for students (the Cibinel Design Achievement Award), through sponsorship of the Active Living Centre, mentorship of existing architecture students, and through various other initiatives.
"The project is located at the corner of University Crescent and Dafoe Road, across from the campus Welcome Centre, which is an important pedestrian entrance to the campus for people arriving by car or by bus. The mandate of the University was to take this opportunity to create a dynamic and vibrant facility that would introduce students, faculty and staff to recreation as a healthy lifestyle and to create a place where they would love to stay," says Design Director of the Active Living Centre and Cibinel Architecture President and Faculty of Architecture graduate, George Cibinel [B.E.S/1977]
The NIRSA Outstanding Sports Facilities Awards recognize the innovative designs of new, renovated, or expanded collegiate recreational facilities of NIRSA Member Institutions. Winning facilities exemplify the institution's commitment to providing the higher education experience desired and valued by students.