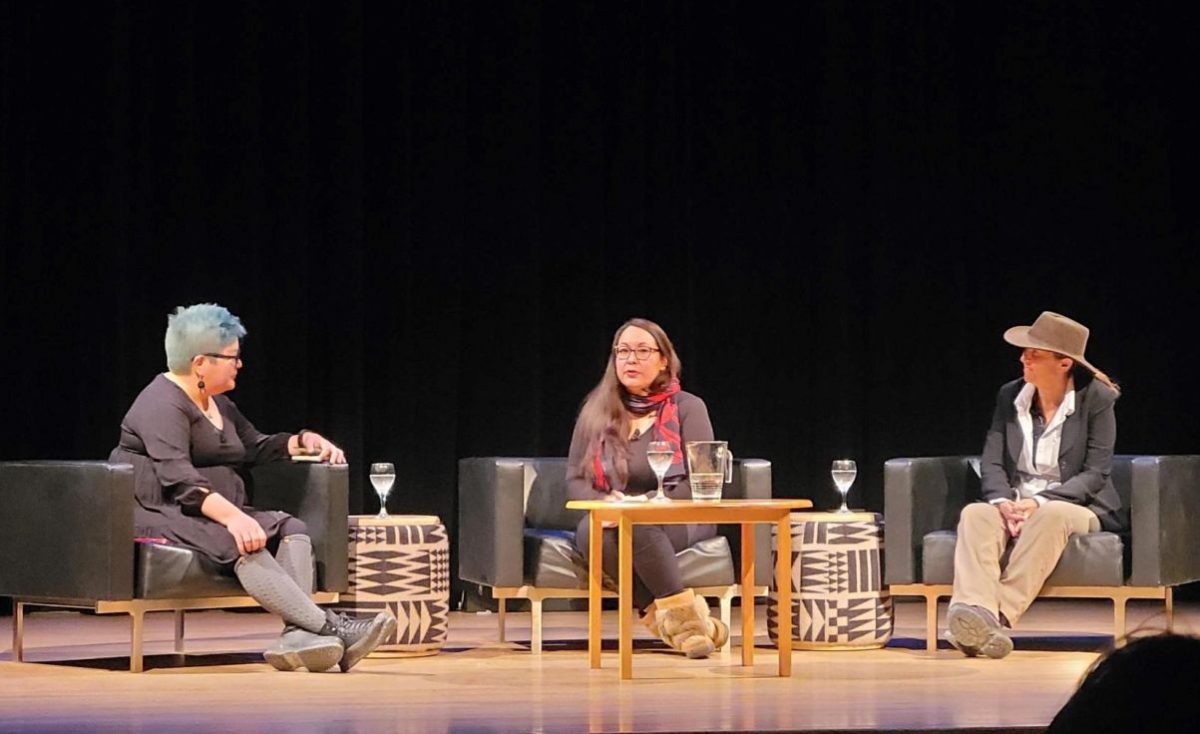 A Night of Stories with Janine Windolph
February 3, 2023 —
For a long time in the film industry, there was an intense lack of representation of Indigenous women by Indigenous women. In recent years, however, there has been a growing movement of Indigenous women filmmakers who are shaking up the scene. Janine Windolph is one of these incredible filmmakers and, on January 19, 2023 at the Winnipeg Art Gallery, to kick off her tenure as Writer-In-Residence at UM, The Decolonizing Lens and the Center for Creative Writing and Oral Culture held a wonderful welcome event with screenings of Windolph's films.
The evening started with a wide spread of modern Indigenous dishes by Feast Café/Bistro. As guests mingled, laughter and chatter echoing throughout the gallery hall. When the clock struck 7, the crowd of more than a hundred was ushered into the auditorium to begin the screening. The first film, Life Givers, followed the story of Windolph's own losses, wrapping the viewer in a thin veil of grief as Windolph explores the core need to grieve and honor the memory of our loved ones. The film includes the line, "Some say that when a child dies, you lose your future and when an elder dies, you lose your past."
Windolph's next film, Stories Are In Our Bones, whimsically shows Windolph and her sons connecting with the land and learning how to fish. The third film, a collaboration with Dianne Whelan, explores a Cree perspective to connecting with land and ancestors. Scenic beauty is followed by a wise softness of Windolph's voice as Windolph shares with the viewer important moments with her family and learning to reconnect with the land. Windolph demonstrates that it's what we do that connects us to the stories of our ancestors, not only who we are. She says, "Home is in our heart, and home is where we walk."
After the films, Windolph was joined on stage by collaborator Whelan as well as host Sonya Ballantyne, a skilled Cree filmmaker herself. The three of them discussed the films, digging deep into the essence of Windolph's experiences and perspective. She learned to be a filmmaker as she learned to be a parent, both skills that required careful listening. Just as her sons taught her how to love and raise them well, making films taught her that intergenerational conversation is key to learning. Her films honour the people she loves and the land that supports all of us.
As part of her residency at UM, Windolph is offering a free 6-week workshop about Indigenous storytelling practices. The workshops will take place on Saturday afternoons starting in February and are open to aspiring storytellers and filmmakers. For more information and to apply for a spot, please visit the Centre for Creative Writing and Oral Culture website.