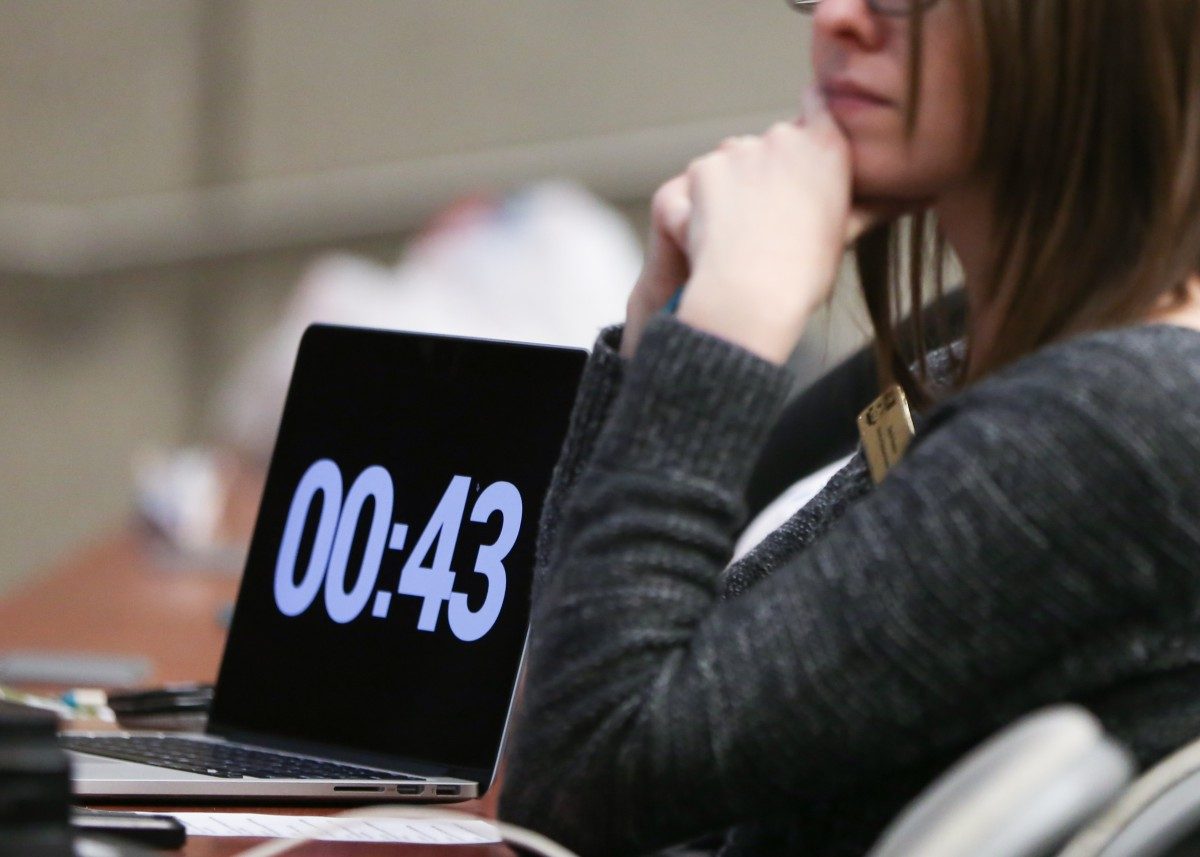 7 Rady Faculty students make 3MT finals
April 7, 2022 —
Seven of the 12 finalists in the University of Manitoba's Three Minute Thesis (3MT) competition are Rady Faculty of Health Sciences graduate students. The participants will be competing in the final tonight (April 7, 2022) at 7 p.m.
Watch the final live on YouTube: https://www.youtube.com/watch?v=Jg-Dsx7Thuk.
The annual competition challenges graduate students to present their complex research in just three minutes using language aimed at non-experts. They are judged on three categories: comprehension, engagement and communication style.
"I'm thrilled to see so many Rady Faculty students competing in the 3MT finals," said Dr. Brian Postl, dean of the Rady Faculty of Health Sciences, and vice-provost (health sciences). "The students have worked hard to prepare their presentations and represent the wide scope of groundbreaking research taking place in the Rady Faculty. I wish them the best of luck tonight."
The host of tonight's competition is CTV News Winnipeg's Colleen Bready [BA(Adv)/01]. The panel of judges includes the Honorable Jon Reyes, minister of advanced education, skills and immigration; Coleen Rajotte [BA(Adv)/89], artistic director of the Winnipeg Aboriginal Film Festival and CEO, Vitality Television; and Mark Evans [PhD/88], president and CEO of Conquest Planning Inc.
The winner of the 3MT final will represent UM at the Western Regional Competition hosted by the University of Winnipeg on May 6, 2022.
RADY FACULTY 3MT FINALISTS
Daniel Schwade Araujo
Thesis: Examining the associations between different physical fitness phenotypes and cardiovascular risk factors in older females
Daniel Schwade Araujo is a PhD student in Applied Health Sciences, a joint program between the College of Rehabilitation Sciences and the Faculty of Kinesiology and Recreation Management. His research looks at how cardiorespiratory fitness and muscle strength can prevent heart disease in older females.
"I decided to compete in the 3MT competition because I believe that being able to communicate ideas in a way that's clear, concise and accessible for everyone is a fundamental skill for scientists," Araujo said. "Knowledge translation is a hot topic nowadays and participating in the 3MT competition gave me the opportunity to present my research to a non-specialized audience."
Ryan Ha
Thesis: Development of a new method for studying Legionella infections
Ryan Ha is a master's student in medical microbiology and infectious diseases at the Max Rady College of Medicine. Ha is developing a new method to study infections caused by Legionella.
"The timing for me to compete in 3MT was absolutely perfect because we have seen exactly what happens when we aren't prepared for an outbreak with the COVID-19 pandemic," Ha said. "My research is just the first step to coming up with treatments or vaccines to prevent or mitigate the impact of a possible Legionella outbreak that might happen in the future, while also helping the immunosuppressed population."
Alekhya Lavu
Thesis: Antiseizure treatments during pregnancy and neonatal birth outcomes
Alekhya Lavu is a PhD student in the College of Pharmacy. Lavu is specializing in drug safety and pharmacoepidemiology, with a research program that focuses on medications in pregnancy and neonatal safety outcomes.
"Public speaking has always been challenging for me," Lavu said. "I participated in 3MT to overcome the challenge. It has been a wonderful experience and it gave me confidence to speak about my project."
Chioma Victoria Nwachukwu
Thesis: Electrical stimulation improves walking and organ function after spinal cord injury: but how?​
Chioma Victoria Nwachukwa is a master's student in physiology and pathophysiology at the Max Rady College of Medicine. Nwachukwa's research is focused on better understanding how and why electrically stimulating the lower spinal cord can restore walking and organ functions in people with spinal cord injury.
"It's an honor to be a finalist in a prominent competition like the 3MT," Nwachukwa said. "It's been an exciting journey and competing in the finals is a win for me regardless, and just like everybody else, I am looking forward to the final competition."
Pranav Mishra
Thesis: Potential of sex hormone estrogen in prevention of Alzheimer's disease – a sex based study
Pranav Mishra is a PhD student in pharmacology and therapeutics at the Max Rady College of Medicine. Mishra's research involves working with sex hormone estrogen to see how it can decrease inflammation and increase mitochondrial function in the brain, consequently improving the survival of brain cells.
"3MT has been a great learning experience and I feel very happy to have reached in the finals," Mishra said. "I am thankful to my advisors, family and friends who have supported me."
Olya Myhalatyuk
Thesis: Shining light on microglia responses in Alzheimer's disease
Olya Myhalatyuk is a master's student in pharmacology and therapeutics at the Max Rady College of Medicine. Myhalatyuk's research is focused on studying what can be done to preserve memory function in people with Alzheimer's disease.
"I am looking forward to hearing the talks of all the finalists and learning more about the exciting research that is conducted in the University of Manitoba," Myhalatyuk said. "This competition is highly competitive, and I think it takes courage to put yourself out there and share about your project in layman terms, as I'm sure any young scientist would agree with me that it is not an easy task."
Weiang Yan
Thesis: New immuno-engineered biomaterials to prevent rejection of transplanted hearts
Weiang Yan is a PhD student in physiology and pathophysiology at the Max Rady College of Medicine. Yan's research looks at new ways to tackle inflammation and rejection after heart transplants.
"I'm grateful for the opportunity to compete in the 3MT final and to reach a wider audience with my research," Yan said. "I'm looking forward to being able to share my research with others, and to hear some of the other exciting research happening at the university."