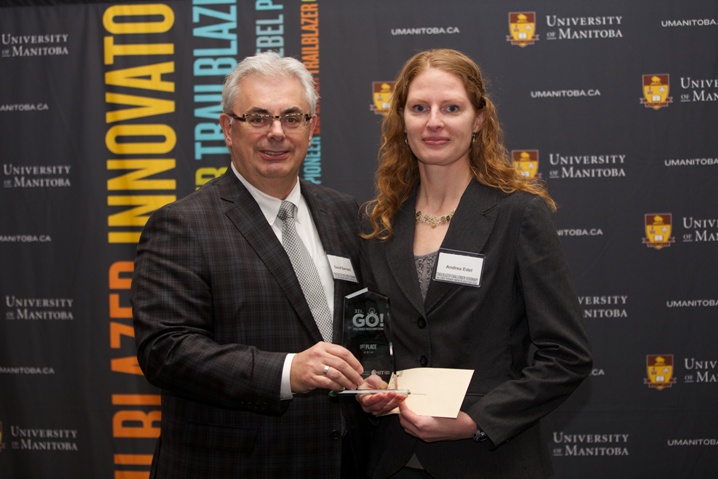 3MT winner chosen, studies natural ways to reduce heart disease and stroke risk
February 26, 2014 —
Last night, nine University of Manitoba graduate students shared new frontiers of knowledge in the second 3MT® competition at the University of Manitoba.
The Three-Minute Thesis competition challenged graduate students to consolidate years of research into one short, interesting, straightforward presentation. With only a single slide illustrating their ideas, the competitors had just three minutes to clearly explain their research to the audience.
Andrea Edel, a doctoral student in physiology, was awarded first prize for her presentation titled "Flaxseed: A Modern Prescription for High Blood Pressure and Cholesterol." She won $5,000 to help further her research.
The competition was part of the University of Manitoba's overall strategy to provide career-building opportunities for graduate students while inviting the community to share in their discoveries.
Jay Doering, vice-provost of graduate education and dean of graduate studies, was instrumental in bringing the international competition to the University of Manitoba. A committee chose 27 students from a pool of 135 and grouped them into three heats. From those heats came nine students who advanced on to the final competition.
University of Manitoba President and Vice-Chancellor David Barnard welcomed the large audience at the final competition on February 25, 2014, before turning the proceedings over to emcee Paul Samyn, editor of the Winnipeg Free Press.
"Graduate students are the primary workforce in our research engine," explained Barnard. "They are on the front lines of innovation. Their discoveries lead to the cure for diseases, foster economic growth, and challenge our assumptions on everything from human rights to the creation of the universe."
Judges for the final competition were: Fiona Odlum, Assignment Editor, Breakfast Television, CITY-TV Winnipeg; The Honourable Theresa Oswald, Minister of Jobs and the Economy, Province of Manitoba; and Patricia Bovey, Chair, University of Manitoba Board of Governors.
Olivia Sylvester, a doctoral student in the Natural Resources Institute, won the second prize and was awarded $2,000. She explained how protecting rainforest biodiversity is at odds with Indigenous rights to food.
The "People's Choice" award of $1,000, chosen by the audience, went to Havva Filiz Koksel, a doctoral student in food science. She described how high-tech analytical devices can help scientists create the perfect loaf of bread.
There are three regional competitions taking place in Canada later this year, in addition to a Francophone competition in Quebec. Edel will move on to the Western regional competition in Calgary on May 2, 2014. There will be a national 3MT® virtual competition during which the regional winners will be judged against one another in May 2014.
Research at the University of Manitoba is partially supported by funding from the Government of Canada Research Support Fund.