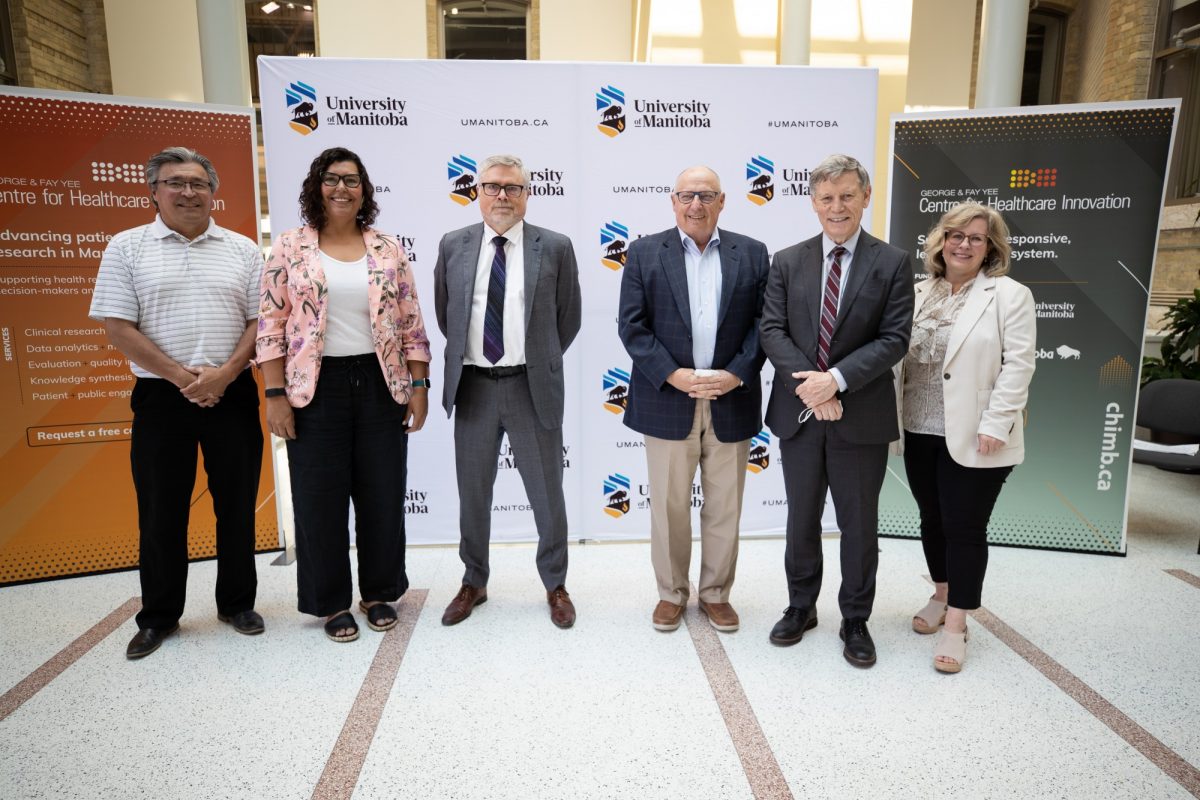 $30 million for patient-oriented research in Manitoba: Funding will strengthen patient voice in health research and health system
June 27, 2022 —
Manitoba patients, their families and caregivers will continue to have direct input into health research and what works best in the health-care system, thanks to $6.6 million in Phase 2 funding from the pan-Canadian initiative called the Strategy for Patient-Oriented Research (SPOR).
The initiative, led by the federally funded Canadian Institutes of Health Research (CIHR), connects patients and researchers who work together to improve service delivery and practice.
The five-year investment, announced at the University of Manitoba on June 27, will expand the capacity of the Manitoba SPOR Support for People and Patient-Oriented Research and Trials (SUPPORT) Unit. The unit is housed within the George & Fay Yee Centre for Healthcare Innovation (CHI), which operates as a partnership between UM and Shared Health.
Terry Duguid, Member of Parliament for Winnipeg South, made the announcement on behalf of the Honourable Jean-Yves Duclos, Minister of Health.
"Through patient-oriented research, we are transforming the role of the patient from a passive receiver of health services to a proactive partner who helps shape research and, as a result, health care," Duguid said.
Additional contributions to the SPOR SUPPORT Unit from Manitoba bring the total investment to $30 million. This includes $17.4 million from the Government of Manitoba and the provincial health authority, Shared Health, and $6.1 million from UM.
"Investing in this research allows us to offer … better experiences and health outcomes for patients," said Monika Warren, chief operating officer for provincial health services and chief nursing officer at Shared Health.
Patient-oriented research, Warren said, empowers patients and provides the health-care system with insight to improve care.
"Listening to the priorities and concerns of patients and their families is not only respectful and inclusive, it's good science," said Dr. Brian Postl, dean of the Rady Faculty of Health Sciences.
"People who live with a disease or health condition become experts on that condition. By consulting with them … we focus our research and make it more useful to those who need it most."
The SPOR Support Unit's current partnership with Ongomiizwin, the Indigenous Institute of Health and Healing in UM's Rady Faculty of Health Sciences, will be expanded to further incorporate Indigenous health perspectives and respond to Indigenous health needs.
This includes potentially expanding the role of the Indigenous Advisory Council as a forum for Indigenous patient engagement and implementing a new Indigenous Health Care Quality Framework in both research and health systems.
Dr. Marcia Anderson, vice-dean, Indigenous health, social justice and anti-racism in the Rady Faculty of Health Sciences, said all the SPOR SUPPORT Unit funding partners share "a common goal to close Indigenous health-care gaps in outcomes and quality."
Dr. Terry Klassen, scientific director of CHI, UM professor of pediatrics and child health, and Canada Research Chair in clinical trials, said: "With the renewed funding from CIHR and our partners, we will continue to nurture a responsive health-care system that is continuously improving to meet Manitobans' needs.
"We believe that begins with a commitment to advancing a culture of inclusive patient-oriented research, with an emphasis on equity, diversity and inclusion."
Klassen cited recent examples of engaging patients in CHI-supported research:
Lauren Kelly, UM assistant professor of pharmacology and therapeutics, is working with teens to study the use of a cannabis extract to manage hard-to-treat chronic headaches. Through engaging with patients, Kelly's team ensures that its clinical trial answers important questions using practical designs.
Eric Bohm, UM professor of surgery, involved people who needed bilateral knee-replacement surgery in designing a national clinical trial that compares having both knees replaced simultaneously with having them replaced one at a time. This partnership will lead to a Patient Decision Aid.
Thomas Beaudry, who has participated in CHI research as a caregiver partner, spoke to reporters about the value that patients and their caregivers bring to health research.
"We want patients to be part of the process and to have a voice," Beaudry told the Winnipeg Free Press. "The funding will allow for more research potential and more participants."