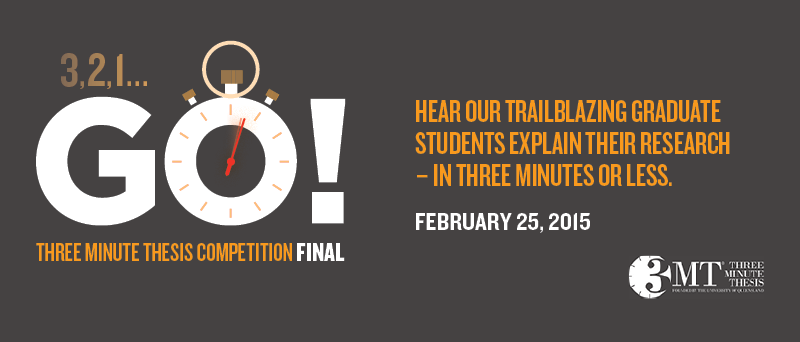 Cheer on our bright minds at 3MT final competition
February 25, 2015 —
Twelve finalists will compete at the Three Minute Thesis (3MT®) competition on February 25, from 7:00 to 9:00 p.m. at the Robert B. Schultz Lecture Theatre  in St. John's College (map). Doors open at 6:30 p.m.
The public and the University of Manitoba community are invited to cheer on our innovative graduate students as they compete for the First Place ($5,000), Second Place ($2,000) and People's Choice ($1,000) awards. Each competitor will have three minutes, using only a single slide as an illustration, to clearly explain the nature, goals and significance of his or her research.
Challenging? You bet it is. It takes years for a thesis to be researched and finalized–never mind synthesizing it down to a mere three minutes to get the information across to a non-specialist audience.
The challengers competing in the final are:
Dustin Scott Kehler
Applied Health Sciences (Doctoral)
Advisor: Todd Duhamel
Is Exercise Healthy for Older Adults before Surgery? The Exercise PREHAB Study
A kinesiology graduate, Kehler wants to turn physical activity research knowledge into action so that people living with chronic diseases and conditions can thrive and enjoy life. He is in the Technology Evaluation in the Elderly Network Interdisciplinary Mentorship program.
Gail Ferguson
Natural Resources Institute (Master's)
Advisor: Thomas Henley
Whose Backyard is it Anyway? Aboriginal, Government and Mining Industry Relationships
Ferguson has an environmental studies degree from Binghamton University in New York. Her interests are centered on finding a balance between natural resources and social responsibility. After graduation, Gail hopes to find a career in the areas of environmental management, policy development, and community consultation.
Garret Munch
Biosystems Engineering (Master's)
Advisor: Nazim Cicek
Putting Waste to Work: Producing Biodiesel using Yeast and Industrial Wastes
Munch, a graduate in biochemistry at the U of M, envisions using living cells as "factories" for converting waste into valuable products. He wants to continue his career in the biofuel/biotech sector, hopefully to develop more efficient biofuels or bioproducts.
Robin Visser
Department of General Surgery (Master's)
Advisor: Dr. Richard Keijzer
miRacles for Babies with Abnormal Lungs
Currently in the fourth year of her general surgery residency at the U of M, Visser did a two-month rotation in pediatric surgery last year, caring for children in Manitoba and Northern Ontario. She hopes her work with microRNAs could also be the key to curing some of our most difficult to treat malignancies, such as pancreatic cancer.
Aibek Samakov
Natural Resources Institute (Master's)
Advisor: Fikret Berkes
Sacred Sites: Conservation of Nature through Mechanisms Rooted in Culture
Samakov completed his undergraduate degree in international relations in Kyrgyzstan, where he developed his interest in sacred sites while working at a cultural research centre conserving the traditional knowledge, music and heritage of Kyrgyzstan. He is currently studying how local communities participate in environmental conservation in coastal areas of Canada.
Robert Bertrand
Chemistry (Doctoral)
Advisor: John Sorenson
Exploring the Treasure Trove of Lichen Natural Molecules
Bertrand is a medic in the Canadian Forces Army Reserve and was deployed on flood-fighting operations in Manitoba and worked in clinics assisting with patient care throughout Canada. In 2010, he spent two months studying tropical and infectious diseases at the University of Nigeria. He wants to pursue a research career in natural product biosynthesis and drug design.
Steven Harms
Civil Engineering (Master's)
Advisor: James Blatz
Temporary Flood Protection: Developing New Ways to Protect our Communities
Harms is currently pursuing a Master's degree in Geotechnical Engineering. His research focuses on temporary flood protection products. By better understanding the behaviour of these products, he hopes to improve on existing designs to better protect communities and infrastructure.
Teresa Looy
Natural Resources Institute (Master's)
Advisor: John Sinclair
The Tomatoes Taste Better: Adult Learning Outcomes through Participation in Community Gardening
Looy says her Dad always demonstrated care for the environment, and in school gained an appreciation for the challenges facing our planet. She is also fascinated by how people behave, and her research is the perfect intersection between that and her concern for the environment. She hopes to encourage others to make steps in their lives towards sustainability.
Gelareh Manghebati
Arthur V. Mauro Centre for Peace and Justice (Master's)
Advisor: Sean Byrne
The Role of Financial and Social Inequality in Terrorist Activities in Iranian Balochistan
Manghebati has roots in the Middle East and even though Canada is now her home, she hopes she can use her understanding of both worlds to work towards peace in the Middle East. From a young age, her mother instilled in her values such as equality, justice, peace and compassion for fellow human beings.
Rebecca (DeLong) Dielschneider
Immunology (Doctoral)
Advisor: Spencer Gibson
Lysosomes as Targets in Leukemia
Dielschneider was involved in student government and leadership as she pursued graduate studies. She chose immunology and cancer research because she wanted to help people from "behind the scenes." She believes scientific research allows her to think creatively and pursue answers to tough biological questions, advancing medicine and improving human health.
Vanessa Palmer
Biomedical Engineering (Master's)
Advisor: Melanie Martin
Improving the Outcome of MS using MR
Palmer chose the Biomedical Engineering program to apply her background in physics and her interest in medicine to help improve the quality of life of the public. After graduation, she plans to continue exploring MRI research that could improve early detection of central nervous system diseases.
Diego Rodriguez Herrera
Physics and Astronomy (Master's)
Advisor: Stephen Pistorius
Using Radio Waves for Breast Cancer Detection
A member of the UMSWING group and the photo club, Herrera would like to make meaningful contributions to the development of new technologies in the field of signal processing and medical imaging. He sees himself using state-of-the-art imaging techniques to make an impactful contribution to society.
Last year's winner, Andrea Edel
Three Minute Thesis (3MT®) is a research communication competition originally developed by The University of Queensland. 3MT® challenges graduate students to consolidate their ideas and research discoveries so they can be presented concisely to a non-specialist audience.
The winner of the 3MT Final Competition here at the University of Manitoba will advance to the western regional competition in May.
Join the conversation on Twitter! Follow us at @umanitoba and tag your tweets with #3MT and #umanitoba.
Research at the University of Manitoba is partially supported by funding from the Government of Canada Research Support Fund.