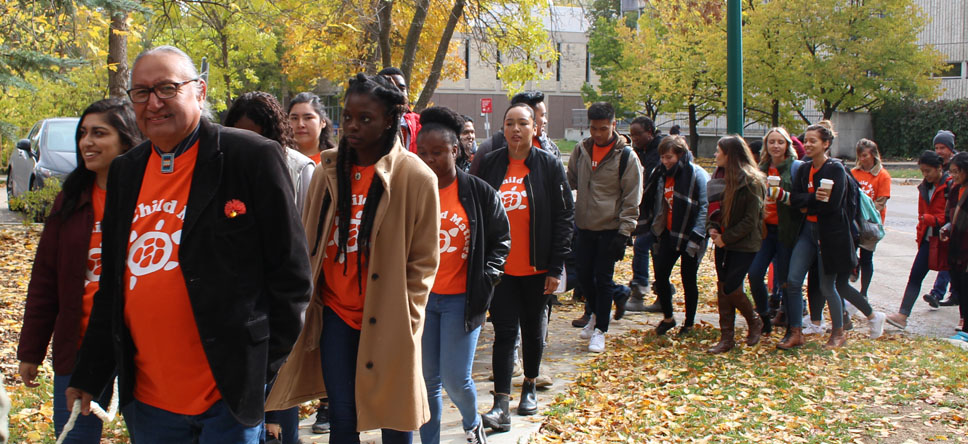 College of Nursing students organize 4th annual Orange Shirt Day:
Students, faculty and staff honour residential school survivors
October 5, 2018 —
On September 28, following an opening prayer by a U of M Elder, students, faculty and staff at the College of Nursing, Rady Faculty of Health Sciences walked to pay tribute to the many lives affected by residential schools.
The group was hard to miss. Bright orange shirts, jackets, hats, and scarves brought attention to the event that raises awareness of the residential schools' legacies and acknowledges their mutli-generational impact on Indigenous peoples.
"Orange Shirt Day is another progressive step on the path to reconciliation. It allows us, as nursing students, to reflect upon our own beliefs and walk in solidarity with residential school survivors," said nursing student Chantelle Chartier.
Dr. Netha Dyck, Dean, College of Nursing said the day was significant as a sign of the College of Nursing's commitment to working towards reconciliation and acknowledged the many students involved in organizing this year's Orange Shirt Day.
Elders led the walk, holding a braid made by elder Elaine McIntosh to represent intertwining spirits and the community, from the Helen Glass Centre for Nursing to the National Centre for Truth and Reconciliation (NCTR).
At the NCTR, everyone present was given the opportunity to pay tribute to those affected by residential schools by saying a prayer and throwing tobacco into the sacred fire.
"Universities can and should play a central role in advancing reconciliation and implementing the Truth and Reconciliation Commission's Calls to Action," said President & Vice-Chancellor David Barnard. "The University of Manitoba is committed to and engaged in the process of reconciliation, working with Indigenous and non-Indigenous organizations and communities to move forward."
River Steele Guillas, emcee and a third-year nursing student and Indigenous student coordinator, co-organized the event with fourth-year nursing students Chantelle Chartier, Sochimaobi Nweze, Chris Hayduk, and Lauressa Garson.
"Last year I had the opportunity to experience some of Orange Shirt Day, and I learned a lot. Part of Indigenous culture is to understand the past. As a culture, we have mostly forgiven ourselves and forgiven others, but now it is important for others to forgive themselves," said Guillas.
"We need to gather in settings like this, to speak our realities, exposing truth. We need to experience through the tears of others how the past still affects so many, to understand the hurt and to heal as a Nation of Nations. I am a descendent of Chief Peguis. These struggles are in my memories and in my blood. I take great pride in this event."
Following the tribute, the elders led the group back to The Helen Glass Centre for Nursing for closing remarks. Elders Albert McLeod and McIntosh gave statements on why events like Orange Shirt Day are important.
McIntosh held up her small coat from when she was in a residential school. "This coat reminds me of how strong I was." Her coat, much like the orange shirt is a symbol of resilience.
The event came to an end with Shawnee Händel from the Aboriginal School of Dance performing a hoop dance and a jingle dance which involved some volunteers.