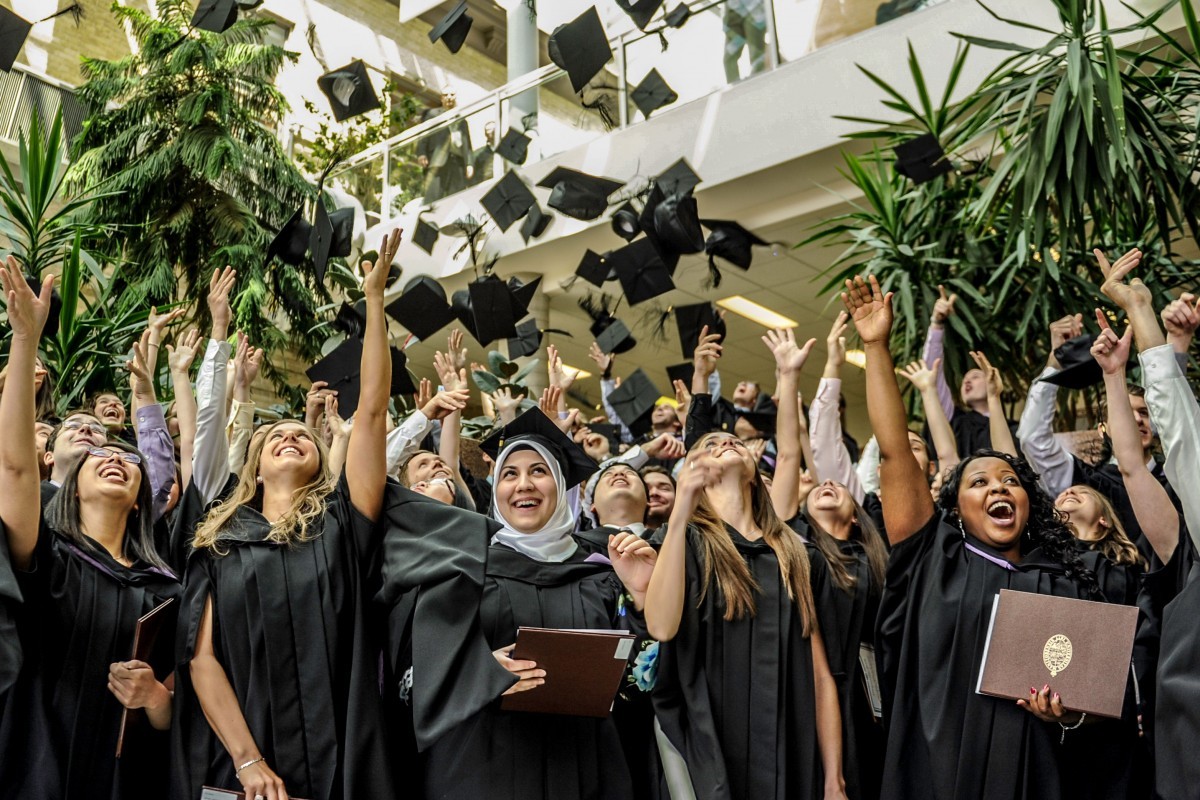 109 New Med School Graduates
U of M Celebrates Largest class of Future Docs
May 15, 2014 —
The University of Manitoba will confer MD degrees on 109 graduates of the Faculty of Medicine Class of 2014 at its 135th convocation this morning in the Brodie Centre Atrium (727 McDermot Ave.) on the Bannatyne campus
His Honour, The Honourable Philip S. Lee, Lieutenant Governor of Manitoba, CM OM and Her Honour Anita Lee; Honourable Greg Selinger, Premier of Manitoba; Honourable Erin Selby, Minister of Health; and Honourable Pearl McGonigal will join President David Barnard, Chancellor Harvey Secter, graduates, faculty, award winners and guests at the Faculty of Medicine Convocation ceremony.
Honorary degrees will be bestowed upon local community pioneer and pediatrician Dr. Joseph Du; and the trailblazing woman who facilitated the establishment of a national organ donation system Ms Leah Hollins, Chair of the Canadian Blood Services Board of Directors. Dr. Patricia Martens, Director of the Manitoba Centre of Health Policy for 10 years and an internationally-acclaimed researcher will be awarded Distinguished Professor.
Among this year's graduates is Ju-Yoon Yoon, who will receive MD/PhD. Individuals enrolled in the MD/PhD program must successfully complete the requirements for two independent degrees.
The MD component develops the skills necessary for a career in the practice of medicine, while the PhD component develops research skills and provides the experience required for biomedical research.
Dean of Medicine Brian Postl [MD/76] notes the many remarkable facets of the graduating class. "We are about to see 109 MDs start their careers as compassionate physicians, advocates and leaders; I am delighted that 90 graduates will remain in Manitoba to complete their residency programs and deliver high quality patient care across the province."
Postl adds that a growing need for generalists in the health care field is being noticed with a marked interest among students to pursue careers in family practice.
This year, 34 graduands will be completing a residency in Family Medicine in Manitoba including19 in rural areas and one in the bilingual stream.
Ashleigh Sprange, 31, is excited to begin her family medicine residency in Dauphin –where she completed her third-year rotation in family.
"I have always enjoyed the atmosphere of a tight knit community and to know that I will be doing my residency in a place where I am truly appreciated by the community is a really nice feeling," she said, adding, "It's been a privilege and an honour to complete medical school and it will continue to be a privilege and an honour to give back to Manitoba as a family physician.
Honorary Degree recipients
Dr. Joesph Du
Dr. Joseph Du was born in Laokay, Vietnam in 1933, the youngest of 11 children.  It was a time of great turmoil – the Japanese army occupied his home country at the time – and his father was killed when Dr. Du was 10.  His mother struggled to support his family, and three brothers had to quit school to help.
At 17 Dr. Du fled Communist North Vietnam and studied medicine for the next seven years in Taiwan, graduating from National Taiwan University Medical School.  He then came to Canada to complete his accreditation and later studied at the University of Washington under a scholarship from the National Institute of Health, specializing in neonatology. Dr. Du returned to Winnipeg in 1968 to join the Winnipeg Clinic as a pediatrician.
Soon after beginning his career, he joined a group of doctors in an outreach program in northern Manitoba. For 33 years, Dr. Du regularly flew to all remote communities in northern Manitoba as well as communities of the Northwest Territories, often travelling in small airplanes in difficult and perilous conditions.  During this time he was appointed an Assistant Professor at the University of Manitoba Medical School. In the 1980's he was commissioned by the God Lake Narrows Band to write a study on gasoline sniffing and organized the first symposium on Fetal Alcohol Syndrome in Winnipeg.
Dr. Du has stepped forward to contribute when crises threatened.  In 1979 Dr. Du co-chaired a committee to help coordinate the settlement of Vietnamese boat people to Canada and later he served for nine years on the Council for Canadian Unity when the threat of Quebec separation was at its peak.
The scope of his involvement has always been broad.  In 1989 Dr. Du spearheaded the visit of two pandas from China to the Winnipeg Zoo; in the 1990's he led the commissioning of two sculptures, including one by Leo Mol, to commemorate the role of Chinese-Canadian workers in constructing the Canadian Pacific Railway; and in 2001 he worked with Winnipeg's Jewish community to bring the Shanghai Connection exhibition to the Jewish Heritage Centre, which told the story of the successful efforts of a Chinese counsel in Vienna to help over 18,000 Jewish refugees escape the Holocaust.
Dr. Joseph Du has been the key force in redeveloping Winnipeg's Chinatown beginning in the 1980's. His leadership efforts in this regard include the development of the Chinese Cultural Centre, two commercial buildings – the Dynasty Building and the Mandarin Building – a Chinese Gate and Garden and two residential buildings, Harmony Mansion and the Peace Tower.  In October 2013 a portion of James Street in Chinatown was named after this physician and community builder to honour his work in transforming this area and his contribution to Winnipeg.
Dr. Du's distinguished career spans almost four decades, to his retirement in 2002.  He has received many honours and awards, including being named to the Order of Canada, the Order of Manitoba, and the Order of the Buffalo Hunt.
Ms Leah Hollins
Leah Hollins, a powerhouse generator of original thoughts and solutions, changed the Canadian medical system with a radical idea: join together.
Ms Hollins identified a gap in organ and tissue donation and transplantation when she boldly stated, "Canada needs an integrated national organ donation system." She envisioned a solution that involved a revolutionary change in the way organs and tissues are donated and supplied in Canada. Her tireless and inexhaustible energy ultimately facilitated the transfer of responsibility for organ and tissue donation and transplantation (OTDT) from the Canadian Council for Donation and Transplantation to Canadian Blood Services (CBS).  She is currently Chair of the Board of Directors of CBS, Canada's national (save Quebec) blood system with an annual budget of $1-billion.
The organization's innovative "Call to Action" plan propelled the creation of several national registries now coordinated by CBS. The number of organ transplants conducted in Canada has dramatically increased, especially kidney transplants. This result is unprecedented and unparalleled in Canadian health care.
Nine months after assuming responsibility for OTDT, the not-for-profit organization launched the first of three patient registries—the Living Donor Paired Exchange—as a three-province pilot.  By November 2010 all provinces has signed on, making it the first-ever Canada-wide registry. To date 270 transplants have been completed; each one saving the health care system upwards of $40,000 annually. The decrease in dialysis treatments saves our system millions of dollars and improves the lives of the transplant recipients beyond any monetary value.
Ms Hollins is literally irreplaceable. A board once refused her resignation because she would leave too big a void. One of her referees pointed out, "health-care systems in Canada could do with a few more leaders such as Leah Hollins."
Recognized as a leader in program review, organization structure, and governance related issues, Ms Hollins has built and maintained a high-level of credibility. Her views are often sought after by both provincial and national health-care forums. A CBS board member shared that at the conclusion of meetings fellow members do not merely shake her hand as they depart, instead they give her a hug.
Ms Hollins's involvement in Canadian health care is as impressive as her CV – she's a graduate of the Master of Business Administration in Health Care from City University, Seattle; holds a B.Sc. Nursing from University of Victoria; and completed the Executive Development Program at Queen's University.
During her appointment as Deputy Minister of Health in British Columbia she managed an organization of 2,500 employees and a budget of $9.5 billion; she transformed the B.C. health-care system into a regionalized delivery system and led the province's response to the Royal Commission on Health Care and Costs. She has served on the Board of Directors of the Canadian Institute for Health Information and is currently Chair of Maximus Inc., the company on contract to the B.C. Government that administers the medical services plan.
Ms Hollins's game-changing ideas, passion for collaboration and trailblazing success in shifting the way Canadians donate organs bring distinction to the University of Manitoba. We are delighted today to recognize Ms Leah Hollins with an Honorary Doctor of Laws.