Campus News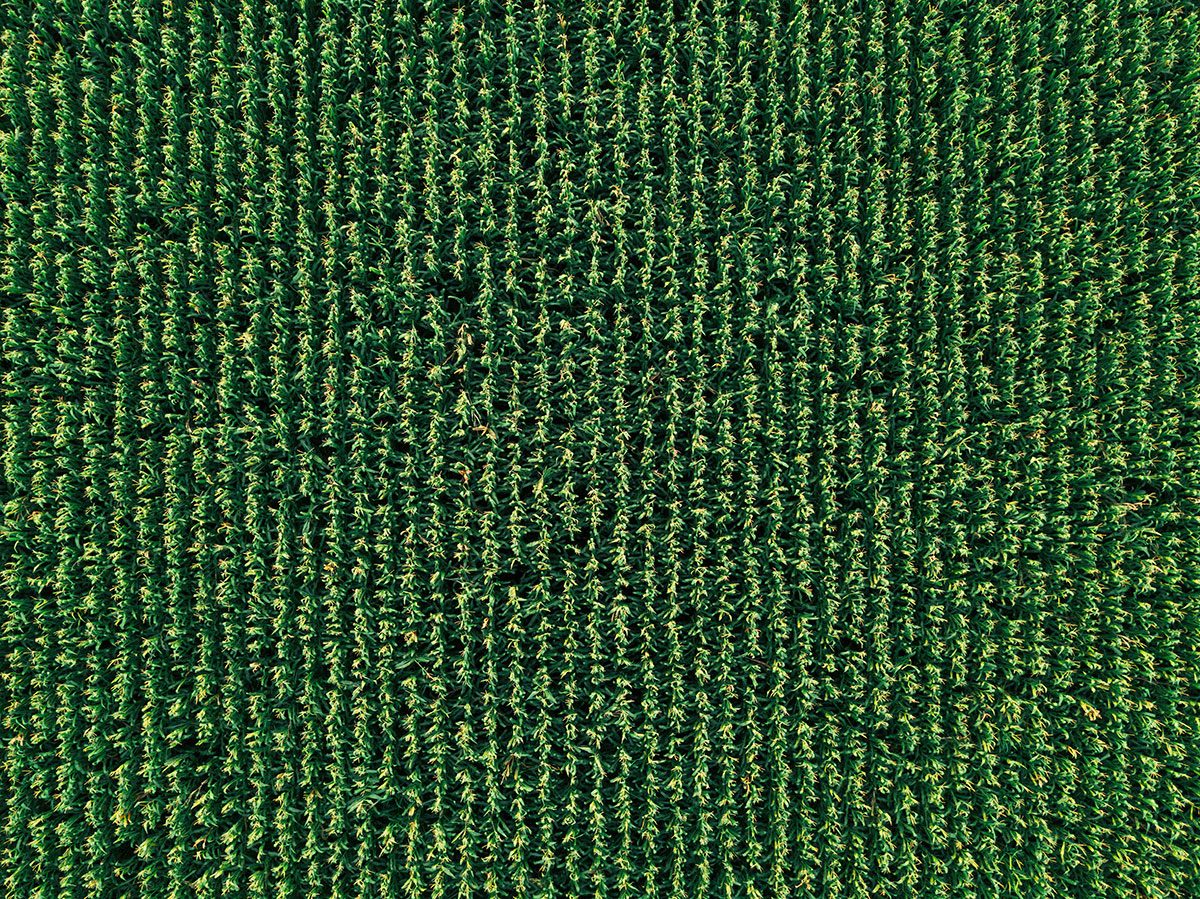 What's Happening
Fall 2019
LEAVE IT TO THE BOTS
The future of farming is robots. A UMagBOT, to be exact.
A team of biosystems engineering students led by captain Eric Hawley [BSc(BioE)/19] designed a self-driving machine that can identify plants while navigating a farmer's field. The autonomous ATV successfully deciphered the corn crop from the weeds, fertilizing or spraying pesticide accordingly, and then streaming results back to a base station.
The vehicle won third place at an international competition in Lafayette, Ind., garnering attention from industry and local producers. Hawley says he was proud of how far they were able to go.
"I started the team with a shoebox-sized, garden-variety prototype and quickly found that my peers and local industry were just as passionate about pushing the boundaries of technology in agriculture as I was."
---
Bacteria Breakthrough
A serendipitous collaboration between a UM science professor and a Manitoba Clinic gastroenterologist brought a groundbreaking procedure to Winnipeg.
Dr. Christopher Schneider had been trying to introduce a new type of transplant to Manitoba, involving a subject matter generally avoided in polite conversation: the transfer of one individual's stool to another. A fecal microbiota transplant can restore the healthy balance of gut bacteria living in the intestine.
After two years of red tape and rejection, Schneider was still in search of a facility to process donor stool when a chance meeting with UM microbiologist Ayush Kumar [PhD/05]—their kids go to the same daycare—turned things around. Without reservation, Kumar offered his lab and expertise and, in April, they led the first fecal transplant in the province.
The recipient had been suffering gastrointestinal difficulties from a stomach infection caused by C. difficile bacteria for more than a year. Oral antibiotics, which can cost as much as $150,000, couldn't kick the infection, but the $275 transplant did, and within hours the patient's symptoms were gone.
"While finding new and effective antibiotics is a critical part of dealing with antibiotic resistance," explains Kumar, "equally important is the use of non-conventional treatment options such as fecal transplants."
He and Schneider's long-term goal is to create a frozen-stool bank with pre-screened, processed stools that will allow them to offer transplants to the wider Manitoba public as needed.
"It was amazing," says Schneider.
"Dr. Kumar didn't have to help but he did. Without his support and the use of his lab, we wouldn't be talking about this program today."
---
A PATH FORWARD
President David Barnard recently shared the recommendations from an independent report he commissioned last year' to help guide the University of Manitoba to better address sexual violence' harassment and discrimination.
At a Sept. 17 public session' Barnard discussed the first steps to engaging the UM community in moving forward on the report's 43 recommendations.
"We continue to work together to ensure the university provides students' faculty' staff and visitors an inclusive' respectful and safe environment'" Barnard says.
The comprehensive' robust review— titled Responding to Sexual Violence' Harassment & Discrimination at the University of Manitoba: A Path Forward—was co-authored by Donna Miller [LLB/77] and Helga Van Iderstine [BRS/84, LLB/90] and is available online.
---
KNOW ANY AMAZING UM ALUMNI?
Nominate them for a 2020 Distinguished Alumni Award. Tell us about the leaders' innovators and visionaries whose accomplishments in their professional and personal lives inspire you.
Over six decades' the Awards have celebrated outstanding alumni' including Olympians' Nobel-Prize winners and world-renowned advocates of human rights.
Nominations close Nov. 29, 2019. For more details' and nomination forms' visit umanitoba.ca/distinguishedalumni or call 204-474-9946.
---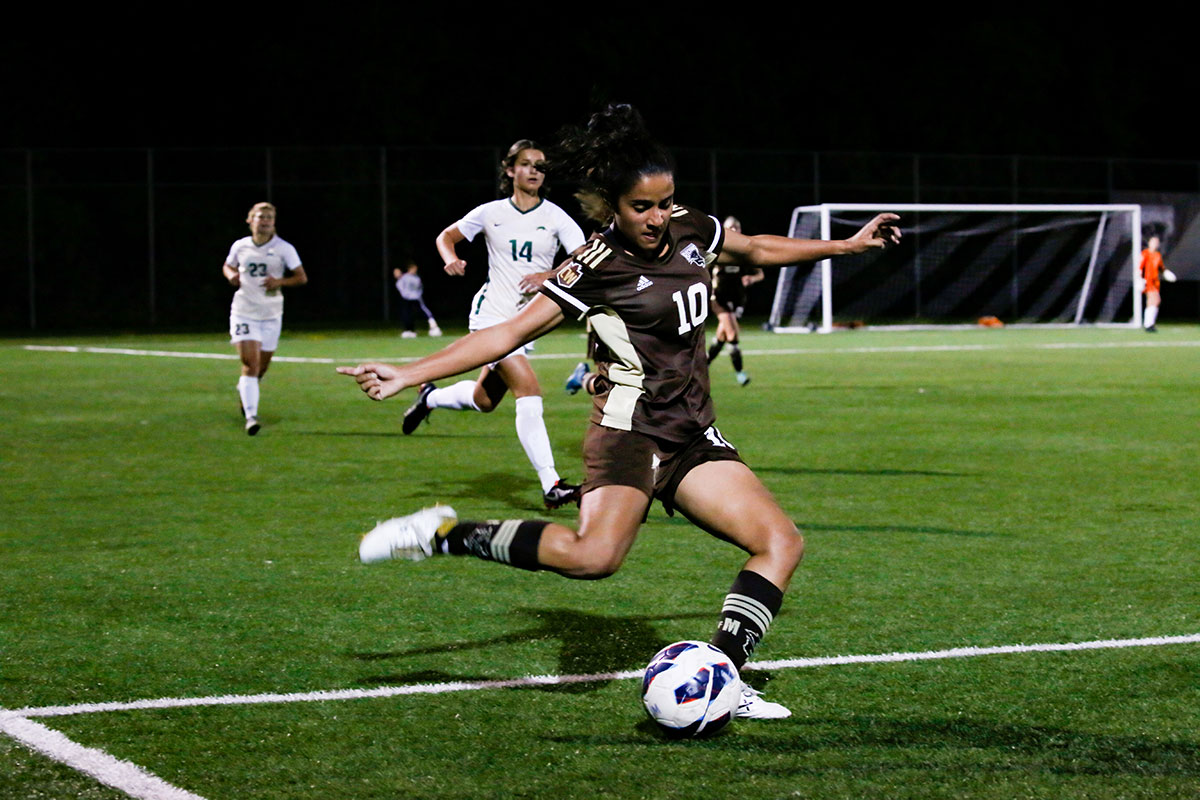 GO BISONS GO
International soccer superstar Dalima Chhibber kicked off her first season with the Bisons this fall. The 21-year-old from New Delhi is considered the face of women's soccer in India. She's the former captain of the country's national team' with more than 40 international matches in her pro career. Off the pitch' she'll be pursuing a master's degree in sports psychology.
For the first time in more than four decades' the University of Manitoba will host the U Sports Men's Volleyball Championship. The Bisons volleyball team' which holds the most championship wins of any sport at UM' will compete for their 11th title at the March 13-15 tournament at Investors Group Athletic Centre. The event also marks the end of a 39-year career for veteran coach Garth Pischke' the winningest coach in North American volleyball history.
---
CELEBRATING HIS SERVICE
As we welcomed Anne Mahon as the 14th chancellor earlier this year, we also celebrated the legacy of her predecessor, Chancellor Emeritus Harvey Secter [BComm/67, LLB/92].
Since his 2010 installation, Secter has conferred more than 46,000 degrees. In his very first speech to students, he had this advice: Pick at least one philanthropic organization among the 160,000 registered in Canada and get involved.
"You will be amazed at how much you can gain from doing a little good," Secter said.
Throughout his three terms, the philanthropist, businessman and lawyer continued to challenge students to bring their passion to causes they care about—something he modelled as honorary chair of Front and Centre' the campaign for the University of Manitoba.
"When people ask what I will remember most about my time in office, a myriad of specific events come to mind," Secter said at a farewell dinner. "Most are about people, opportunities I've had to share in their achievements, and the joy I've had of celebrating the opening of new horizons with the people who made them possible."
He helped the university through campus improvements, economic downturns, administration overhauls and faculty amalgamations. Secter and his wife, Sandra, have long championed UM.
After graduating with a commerce degree in the 60s, Secter grew his family's retail company, Ricki's Canada Limited' from a 10-store chain to a multi-divisional national operation of 150 stores. In 1998, he returned as a law student and within seven years was appointed dean.
"The American academic and author Joseph Campbell wrote, 'We must be willing to let go of the life we planned so as to have the life that is waiting for us,'" said Secter, who received his Emeritus title Oct 2. "I'm not sure that it was a willing or even knowing decision, but the U of M was certainly the place where I found the life that was waiting for me."
---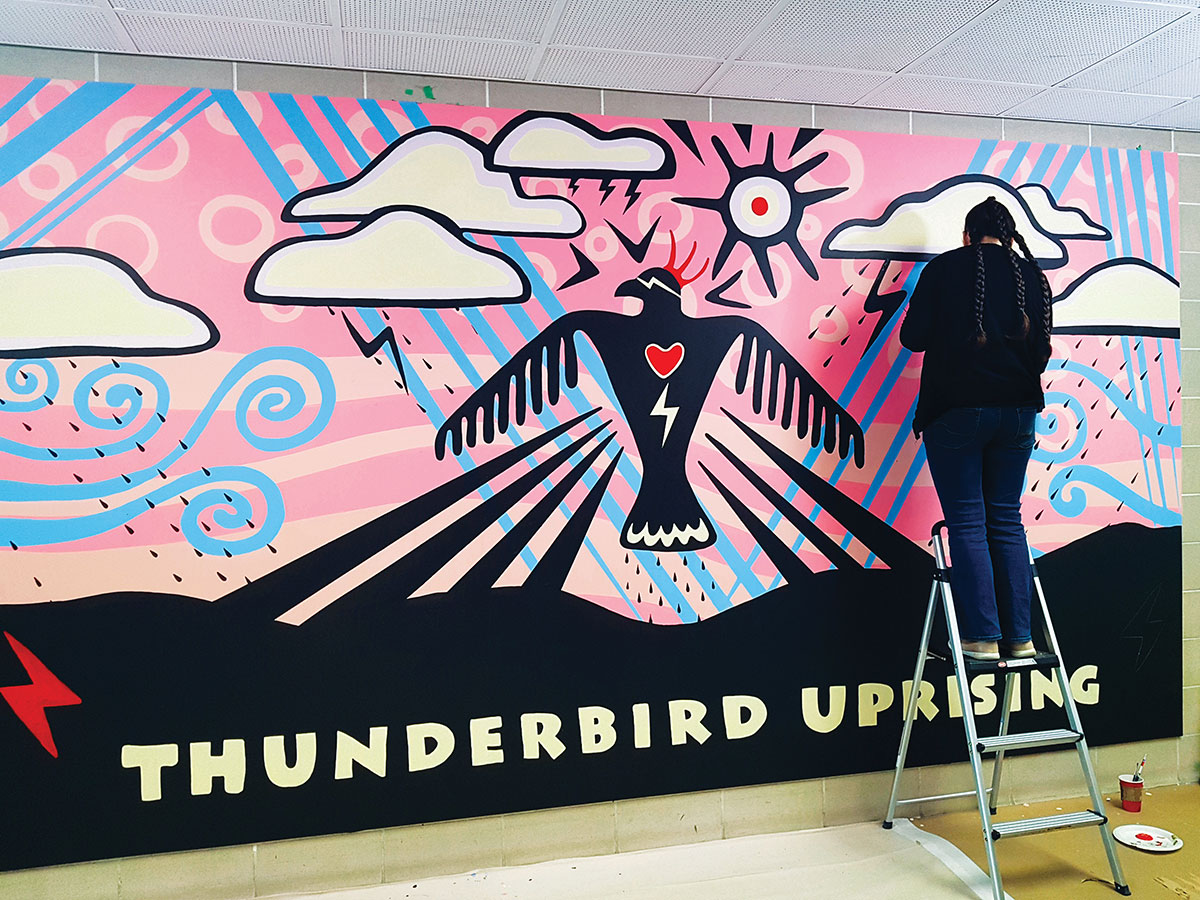 A Call to Action
It's hard to miss: a mural of a large black bird, stormy clouds and rolling hills in the Isbister Building. Celebrated artists Christi Belcourt and Isaac Murdoch collaborated on the new addition—titled Thunderbird Uprising—when their cross-Canada trip landed in Winnipeg.
The duo belongs to the Indigenous art and social justice organization Onaman Collective and subscribes to an organic creative process; they don't know what the final product will be when they start. Instead, their creation unfolds in the moment, as they sketch on paper before dipping into the paint to freehand.
With this new mural, initiated by the Faculty of Arts, Belcourt knew she wanted to include a thunderbird, which is a symbol of power, strength and natural governance. From there evolved an underlying theme of climate change and uprising.
The artists hope the piece inspires students to stop and think about Mother Earth and what they can do to protect her.
Belcourt's art also appeared on the cover of the final report of the National Inquiry into Missing and Murdered Indigenous Women and Girls.
---
THANKS STU
One of Canada's most prolific oil and gas entrepreneurs' Stu Clark [BComm(Hons)/76' LLD/11]' has donated $10 million to the I.H. Asper School of Business.
The transformational gift' as part of the Front and Centre campaign' will enhance leadership in business education and research. In recognition' UM is establishing the Stu Clark Graduate School.