Online Exclusive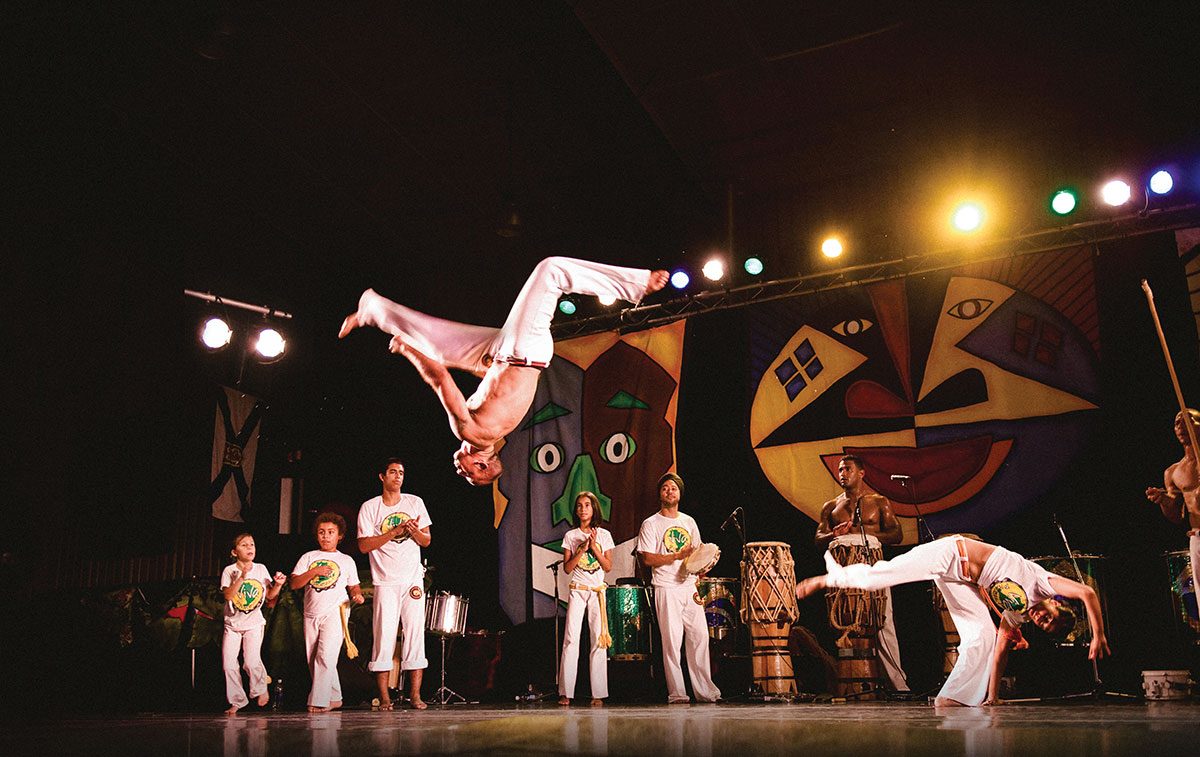 Paulo Albuquerque and his opponent tune in to the rapid thump of the music—120 beats per minute. And then they tune in to each other: the body language' gait and mannerisms.
With little room for miscommunication' Albuquerque (also known as Mestre Indio) will leap toward his opponent' swinging his leg in a swift kick—just missing his challenger. A split second later' he dodges a hit with a backflip—again' avoiding a full-contact collision.
The speed and strategy behind these unscripted' call-and-answer moves of Capoeira (pronounced ka-po-weh-ruh) grabs the audience at the Brazilian pavilion of Folklorama' Manitoba's well-known multicultural festival, which in 2019 marked its 50th year.
"We don't fight Capoeira' we play Capoeira'" explains Brazilian-born Albuquerque, who's a familiar face among staff, students and faculty at UM's Active Living Centre, where he teaches this martial-arts dance that he's been doing since age 13. "Teaching and performing Capoeira is about sharing knowledge' communicating culture."
Spectators witness a history lesson from 16th-century Brazil' when African slaves would disguise combat maneuvers they were learning—to protect themselves from their captors—as dance moves.
"Every culture has something to offer' to give to others'" says Albuquerque.
It was several UM alumni who helped spearhead the first Folklorama in 1970 as a salute to Manitoba's centennial year. The idea was to celebrate the province through the diverse backgrounds of its citizens.
It is now the largest and longest-running festival of its kind in the world' recognized by the International Council of Organizations of Folklore Festivals and Folk Arts. In one night' globetrekkers can dine on traditional German schnitzel' learn some bhangra-style dance moves' followed by a late-night Caribbean party with piña coladas and steel drums.
Meant to be a one-off event with 21 groups in its inaugural year' Folklorama has since expanded to 46 pavilions with more than 400'000 attendees—definitely not a near-miss.