Candid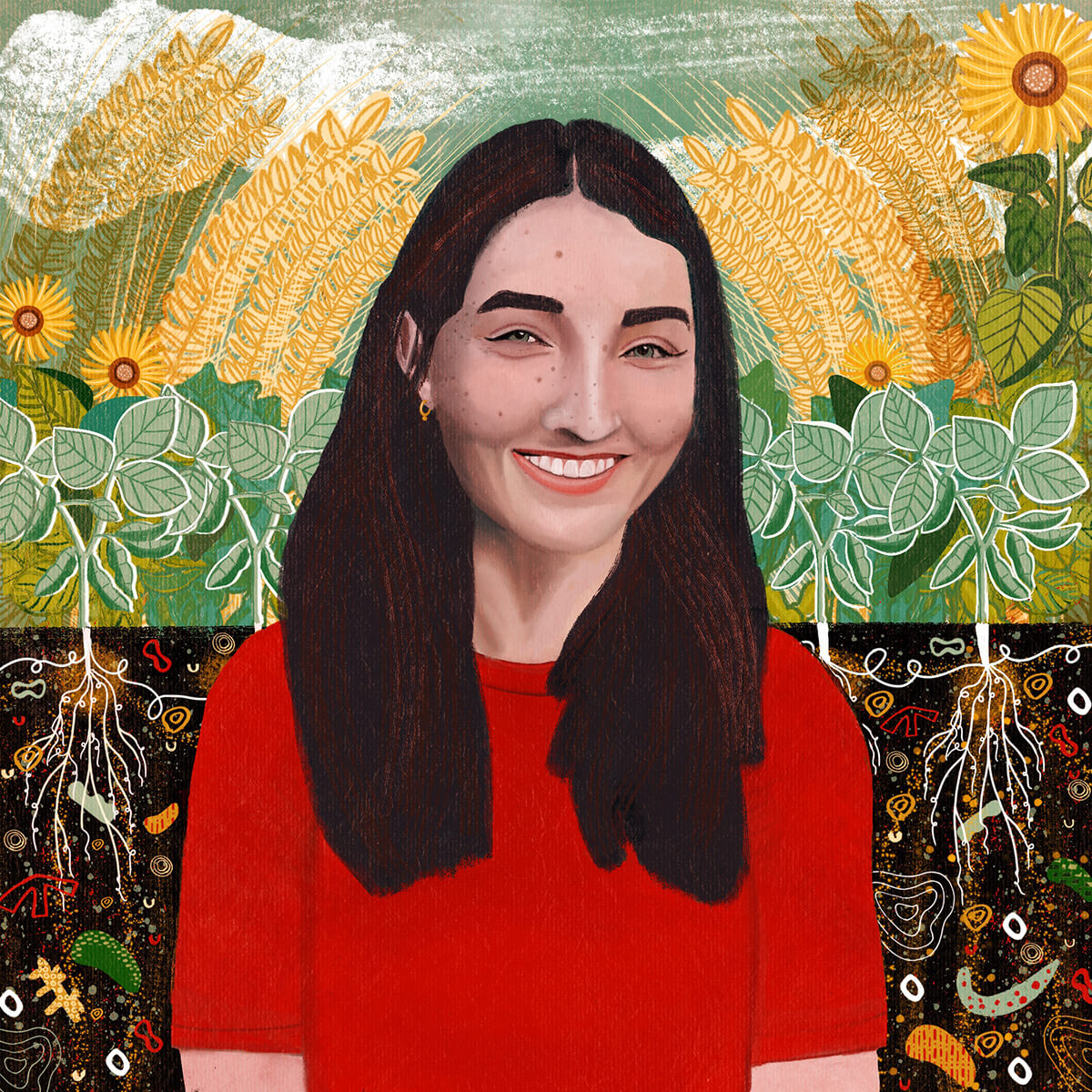 Go ahead, make the mistake of calling soil "dirt." The difference between the two opens the door to better small-talk for master's student Shannon Mustard.
"People's eyes will glaze over when I say I'm in soil science," the 25-year-old admits. "You can definitely read someone's body language when they're losing interest in the conversation."
But they perk up when she tells them how she's finding new ways for soil—not just mud, given its nutrient-rich composition and complex microbes from growing crops—to be more sustainable. And how, with Canada being among the 120 countries committed to the United Nations' appeal for zero net emissions by 2050, farmers are relying on researchers like her for the best options on how to do that.
The pressure is on since the UN insists our planet demands a 45 per cent drop in emissions even sooner—by 2030—to mitigate warming to 1.5 C.
Soil is the root of everything. It's the root of the problem and the solution.
The University of Manitoba leads the longest-running field-scale greenhouse gas monitoring study in the world, launched nearly two decades ago and covering 16 acres across two sites. Mustard does her research under the wide-open skies several kilometres south of the Fort Gary campus at the Glenlea Research Station.
She's investigating how adding an inhibitor to fertilizers can reduce emissions, while her colleagues ponder other angles, from sequestering carbon in the soil by covering crops, to better understanding the varying outputs of perennial growing versus annual.
With equipment involving laser technology, Mustard measures concentrations of carbon dioxide and nitrous oxide—two of the primary greenhouse gases associated with the agriculture industry and global warming. An inhibitor, designed for farmers to improve nutrient uptake by plants, also plays with chemical processes to keep these nutrients from being lost to the atmosphere in the form of harmful gas.
But it's not an exact science, with weather conditions and topography complicating things. Specialized thermometres at four towers spread across 16 hectares of spring wheat track temperature and wind speed. She uses drone footage to monitor conditions.
"One area might be an emissions hotspot, whereas another might be an area that could be sequestering gases and that would be interesting for a farmer to know because they might then target that area," says Mustard.
Since this extra step of adding an inhibitor costs money, it can be a tough sell to farmers without an incentive package and concrete evidence. "We're testing to see if we do see significant results or, if the results aren't significant, maybe if we added more inhibitor or less inhibitor or tried a different type of inhibitor, would that maybe produce more significant results?"
Soil remains so mysterious, says Mustard, who, as a kid, would escape the city to her grandfather's 10-acre farm near Collingwood, Ont., with its sea of winter wheat and soybeans.
"There's so much going on beneath your feet that you don't even realize and most of it you can't see," she says. "It's often said there are more microbes in one teaspoon of soil than there are people on this Earth—it's almost incomprehensible to imagine."
New Space
The tens of thousands of samples—from soil to grains—collected in the field every year by UM researchers and grad students exploring food and fodder production will have a new home for more high-tech analysis. An asphalt parking lot on the Fort Garry campus' south-east corner will transform into the Prairie Crops and Soils Research Facility where, for the first time, all departments from the Faculty of Agricultural Food Sciences will work alongside one another in a shared research space.
Beyond how to mitigate greenhouse gases, they're tackling problems like: What new crop varieties should Manitoba farmers consider to better handle extreme weather brought on by climate change?
"It's a new level of cooperation among units here at UM, and the state-of-the-art building and its equipment will allow us to do more sophisticated field experiments, work faster, more accurately, and train more students and technicians," says Mario Tenuta, Senior Industrial Research Chair in 4R Nutrient Management. "I'm pretty excited that we have the opportunity to do things we've never done before."