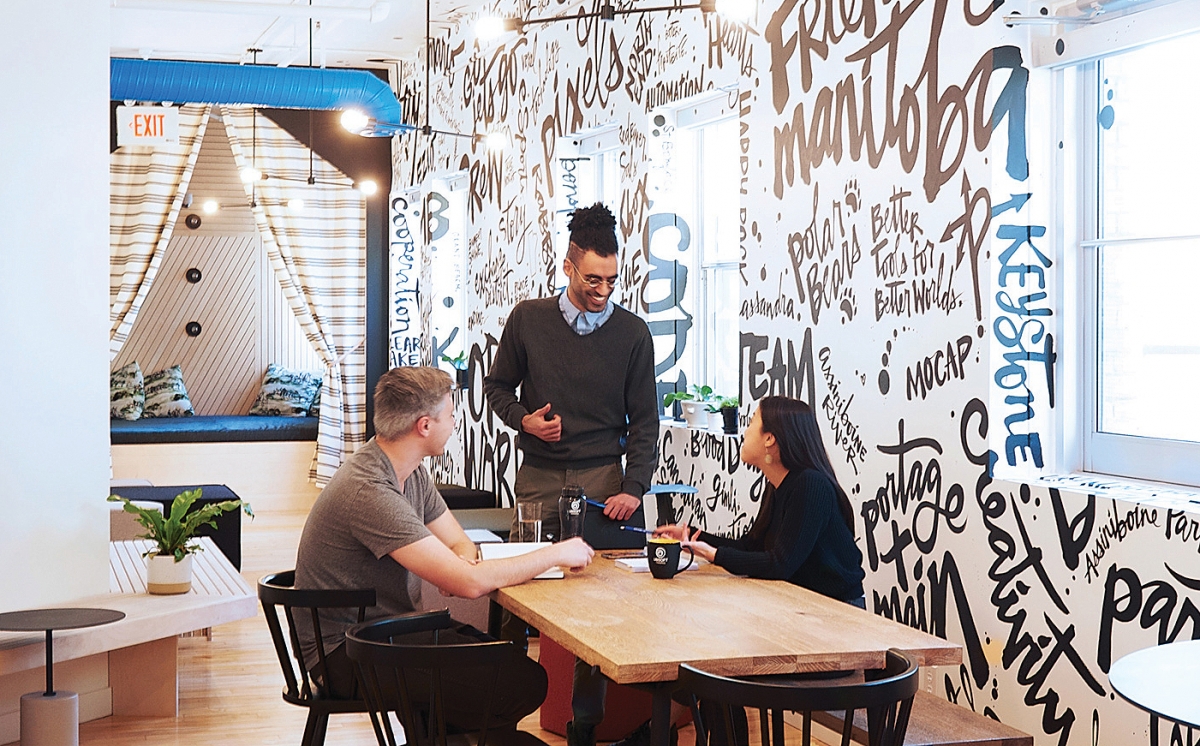 More Women in STEM
Spring 2020
"We call it the cabana," says Ashley Smith of Ubisoft Winnipeg. She is quick to note the cozy upholstered cubby in their Exchange District workspace she's talking about isn't for napping, but for eyes-wide-open collaboration. And the whiteboard walls—they await your wild scribbles.
"You can literally walk up to any wall and start brainstorming with people. It's really cool," says Smith [BA(Hons)/09, CertHRM/17].
It's how employees of this video game giant from France—who last year made Winnipeg a site for one of its Canadian studios—dream up new developer tools and technology to build the immersive worlds gamers will be buying five, 10 years down the road. For now, they're top secret, adds Smith, their human resources manager who grew up playing Mario Kart.
As Winnipeg's only development team of AAA games (the equivalent to blockbuster movies), Ubisoft is behind titles like Assassin's Creed, Far Cry and Watch Dogs. Smith recruits locally from the city's burgeoning tech pool and farther afield—most recently, Ukraine and Poland—and knows how much the industry skews male.
Their studio's ratio of women to men hovers at 20 per cent. While it's the company's highest in Canada, they're intent on upping that number by removing barriers for women through their own workplace initiatives, like flexible work schedules and childcare benefits. And now, they've established the Ubisoft Winnipeg Scholarship for Women in Computer Science, through Front and Centre. Five UM students will be awarded each year. It's not about hiring a woman because she's female, explains Smith; it's about growing the pipeline in STEM-related jobs to have greater representation when hiring the best of the best.
"This is just the start," she says. "There is a lot of work to do."