Class Notes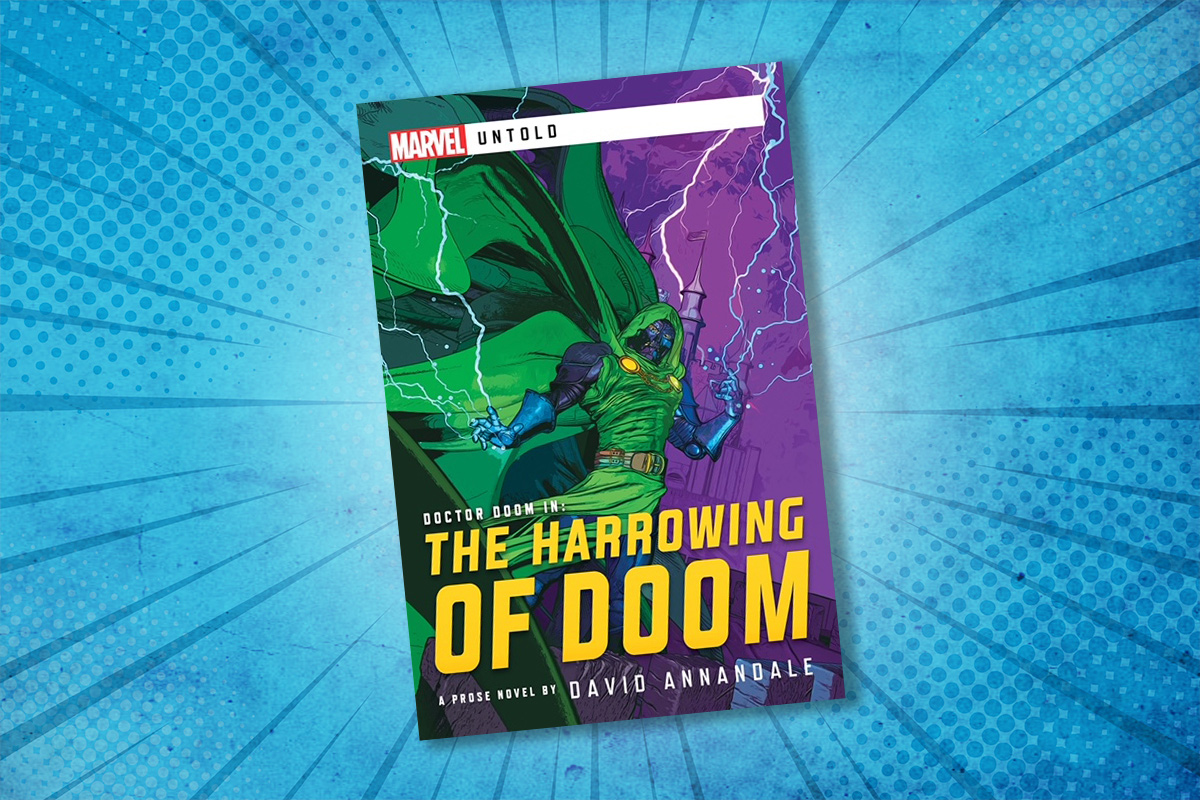 Marvel, Memoirs and Music
Spring 2021
Blockbuster Book Deal
Marvel fans worldwide are taking notice of UM alumnus David Annandale's latest novel, given its main character is rumoured to be the next supervillain to burst onto the movie scene.
Annandale [BA/90, MA/92] is a senior instructor in UM's department of English, theatre, film and media, as well as a prolific author with dozens of novels published—his latest is part of the Marvel: Untold book series. Annandale's The Harrowing of Doom features crazed evil scientist Doctor Doom and was endorsed by comic book powerhouse Marvel Entertainment. Fans speculate Doctor Doom will be a force in the upcoming Spider-Man 3 movie.
We caught up with Annandale to talk about the mysterious green-caped, metal-masked character—an archenemy to not only Spider-Man but the Fantastic Four, Iron Man, Black Panther, Doctor Strange, the X-Men and the Avengers.
How did this all come about?
Aconyte Books, one of the publishers I write for, had entered into an agreement with Marvel to publish a line of novels about some of their heroes and villains. Doctor Doom was one of the characters we could write about, so I sent in some pitches. The one Aconyte liked best was then sent to Marvel for approval. The novel—after being edited at Aconyte—was sent to Marvel editors for further feedback. The notes we got back were very helpful but I was also given a lot of freedom with the story.
What is it about?
Every year, Doctor Doom has to face a champion of hell in combat, with the prize being the liberation of his mother's soul. The deck is stacked against him and he is fated to lose, but now he believes he has found a way to turn the tables. The actions he takes will have fateful consequences for the people of Latveria.
Why did you choose Doctor Doom?
He's been my favourite Marvel character for as long as I can remember—well over 40 years! So getting the chance to write him was something beyond a dream coming true because I never dared to dream I would have this opportunity.
Is he a hero or a villain? An antihero, maybe?
He is all of these things, depending on the context. That's one of the reasons I find him so fascinating.
What was your favourite comic book growing up?
As a kid, it was the Marvel Comics' Godzilla, King of the Monsters series because I have been obsessed with Godzilla since year zero. Later, in early adulthood, it was Alan Moore's run of Swamp Thing that I treasured the most. Brilliant horror with a monster as a main character. What more could I ask for?
In your opinion, who is more powerful: Doctor Doom or the leader of the Fantastic Four, Reed Richards?
Well, on the one hand, Richards always seems to win, doesn't he? But then Doctor Doom defeated the Beyonder, which is more than anyone else can say. I'm also biased because Doom is my favourite.
Listen in as David Annandale goes deeper into the Doctor Doom character in this podcast with UM's Institute for the Humanities.
---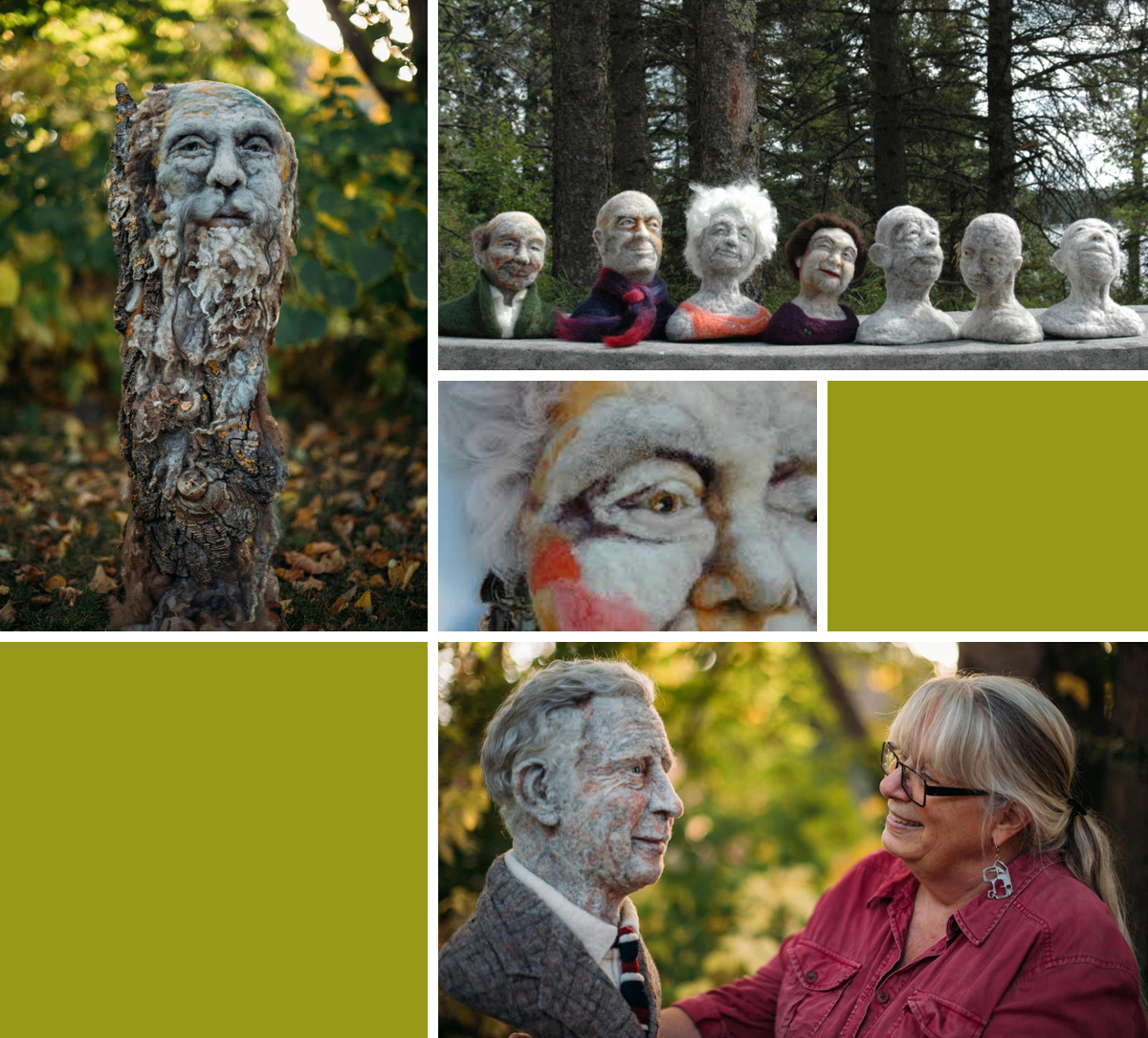 Windsor Art
Nevermind bronze or plaster, Franco-Manitoban artist Rosemarie Péloquin [BID/78] created a life-like bust of Prince Charles made entirely of wool. The unique sculpture pays tribute to the 10th anniversary of a global campaign promoting the sustainable benefits of this traditional fibre, as well as the royal heir who champions the wool industry.
Her reaction when she got the unusual request?
"I felt it would be a great way to put fibre art on the world stage," says Péloquin. "It wasn't until after I hung up that the identity of the subject for the portrait sunk in."
The artwork will be gifted to the Prince of Wales himself.
"He does have an interesting face and really it wasn't any different than anyone else's I would be making—you want to get it right, do them justice, capture that essence."
---
'I couldn't see myself'
When David Sowemimo would visit the Winnipeg Law Courts as a University of Manitoba student more than six years ago, it wasn't unusual for him to be questioned about his presence.
"I would be at the back of the courtroom and the security guard would come to me and say, 'Why are you here?' And I would say, 'I'm a law student, as a matter of fact.' And he would smile and be surprised," recalls Sowemimo [BA(Adv)/08, JD/15].
"All the accused were mostly people of colour and the lawyers were usually old white men."
Now an injury lawyer in Edmonton, Sowemimo is doing what he can to encourage more Black students to consider a legal career. He recently established the David Sowemimo Law Entrance Scholarship, awarded annually to black undergraduate students enrolled full-time in the juris doctor program in UM's Faculty of Law. It is the first scholarship of its kind at the university.
"When I graduated we had two Black students," he says. "When you talk to Black students just socially they tell you, 'Oh, I've always wanted to be a lawyer,' and I'm always saying, 'So why haven't you done it?' You can second guess, you can plan, but at the end of the day you just have to do it…. Don't let anything hold you back."
Sowemimo was 17 when he came from Nigeria to study at UM. He majored in labour studies for his undergraduate degree before working as a claims representative in the insurance industry. It was there he met lawyers who inspired him to pursue law, which prompted him to return to UM for his juris doctor degree.
That encouragement helped Sowemimo overcome what he says is often a barrier for Black students: not seeing enough people who look like you in law.
"I couldn't see myself in that arena at all at that time. Seeing people who look like you and speak like you in professional settings really does help."
---
Survivor Story
Author Donna Besel [BA(Hons)/76] will be publishing her memoir with University of Regina Press in the fall of 2021. Besel was featured in UM Today The Magazine's spring 2017 issue, sharing her story of sexual abuse by her father.
She spent years trying to secure a publisher for what she dubbed "the incest manuscript," recognizing it's a topic still too taboo for most readers. But a narrative about what incest does to a family is a story that needs to be told, insists Besel. The Unraveling: Incest and the Destruction of a Family describes what happened after the RCMP charged her father for the sexual assault of his daughters.
"The court process provided a stunning education in legal wrangling, family dysfunction, the benefits of good therapy and the discovery of many unexpected champions," says Besel. "As they say: If you can't find the book you need, you go and write it…. I know it will help and heal many people."
---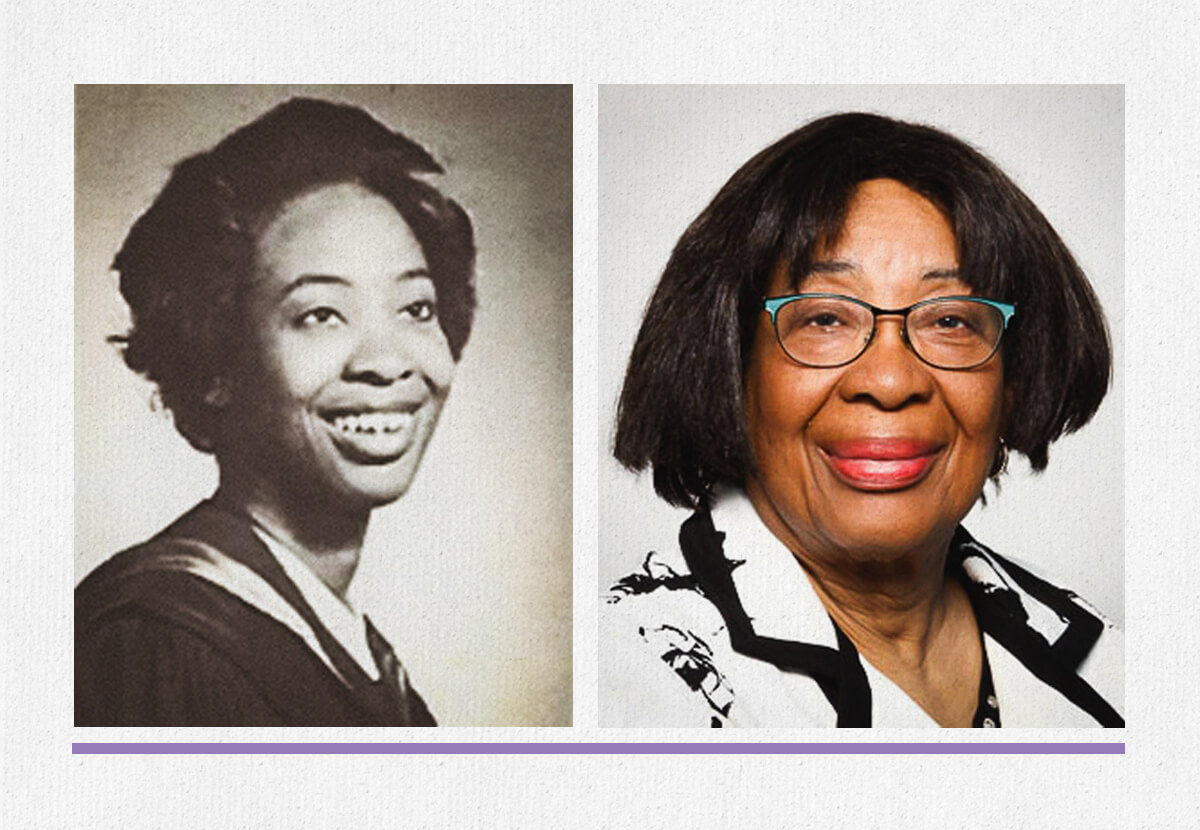 A Trailblazer
Dr. June Marion James, the first woman of colour admitted to the University of Manitoba's School of Medicine, was among those recently honoured by the Nellie McClung Foundation.
James [BSc/63, BSc(Med)/67, MD/67] received a 150 Manitoba Women Trailblazer Award.
Born in Trinidad and Tobago, James came to Canada in 1960 with a dream of going into medicine. She arrived on her own, having to leave behind her parents and four siblings.
After completing her science degree at UM, she weighed medical school offers from elsewhere across the country and the U.S. but upon learning she would be the first woman of colour to join the program in Manitoba, she felt even more compelled to stay. James wanted to break new ground.
She went on to become an immunology expert and a pioneer in allergy and asthma treatment, earning many accolades—including the Order of Manitoba.
Beyond her professional achievements, she became a community leader and considers one particular project she was involved with as her greatest achievement: the Harambee Housing Co-op, which built a 36-unit affordable housing complex, serving a culturally and racially diverse population in Winnipeg.
James once offered this piece of advice: "Whatever goal you set for yourself, you should strive for excellence. And once you have achieved your goal, you should look around and see how you can help others."
She joins dozens of women from the UM community who received this inaugural award, which salutes contributions in social justice, arts, sports, politics, community and democracy.
---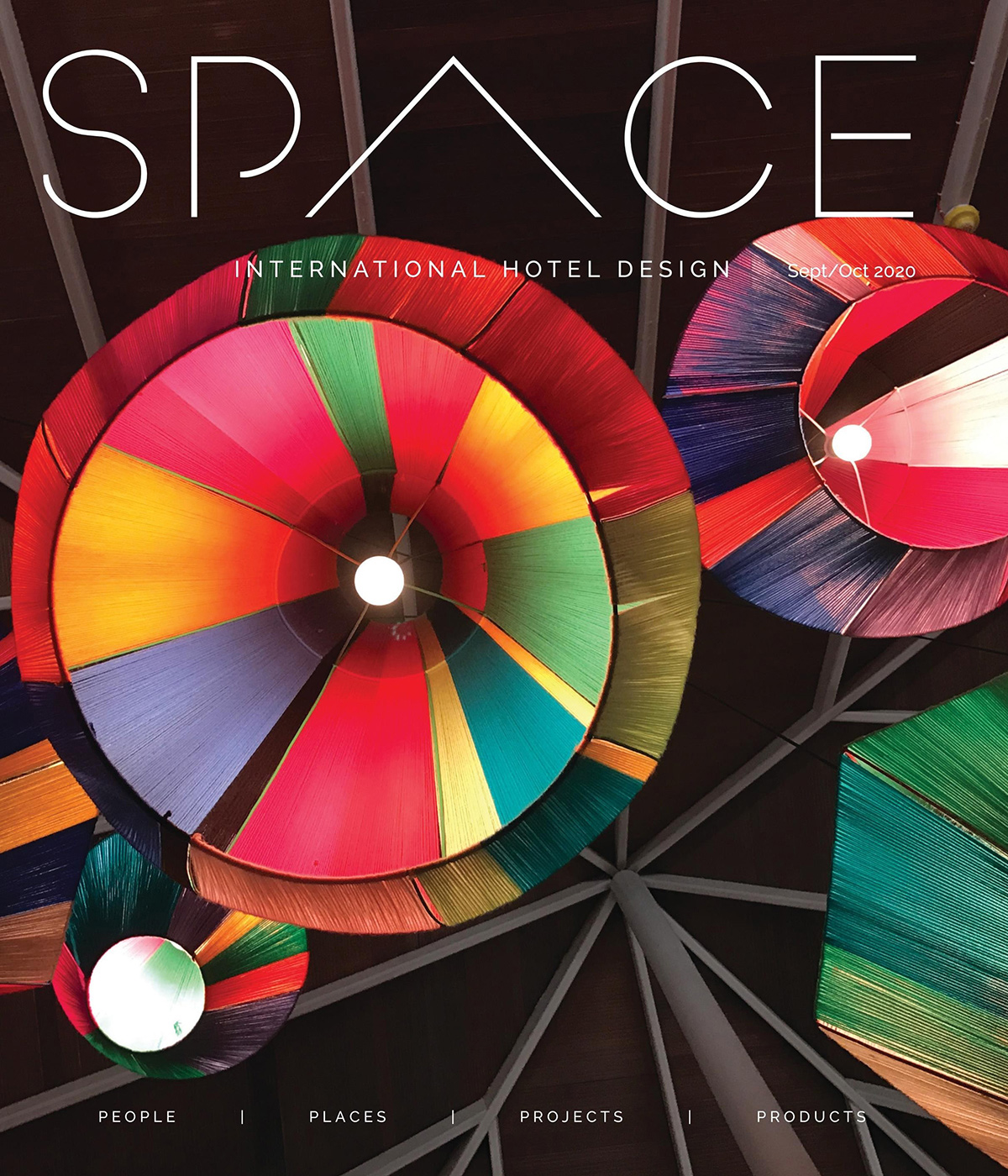 Home Suite Home
Jaymie Borchardt [BEnvD/13, MID/16] was named one of 20 rising stars to watch by SPACE International Hotel Design magazine. The fall 2020 issue featured a list of the hottest up-and-coming talent in hospitality design.
Borchardt works in Florida with Design Poole, a firm serving the mid-to-luxury hotel market. She's set to return this coming year to open their Canadian office—in a new design landscape.
"Now, more than ever, the role of an interior designer brings focus on the importance of the guests' physical and mental well-being in a safe, clean and comfortable environment," she told SPACE. "Our team has been discussing the overall aesthetic of a space to provide a calming, sanctuary-like environment as guests begin to travel again."
---
Born to Baroque
Violinist Cristina Zacharias [BMus(Perf)/98] curated a digital album, Baroque for Baby, for Tafelmusik Baroque Orchestra. The kid-friendly playlist—which includes works by Handel and Vivaldi—balances energetic music to encourage children to move and dance with calming, quieter pieces for bedtime.
A mother of two, Zacharias points to several studies citing how music can improve spatial awareness, motor skills and memory in developing minds.
"There is nothing more magical than watching a baby or young child respond to music," she says. "The immediate natural and instinctive response to melody and rhythm is a reminder of just how fundamental music is in our lives."
---
Accomplishments
Dr. Curtis Handford [BSc/97, MD/01], who practices in downtown Toronto and counts many of the most vulnerable among his patients, has been named Ontario's family physician of the year by the Ontario College of Family Physicians. The Reg L. Perkin Family Physician of the Year Award is the College's highest honour. One of his many contributions in the area of addictions is the development of a national clinical practice guideline for the use of buprenorphine/naloxone as an opioid maintenance treatment—the first of its kind in North America. This work has informed guidelines around the world.
Angela Heck [BA/88] was promoted to managing director of the Whistler Film Festival Society. She is also the producer of the documentary Carved in Stone: Sanannguaqtit, a profile of five Inuit artists, which premiered on CBC and CBC Gem in November.
Beverley Clare Williams Hicks [MEd/86, PhD/08] published a book about the history of psychiatric nursing in Manitoba, marking its centennial. Politics, Personalities, and Persistence – One Hundred Years of Psychiatric Nursing Education in Manitoba offers a comprehensive account of the profession's transition from asylums to the halls of academia at Brandon University—the first institution in Canada to grant a baccalaureate degree to psychiatric nurses.
Dr. Peter MacDonald [BSc/83, MD/83], head physician for the Winnipeg Jets and head orthopedic surgeon for the Winnipeg Blue Bombers, was named the next vice-president of the American Shoulder and Elbow Surgeons organization, representing the top in their field in North America. MacDonald is head of orthopedic surgery at UM, the Winnipeg Regional Health Authority's surgery program medical director, and the Pan Am Clinic's chief research and innovation officer. In two years, he will become president and the second Canadian to hold the post.
Psychiatrist Dr. Lawrence Matrick [MD/57] released his fourth book, M.D. Confidential (It's All Very Hush-Hush), a collection of short stories exploring mental illness and how society perceives it. Readers experience the uncertainty of a family whose father is facing Alzheimer's, the terror of a young man combating PTSD, and the redemption of a young woman overcoming a substance abuse disorder. Matrick ran a private practice in Vancouver for nearly five decades and was assistant professor in medicine and psychiatry at the University of British Columbia.
Larry Williams [BA/71, MA/74, PhD/77], the former director of the behaviour analysis program at the University of Nevada Reno, has retired as professor emeritus of psychology. Williams helped establish the first graduate program in special education in Latin America—at the Federal University of Sao Carlos in Brazil. He later directed several clinical programs for people with intellectual disabilities at Surrey Place Centre in Toronto.