Field Notes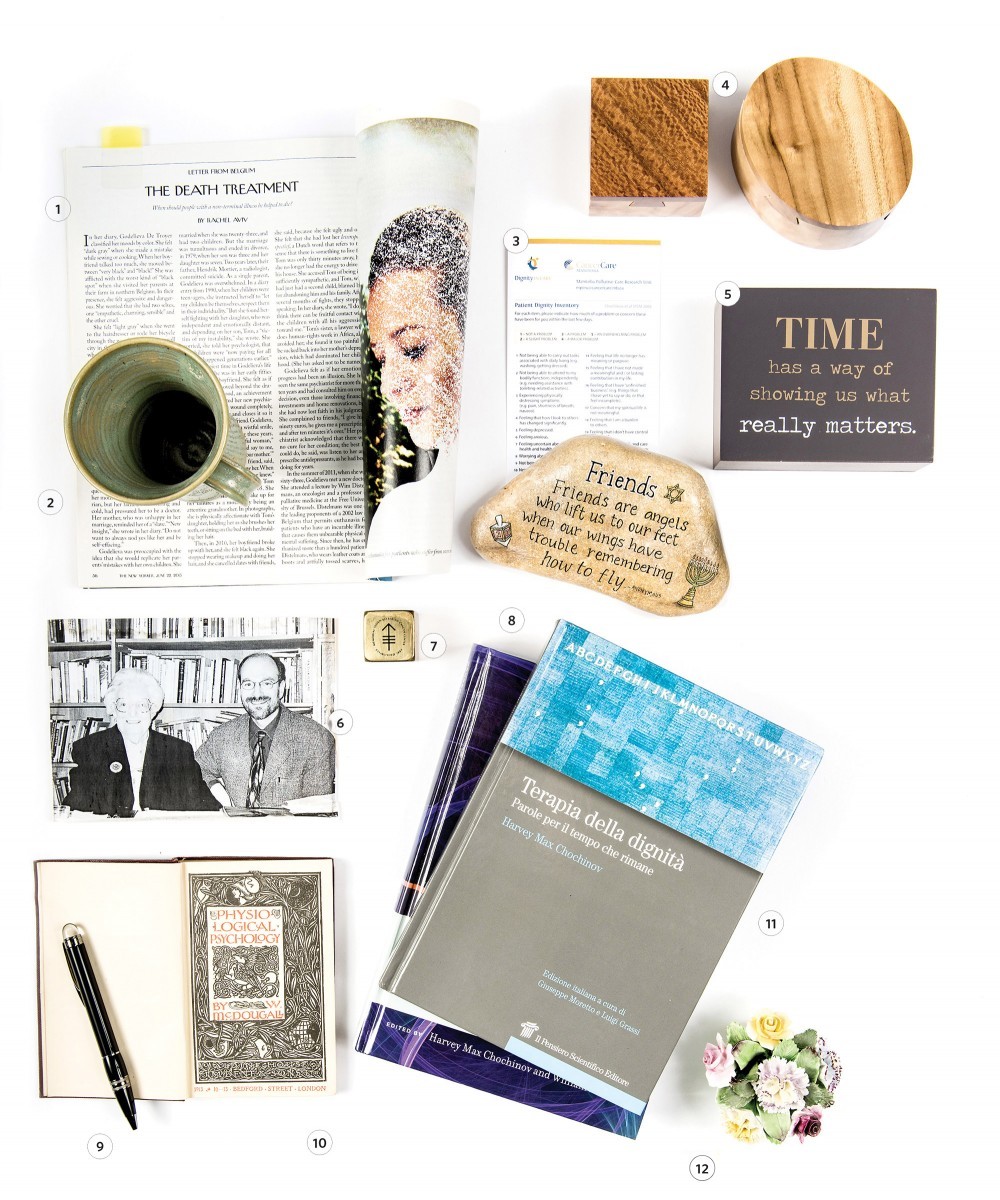 Items found in the office of Dr. Harvey Max Chochinov, OC [MD/83, PhD/98] Distinguished Professor of Psychiatry at the U of M; Canada Research Chair in Palliative Care; Director, Manitoba Palliative Care Research Unit, CancerCare Manitoba
1
No. 1 A story in The New Yorker about a woman in Holland who received assisted suicide. "It was a very well-done piece."
2
No. 2 Pottery mug crafted by his aunt, Manitoba ceramic artist Marilyn Levitt. "She was a wonderful potter, a wonderful aunt and died too young."
3
No. 3 A list of questions Chochinov developed to ask patients, giving them a voice as they face endof- life. "We've given out tens of thousands of these cards to people around the world."
4
No. 4 "I have a thing for small wooden boxes. I don't know why, but there is something interesting about them."
5
No. 5 From a colleague of a research project dubbed TIME, or This Is ME. They are developing a questionnaire for patients that prompts them to share things about who they are as a person, not their ailment. "So, whoever is providing you care sees you through the filter of: This Is ME."
6
No. 6 Chochinov with Dame Cicely Saunders, a British doctor who founded the modern hospice movement. "She is to palliative care what Mick Jagger is to rock 'n' roll."
7
No. 7 A memento from New York City's Memorial Sloan Kettering Cancer Center, where he was a fellow. "It's kind of hacked up. That's the beauty of it."
8
No. 8 A gift from a patient who recently passed away that Chochinov treated for nearly three decades.
9
No. 9 A 55th birthday gift from friends. Chochinov had never before owned a quality pen for fear he might lose it. "I came to the conclusion that life is full of risk; better to take the risk and have a nice pen."
10
No. 10 A 1913 textbook that belonged to Dr. George Sisler, the founding chair of the U of M's department of psychiatry. "He had tremendous humanity. He was a real gentle soul."
11
No. 11 Chochinov's book Dignity Therapy: Final Words for Final Days in Italian—its sixth translation so far.
12
No. 12 This ceramic flower is from his late in-laws' Winnipeg apartment. "It is a memory of them and the people who come in and out of our lives."