Field Notes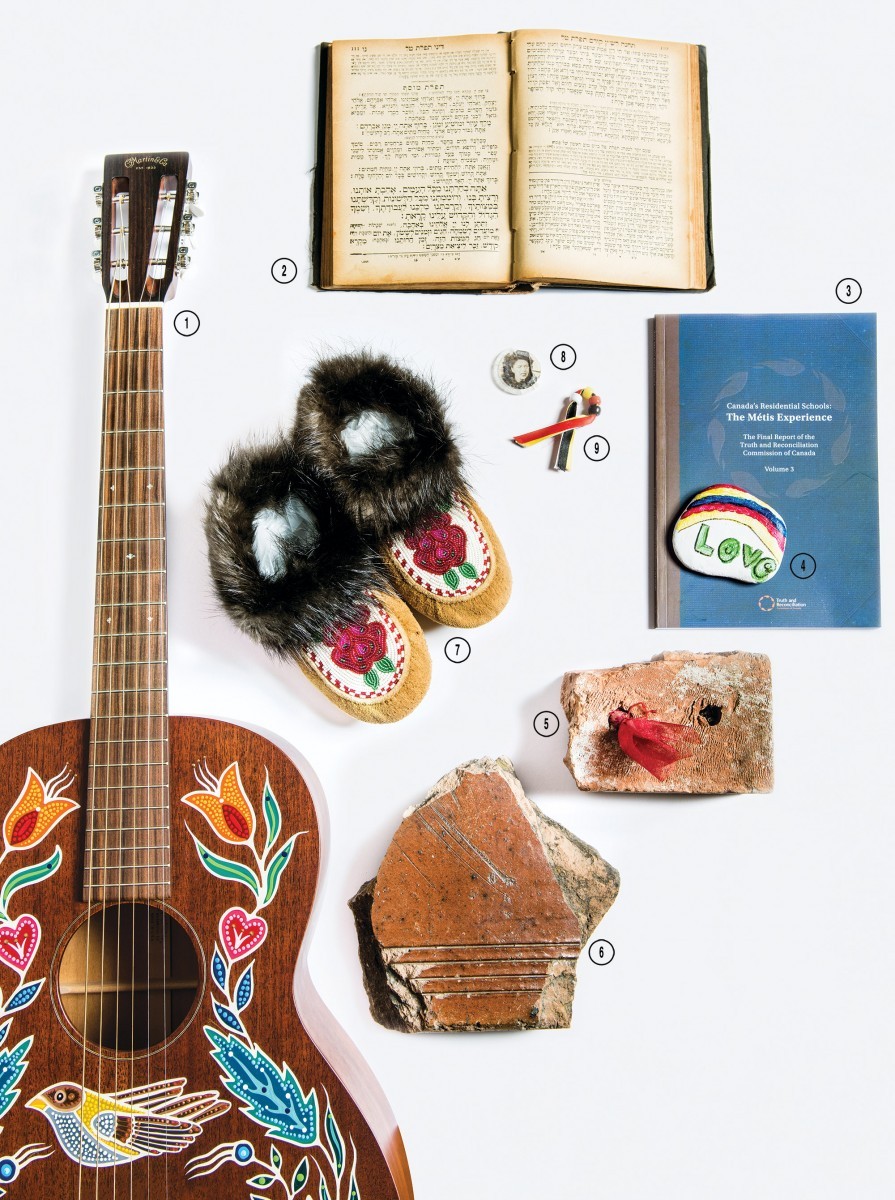 Items found at the National Centre for Truth and Reconciliation.
Raymond Frogner is the Centre's new head archivist.

1
No. 1 A guitar played by Buffy Sainte-Marie, dedicated to the Residential School students who formed bands and kept their love of music even though it was frowned upon.
2
No. 2 A Hebrew prayer book about the exodus of Jews from Egypt presented to Justice Murray Sinclair [LLB/79, LLD/02] on behalf of the Jewish community of Canada. The inscription inside reads: this "story of freedom represents well the soul of your work and the essence of your task."
3
No. 3 One of six volumes that make up the Final Report of the Truth and Reconciliation Commission, which Frogner keeps in his office. "It's called the final report but it's actually the first step towards reconciliation."
4
No. 4 'Touchstones' like this one were painted by Canadian students and offered to Survivors before sharing their story with the Commission.
5
No. 5 A brick from Manitoba's Birtle Indian Residential School, plagued by deaths from pneumonia and tuberculosis. "It's important to have the tactile, physical element. Otherwise, physically, it has been lost in time."
6
No. 6 A piece of Manitoba's Elkhorn Indian Residential School. The Pas Indian Band made numerous complaints about its conditions before its closure in 1949.
7
No. 7 A pair of children's moccasins from the Northwest Territories, representing a new curriculum resource about Residential Schools in development by the Nunavut government.
8
No. 8 A locket with a photo of Frogner's mother that he keeps on his desk. Frogner only discovered his mom was Indigenous—from Duncan's First Nation—in the 1990s. "She didn't tell me. It was almost a taboo topic," he says.
9
No. 9 A beaded brooch offered to bless a suicide prevention program.