Ameen Alnaser is trying to remember what his childhood bedroom in Syria looked like. In particular, the pattern on the blue quilt he would curl up under. The 25-year-old University of Manitoba student can't quite make it out, but what is still vivid: his Spider-Man poster, the only thing on the wall, given his parents warned him about marking the paint.
"It was a beautiful bedroom, I would say. I had to keep it clean all the time—that's my mom. Otherwise I'll be in trouble with her," says Alnaser, with a smile.
He and his parents and siblings had already fled to Jordan when their house in Daraa was bombed in 2015 by the Syrian regime, during a civil war that's now spanned more than a decade.
When the human sorrow of war in Ukraine captured the world's attention, Alnaser noticed how the intense coverage by media and on social platforms put a spotlight on the plight of refugee families like never before. This attention can be key to accessing prompt support from other governments and international organizations, he says.
"What I hope people take away from this is: No nation is immune of wars or crisis—East or West—or having their citizens to be refugees overnight. So, I hope people sympathize with refugees no matter their backgrounds or nationalities, and to offer the support they can."
What I hope people take away from this is: No nation is immune of wars or crisis—East or West—or having their citizens to be refugees overnight. So, I hope people sympathize with refugees no matter their backgrounds or nationalities, and to offer the support they can.
The Alnaser home was also their livelihood. The family of seven lived above a store where they sold the butter, cheese and yogurt they'd make in their basement. Now pursuing a commerce degree at the Asper School of Business, Alnaser spent his teenage years in a crowded refugee camp, mostly living in a tent and often without electricity.
What began in Syria as peaceful, pro-democracy protests against a corrupt Syrian government has since claimed hundreds of thousands of lives.
"I feel so angry about that time, you know? That we were treated with such a dehumanized way. Me and my family—we demanded for more freedom, and that's basically how it starts there in Syria. And we were faced in this violent way. I feel anger for the people who got killed there innocently, the people who got injured. I feel, you know, 'Why us?'"
But he also believes in pre-charted paths in life and that his was destined only for him. Even before the war, Alnaser knew resilience, having lost his legs in a housefire when he was five months old. His mom called him "miracle child." He arrived in Winnipeg in 2018, sponsored through the Student Refugee Program. Now he's the chair of the local committee at UM, supporting the program's newest sponsees.
"What I went through, the war and then living in a camp…it's written for me that I'll be living this experience. It had shaped my personality, had strengthened me to be able to be more adaptable for any life situation, to be asked to appreciate any blessings, any opportunities that I have today," he says.
"After coming to Canada, I have friends who complain about life, which is totally fair, you know? I, myself, complain about a lot of things in my life but whenever I remember my experiences I think, 'Okay, come on, you'll be good. It's easy to manage.' And whatever I do have now, I should just appreciate it, appreciate it from my heart. From the bottom of my heart."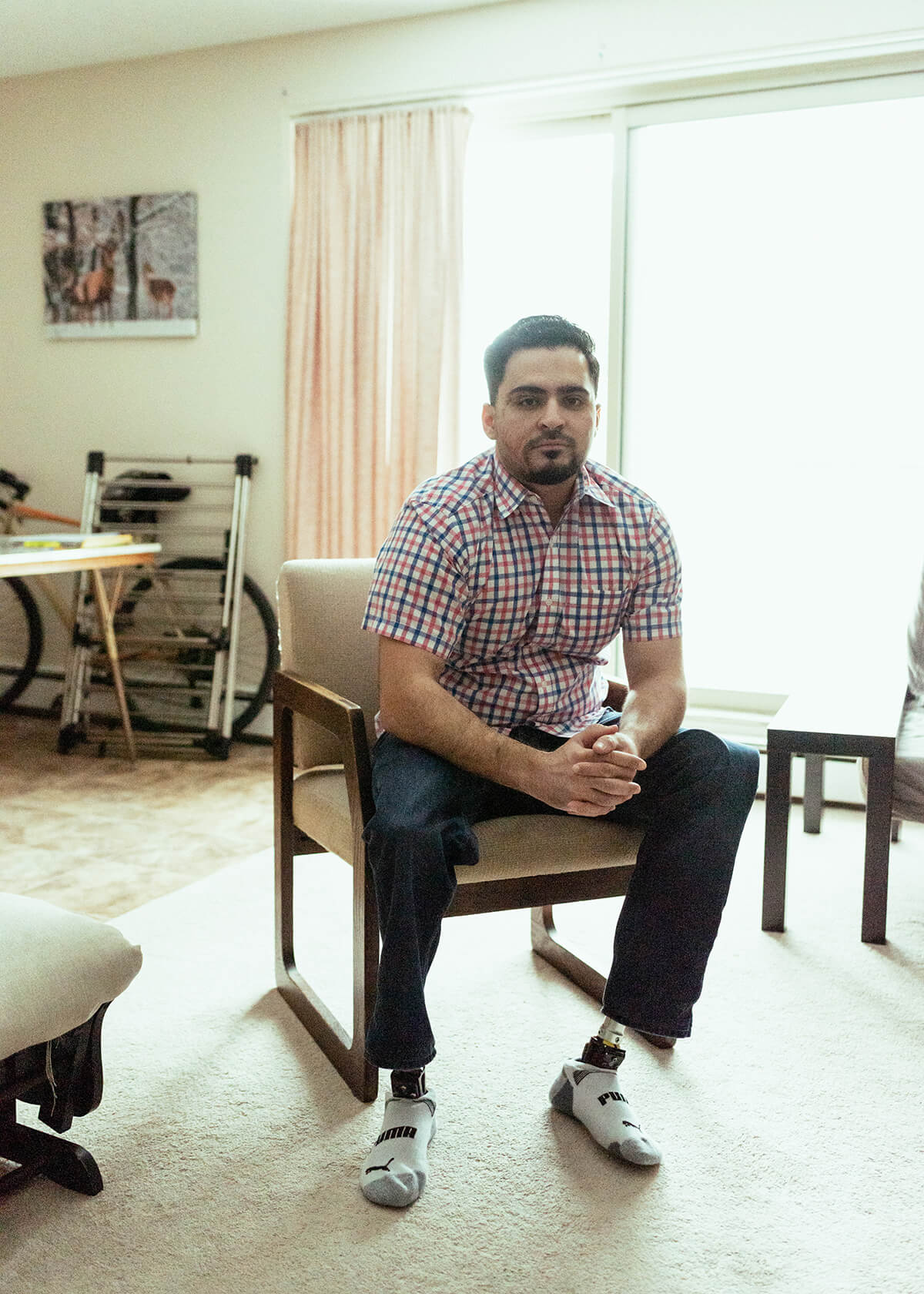 Ameen Alnaser was in Grade 10 when military officers invaded his school in Syria and shot bullets above students' heads. They were retaliating against freedom protests held on school grounds. They forced some of Alnaser's classmates to drop to the floor and lay in a line; then they kicked them in the ribs. After that day, Alnaser's parents pulled him and his siblings from classes.
For every young person chosen to study in Canada with a Student Refugee Program sponsorship, about 55 are not. And that's just among the roughly 9,000 refugees who know to apply for it, through the non-profit development agency World University Service of Canada, or WUSC. They accept applicants from Lebanon, Malawi, Tanzania, Uganda, Pakistan, Kenya and Jordan.
With so much at stake, Alnaser says he gets emails all the time from displaced friends back in Jordan, looking for advice on how to secure this sought-after golden ticket. It's the organization's overseas team who selects the roughly 150 recipients from the thousands of hopefuls. The sponsorship comes with $42,000, which includes two years of allowances and English course fees. WUSC covers housing fees for that duration; tuition for the first 30 credit hours is waived. After that, students support themselves. They come to Canada not as international students but as permanent residents. And the program model is one based on peer-to-peer support.
It's Alnaser's role, along with another nine UM student volunteers, to help new student refugees navigate an unfamiliar country without family or friends, improve their English, chart their educational path, find a job, figure out how to go to the doctor, establish a social circle through activities like ice skating at The Forks, and eventually find financial independence. Alnaser remembers arriving in Canada to WUSC volunteers waving welcome signs at the airport. "People that I've never met in my life—they were super happy just to welcome me and have me, which is honestly one of the main reason I decided to give back to the organization that sponsored me."
In 2022, UM marks its 40th year of partnership with WUSC. The reach expanded in 2016 when the University of Manitoba Students' Union launched a $8 levy per student campus-wide, providing funds for more than a mere one or two refugee students every year or so. In 2021, UM welcomed six—originally from Somalia, Syria, Iraq and Yemen.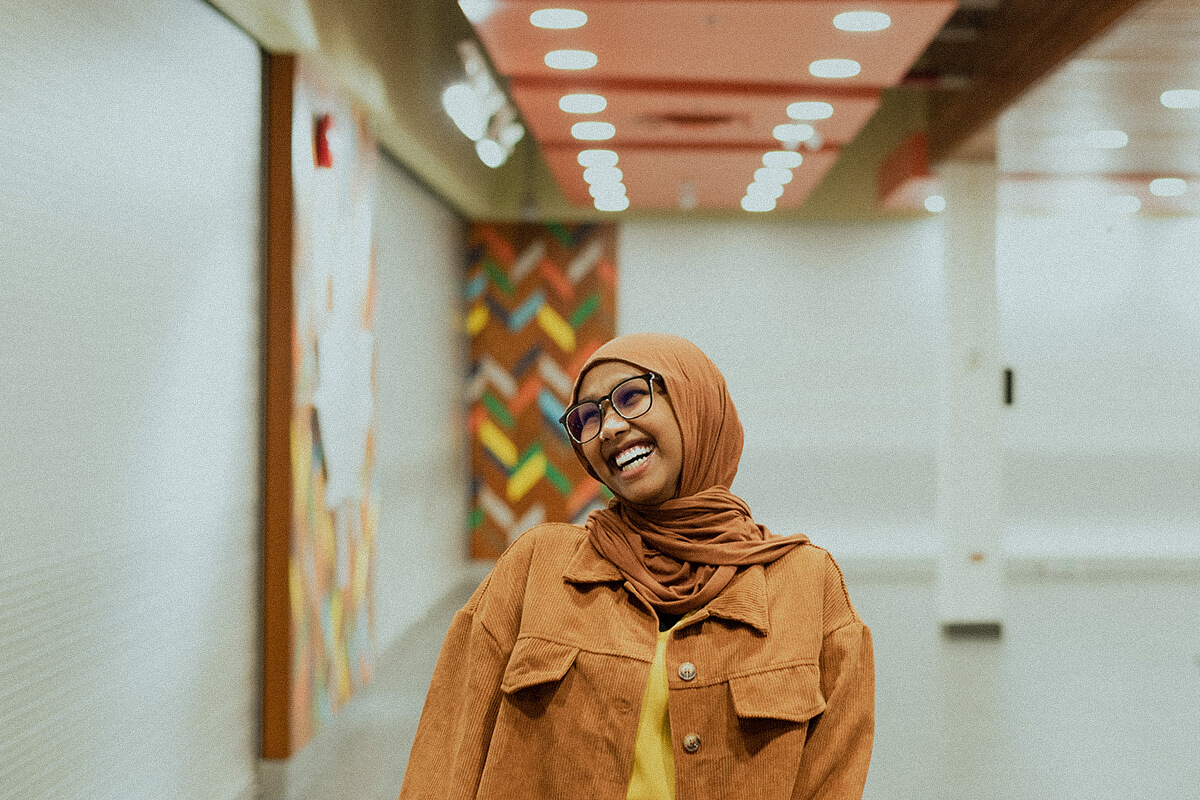 This past winter, Asea Hussein, who was born in Yemen but never had citizenship there, looked forward to tobogganing for the first time. The only snow she experienced in the Middle East would melt before it hit the ground. Hussein felt less scared arriving in Manitoba alone since she has a brother and sister who came to Winnipeg for university before her.
Asea Hussein smiles easily and often. It's no surprise the first-year UM student has met lots of people since moving to Winnipeg in the summer of 2021. "I literally know everyone in my floor now…even if my English is not that perfect," says the 20-year-old, who lives in residence on the Fort Garry campus.
She's happy to be here but misses her family in Jordan. Hussein talks to her Somalian-born mother, Batum Jabril Yousif Abdi, once a day via the Messenger app. Abdi became a single mom when Hussein's father, who was in the military in Africa's easternmost country, died during civil war when Hussein was six.
Hussein lived in Yemen until age 10. By then, unrest was already building in the Arabian Peninsula, and her mom had become sick so she brought the family to Jordan in search of better health care. There, the family of five squished into a one-bedroom house provided by the United Nations. Hussein remembers, at the time, feeling like she had everything.
"I was happy that I have a mom like this one, fighting for us," she says.
Hussein grew up in two cultures, speaking Somali at home and Arabic beyond her front door. As the years passed, she understood and felt the burden of being labelled a refugee. By high school, it became clear a university education was out of reach. "In Jordan, if we finished school, for refuge student, they don't get to university. You don't have the right to go to university….so, my life would have stopped after school," she says. "I worked every night and day and keep telling myself, 'I will make it either way.'"
I worked every night and day and keep telling myself, 'I will make it either way.'
Hussein knew an international study opportunity was her chance. Young women back home—a mix of displaced youth from Somalia, Iraq, Palestine and Syria—typically marry soon after graduation, often in arranged marriages. Hussein's mother always made it clear it didn't have to be that way. She could be more.
"My mom is so open-minded person. She was so different from Somalian moms. She was always encouraging us to do what we love to do."
Hussein's goal is to become a nurse and eventually work with Arabic communities in under-developed countries.
---
Alnaser says he's determined to increase the number of refugees sponsored to study at the University of Manitoba. He helps organize fundraisers for the cause, although those efforts have been hampered by the pandemic. He also publicizes local success stories, including that of a former child soldier from Sudan who was trained to fight at six years old. (One of the tests to determine if boys were ready for active service was whether they were as tall as an AK47. Now this UM alum is an engineer.)
WUSC cites a graduation rate of 90 per cent. Alnaser acknowledges recruiters face a frustrating task, selecting only a fraction of those desperate for the opportunity. "We have such great examples of success of this program. They just build a life here, give back to the communities who welcome them, and they even help their families overseas. They brought their families here to Canada," he says.
Last September, following the Canadian government's commitment to resettle 40,000 Afghan refugees fleeing the Taliban, WUSC appealed to universities to help reach its goal through their Student Refugee Program, the only initiative of its kind that combines opportunities for higher education, along with resettlement. (They made a similar plea in 2015 in response to the Syrian refugee crisis, when Canadian post-secondary institutions sponsored an additional 80 refugee students.)
WUSC has resettled more than 60 Afghan refugees to Canada so far and hopes to support an additional cohort in 2022–23. The need is especially pressing for young women, who risk losing any progress made towards equality in education. Few girls were enrolled in school in Afghanistan two decades ago but in the years since, they've represented nearly half of all students. The Taliban has since ordered the reopening of secondary schools for boys only.
Growing up a girl in Iraq, Rose Almandaya didn't play outside or leave her home very often, including to go to school, because of the threat of being kidnapped or sold. She'd hear of non-Muslim people killing themselves because they no longer wanted to face the constant discrimination.
In the summer of 2015, Rose Almandaya, then 17 years old, saw the horrific images on YouTube. Videos of ISIS members beheading non-Muslim Iraqis were circulated to enforce a warning during the terrorist group's surge to create a Muslim-only state: get out of the country within 48 hours or else. From their home in southern Iraq, Almandaya's family grabbed their photo album, some beloved books on religion too old to find online, some clothes and medication. They fled in the night.
"We was, like, praying all the time," says Almandaya. "They came from South so we were the first area that faced them and there was no one…from the government to protect us. They kill many people there."
The escape route through Bagdhad or Basra airports carried its own risks, with reports that gunmen of ISIS (the Islamic State for Iraq and Syria) were blocking routes. Almandaya feared they'd shoot down a plane filled with families. It was only once she landed in Jordan she felt she could breathe. "We were very happy and crying. It was incredible moment, like we are here and safe."
We were very happy and crying. It was incredible moment, like we are here and safe.
They soon learned relatives in northern Iraq didn't make it. ISIS rebels doused the perimeter of their village with gasoline, trapping them with fire between mountain and ocean. They couldn't swim.
These memories stay close, as do Almandaya's concerns for her parents, still caught in a cycle of poverty back in Jordan. Because they're refugees, she explains, they can't get papers to work, which means they can't afford health care. Her dad requires heart surgery; her mom needs knee surgery and is unable to walk. Now in her first year at UM, Almandaya is not yet in a financial position to send money back home but hopes that will come from a career in science.
She says it was tough arriving in Winnipeg in December 2020, nine months into a pandemic and during remote learning, yet securing a sponsorship through WUSC felt like a long time coming—a huge victory after three years of applying to various programs. Sometimes she was told she didn't meet the criteria; other times, she received no response at all.
"It gives me hope to continue the life because in Jordan, we are, like, dead because there's laws that prevent you from doing anything…. It's like a prison, exactly like a prison. This scholarship was the hope for me," Almandaya says. "I feel strong."