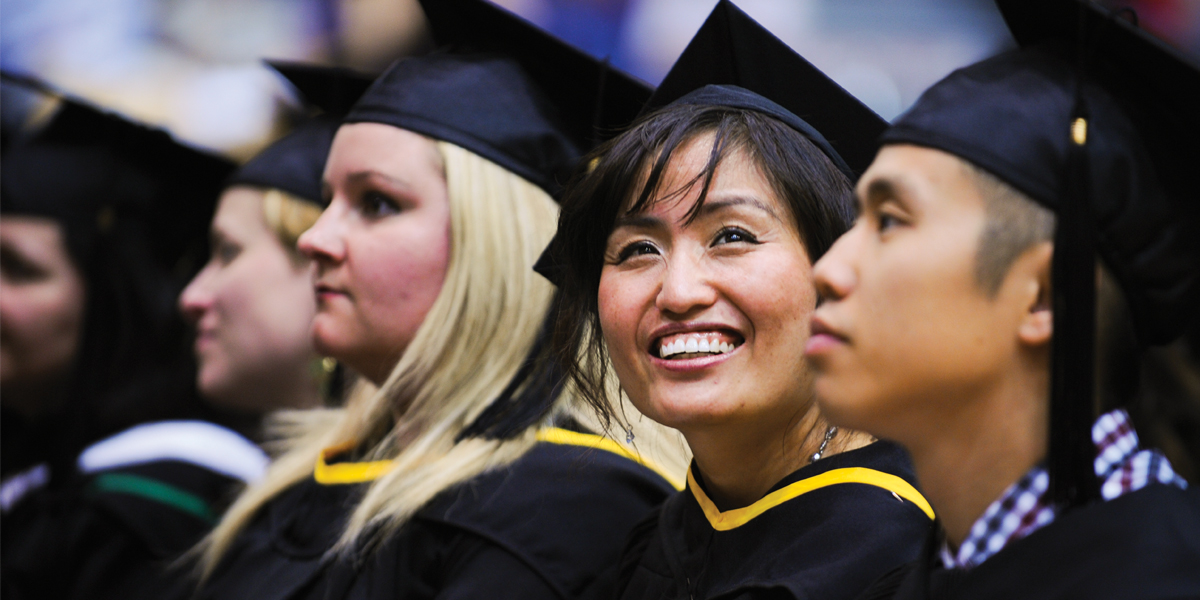 Congratulations New Grads
Graduation isn't the end. It's the beginning of a new journey with your university. Welcome to our alumni family—a community of trailblazers, explorers and innovators who are carving their own path in the world.
We can't wait to see where your University of Manitoba education will take you, and cheer you on along the way.
————
GO BE AN EXPLORER (BUT STAY IN THE LOOP!)
The late-night studying, the thrill of discovery, the friendships, the fun… Stay connected to all the things you loved about the U of M. Remember to update your contact information so you receive:
UM Today The Magazine
UM Today Alumni e-newsletter
Bookmark our website and our online news channel UM Today News to learn about upcoming alumni events (don't miss Homecoming which takes place September 19-25, 2016).
And connect with us on social media:
Facebook       Twitter           Instagram      YouTube        LinkedIn

 ————
FRAME IT
A lot of hard work went into getting your diploma. Now, show it off. It's easy to preserve your parchment by getting your degree framed on the spot at convocation. Or purchase a frame—with your university crest and logo—online or at either campus bookstore.
Convocation degree frame sales locations:
May 6, 2016 (Agriculture Diploma) – IGAC entrance, before the ceremony
May 12, 2016 (College of Medicine) – 2nd floor, Brodie Atrium, before and after the ceremony
May 31, June 1 & 2, 2016 (Spring ceremonies) – James Daly Fieldhouse, before and after the ceremony
————
REMEMBER THE DAY FOREVER
The Artona Group Inc. professional photographers will capture two photos of you during your ceremony: one on stage receiving your parchment, and one after you exit the stage.
Photo previews and order information will be emailed and mailed to you directly if you opted-in during convocation registration. Forgot to opt-in or unsure if you did? Register here.
Questions? Contact csr@artonagroup.com or 1-800-668-3866.

————
THE PERKS OF BEING AN ALUMNUS
Find the job that's right for you
As a U of M graduate, you have access to a bundle of services to help you find—and land—your dream job. Define your path during one-on-one career counselling (available within six months of your graduation). Browse job postings and volunteer opportunities in Manitoba and around the world by logging in to careerCONNECT. Get an edge in your search by watching web tutorials or attending the U of M Career Fair.
Stay active while saving money
Purchase an 8 or 12-month alumni membership to the Recreation Services facilities including the new Active Living Centre, before August 31, 2016 and receive your first month free. To qualify, simply print this e-newsletter and present valid photo ID at one of the customer service desks. Please have alumni number available at time of purchase. (Contact Alumni Relations for more information.)
Keep learning
The pursuit of knowledge is lifelong. As an alumnus, your quest for discovery continues with free access to the U of M libraries. Bookmark our calendar and stay engaged through U of M community events like Visionary Conversations and Café Scientifique.
Or continue your journey with a post-baccalaureate certificate or applied management program offered through Extended Education at the University of Manitoba. You'll find adaptable, high-quality and relevant continuing education opportunities that fit your life and your goals, whatever they may be.

————
PROMOTIONAL OFFERS FOR ALUMNI
We've carefully selected an exclusive group of partners to offer products and services to our alumni. When you take advantage of an offer, these partners provide funding back to the university. Learn more about our affinity partners and how using their services supports your alma mater.
BMO Bank of Montreal Mastercard
Industrial Alliance
TD Insurance Meloche Monnex
The Personal
Tempo Framing Systems
Artona Group Inc.