Myra Laramee
[MEd/92, PhD/13]
Lifetime Achievement
A legacy that will echo for generations
She was a grad student when her grandfather visited her in a dream. He told her to go to the computer and write his name on a page. So, Myra Laramee dreamily got up and did just that. "And the image of these different people that I met along my way kept coming, kept coming, kept coming, and I kept typing them and I kept typing them. And in the morning when I was done at sunrise, I had 103 people."
The prolific educator shares this anecdote shortly after teaching a Saturday morning university course, in which she instructs fellow teachers on how to integrate Indigenous ways of knowing and doing into their classes. Her course is so popular she had to cram a few more students in this year.
"I'm humbled to carry this knowledge, but it doesn't come from one territory, or from one Knowledge Keeper, it comes from those 103 people who influenced me to be a better person. I took what they taught me, and I share it with other people and I'll do that 'til the day I die. And then they'll remember me. And they'll start the journey of sharing what I taught them, and that's how legacies are born."
Since 1976, Laramee, a member of Fischer River Cree Nation, has helped transform Manitoba's education system as a beloved teacher, co-founder of the Aboriginal Teaching Circle, administrator, counsellor, mentor, Traditional Indigenous Knowledge Keeper and creator of no fewer than 12 guiding documents on how Manitoba can infuse Reconciliation, Indigenous languages and Indigenous-centered content into curricula. Her efforts have touched UM through her service as Elder in Residence, a professor, a member of the Dean's Aboriginal Education Task Force, and in her work on the Post Secondary Partnership Group for Manitoba Education and Training. In short, she possesses exceptional, sought-after wisdom that she's shared with groups across the world.
Laramee says she's so dedicated to enhancing teaching and learning because she believes a lack of knowledge is a cancer that must be dealt with.
"It creates a sickness amongst people," she says, "and it's bad when we put our actions into work with lack of knowledge. A lack of knowledge is a disgrace and it's your problem. And there's 100 ways to learn and to change."
---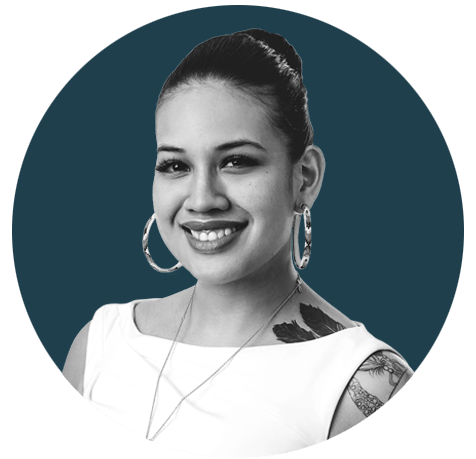 Ashley Richard
[BComm(Hons)/17]
Outstanding Young Alumni
An advocate for Indigenous peoples
When Ashley Richard was four years old her grandmother Mary, a revered Elder and community leader, told her the meaning of her spirit name, Forever Woman. And she said, "My girl, it means you're going to grow up to be a powerful woman, even more powerful than me."
But as a teen, Richard would stray from that teaching, leaving Winnipeg and experiencing abuse and pain and homelessness. When she returned, Mary was terminally ill yet solely concerned with her granddaughter's well-being, strangely convinced she had been in a terrible car accident. But it wasn't until after Mary's funeral that Richard found herself in a vehicle that smashed head-on into a tree; she awoke in a CT scanner in hospital. "I don't know how she knew about this car accident, but it makes me trust that she knew what was going to happen for me, and that's why I put so much faith in that teaching."
At 31, this Métis, Ojibway and Filipina woman is now bringing truth to her grandmother's vision, as a champion of Indigenous youth and a driver of positive change. While at UM, she learned the value of getting involved through her work with groups such as the University of Manitoba Indigenous Commerce Students—and for the last decade she has been advancing Indigenous economies and inclusion. Briefly, she has worked for the Treaty Relations Commission of Manitoba, hosted dialogues with former TRC commissioner Justice Murray Sinclair [LLB/79, LLD/02], co-founded an Indigenous comedy festival and the magazine Red Rising, joined Red River College's Board of Directors as its youngest member, and volunteered as chair of the Winnipeg Foundation's Walking Together Grants. She is now leading the National Indigenous Hub for the Women Entrepreneurship Knowledge Hub.
"When you do look at all the different things that I've done," she says, "it really is all over the place. But to me, it's all tied together by advancing Indigenous voices in different spaces."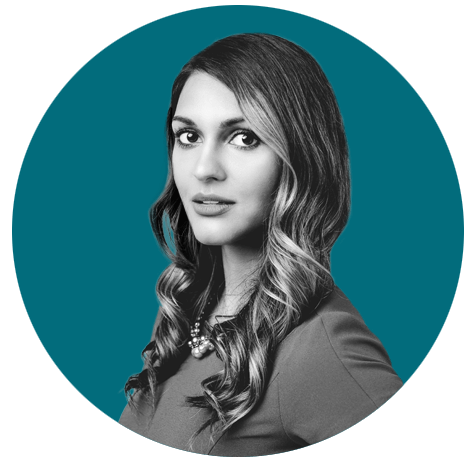 Dr. Nirvani Umadat
[BSc/07, BSc/11, DMD/11]
Outstanding Young Alumni
The power of a healthy smile
Rain. Rain so thick it blurred the other side of the road. Rain so heavy the UM dental students' van couldn't drive up the mountain to the Guatemalan town where they were volunteering to pick them up. So the students set out on foot, dragging their gear down the slippery slope, stopping on occasion to help a farmer push a horse out of the mud. It was a tiring end to an exhausting day: When Dr. Nirvani Umadat, then a fourth-year dental student, arrived in the village hours before, she found hundreds of people waiting for her team, eager to access dental care.
"It seemed endless because when people hear that you're coming they may take a day off of farming and bring their whole family. They make an incredible effort to come and so you don't want to turn anyone away, so you just work and work and work. It's physically taxing but you either embrace it or you don't, and for me I embraced it," says Umadat. "For me, volunteering to help others in these remote parts of countries is food for my soul."
Since that trip as a student, the dental surgeon has given her time and expertise to provide care and bring new smiles to patients in remote communities of Panama, Peru, Nicaragua, Cambodia and Guatemala. And she has volunteered to train other dentists in Vietnam, Cambodia and Haida Gwaii. She has even found time to co-found the company BdIn, a digital platform that helps patient admissions in South America, and to complete a citizen-scientist astronaut training program, which eventually led her to advise the European Space Agency on how to maintain oral health in orbit.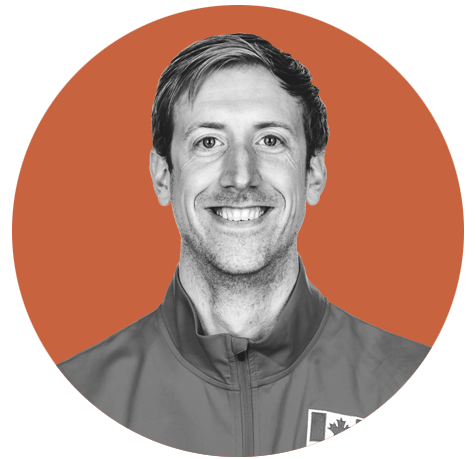 Chris Voth
[BPE/20]
Outstanding Young Alumni
Pushing for inclusion
In 2018, Chris Voth battled back from an ankle injury and played some of the best volleyball of his life as a professional in the Czech Republic. His dad—a long-time volleyball coach and player—flew out to watch him on the court after not seeing him play for five years. "He just kept telling me like, 'Wow I can't believe how well you are playing now. You are a player. You figured it out,' and I'm like, okay, that feels good."
It was at UM where Voth honed much of his athletic—and leadership—skills as captain of the Bison volleyball team, before going on to play for Team Canada and on teams throughout Europe. But then he tore his abdominal muscles and shattered his pinkie, prompting him to engage with sports in a different way—one that will benefit many others.
In 2020, at only 29 years old, he was named assistant coach of Canada's 2024 Olympic Team.
Voth says every athlete is worthy of unwavering support on and off the court, no matter the journey. He came out as gay in a Winnipeg Free Press article in 2014 at age 23, and three years later wrote candidly about his experience in a Huffington Post column—about how his team in Finland, upon meeting him, were meeting their first homosexual. They then became the first professional volleyball team to walk in a Pride parade.
As the former president of Out There Winnipeg, as a role model, mentor, motivational speaker, and founder of Pride without Prejudice Beach VB Tournament, Voth creates opportunities for others to be themselves.
He's now embarking on a grad degree at UM with a thesis documenting stories of professional gay athletes, so we can better learn from their experiences.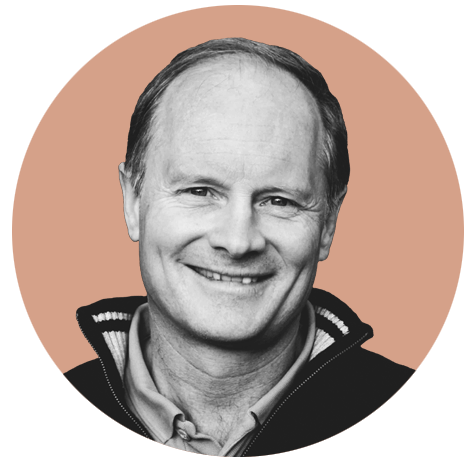 Dwayne Miller
[BSc(Hons)/78]
Professional Achievement
The beauty of science
Working at the Whiteshell Nuclear Research Centre when he was a third-year UM student, Dwayne Miller had free run of a lab with his advisor on vacation—and he wanted to test an idea. Could he convert the toxins deemed the worst offenders in nuclear waste to a less-terrible form, using a process involving simple pottery clays? "I must confess I didn't really know what I was doing yet," says Miller, who today is one of the world's foremost chemists. So he poured his caustic mixture into glass containers and left the sealed lab for the night. In the morning, he discovered the mixture ate through the glass and the nearby water lines, and the lab was filled with three feet of water.
"It looked like a cartoon," he says with a laugh. "My advisor returned at that very moment to see his lab nearly destroyed by an undergraduate. I was forced to clean the lab with basically a toothbrush." But Miller recovered his materials and realized his solution stored the toxins 100 times better than even methods used today. Ultimately, the technique didn't prove cost effective, but it gave Miller an invaluable boost of confidence in his creativity. "All aspiring scientists need this experience, to believe they can do science and maybe even do something useful."
To share the wonders of science's creativity, he pitched an idea to UM in 2008 to get the public interacting with researchers. Annual "Science Rendezvous" events now run in 300 locations across Canada.
Today, his lab at the University of Toronto unlocks atomic mysteries many thought impossible, allowing us to see atomic motions in real time: the moment a molecule changes from one to others. The magnificent insights gleaned from this has, for instance, enabled the development of a laser scalpel for surgeons to operate on single cells—avoiding collateral tissue damage and scar tissue. And one day soon, because of his discoveries, researchers will be able to operate within a cell. His work will allow us to directly observe the biochemistry that drives living systems, which could lead to new drugs and earlier disease detection.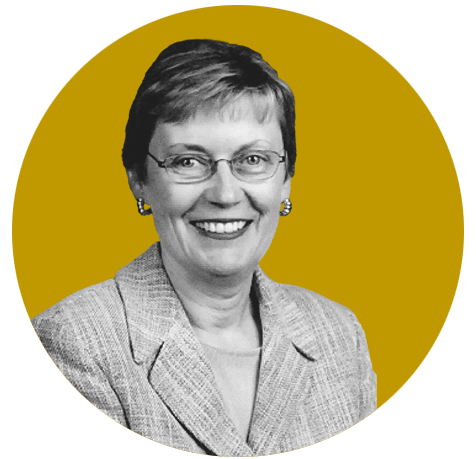 Dr. Norma Ramsay
[MD/68]
Professional Achievement
Charting her own path
As one of the few females in the medical class of 1968, Norma Ramsay never let old-fashioned attitudes of some male professors dispirit her, and she didn't do all her hard work out of spite either. "She isn't that kind of person," her husband Dr. Robert Ramsay [MD/68, BSc(Med)/68] says. "She just did her work. And it's a bit ironic that the University of Minnesota"—which was, as Robert recalls, hesitant to interview her when she first applied there after graduating from UM—"later wanted her to be the Dean." But Norma, by then an acclaimed pediatric oncologist who had won enough awards to fill a bookcase, declined that role. She retired early in 2004 because, she told Robert, "she saw too many big-shot males stick around too long."
Today, a health condition prevents Norma from doing an interview, which is why Robert is speaking on her behalf. He shares with us how she found her life's calling in the emotionally charged field of childhood cancer, and began treating the most difficult cases in the world using new bone marrow transfusion techniques she helped develop.
At the start of her career, the mortality rate for many pediatric cancers was roughly 50 per cent. Determined, Norma led research and treatment efforts to greatly reduce this number. She frequently published in prestigious journals but habitually declined the many conference invites she received because she was so committed to her family and patients. And by the end of her career, thanks to her team's insights and innovations, the mortality rate in their patients averaged 20 per cent. And if treatments failed, she'd often drive to hospitals, no matter the time of day, to be with children in their last moments.
She was also committed to growing the U of Minnesota department she led since 1979—the Pediatric Blood and Marrow Transplant Program—into a renowned group of clinician-researchers who share their knowledge for the good of all children across the globe. This is her driving passion: finding ways to make a bigger impact.
Nearly 40 years ago she helped establish the Minnesota-based Children's Cancer Research Fund, and in the decades since, she brought people together, inspired donors with her research and ideas (a legacy that continues through the endowed Norma K.C. Ramsay Lectureship), and helped it grow into a non-profit organization that now funds childhood cancer research across the U.S.
Helen Robinson-Settee
[BEd/87, MEd/14]
Professional Achievement
A teacher from the start
When her Grade 6 teacher called Indigenous Peoples "savages" while teaching a lesson, Helen Robinson-Settee bit her tongue. After all, her mother had taught her to respect people such as teachers. "That was a pivotal time in my life. That was when I made a decision to be an educator," she says. "And I don't have any ill feelings towards the teacher because, you know, she probably didn't have the training and didn't have the teachings to know who First Nations people are."
An Anishinaabe woman from the Dauphin River First Nation and member of the Mahkwa/Bear Clan, Robinson-Settee would become a teacher—and then some. She is currently the director of the Indigenous Inclusion Directorate with Manitoba Education, and has taught students from middle-school age up to teacher candidates in UM's Faculty of Education. Bringing her influence to national and regional organizations, she is particularly proud of her involvement with the Manitoba Indigenous Youth Achievement Awards because "good stories—not misery stories—need to be told."
Her commitment has been honoured by many, including the Manitoba Association of Parent Councils and the YMCA-YWCA, but her spirit seems to lift most when talking about her students.
"I love when students learn something and you see that expression of 'Wow,'" she says. "I still remember my first year of teaching when I asked my Grade 6 students to write something and one boy—who I still keep in touch with—went home and wrote 17 pages, single-spaced, on both-sides on foolscap about his gerbil dying. It was touching. And when I saw how happy he was to hand it in, it just inspired me."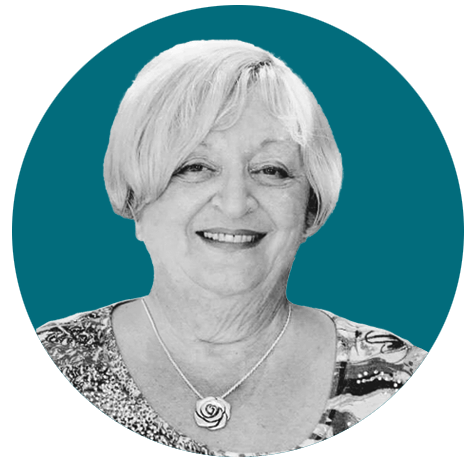 Zofia de Witt
[CertEd/71 BEd/73]
Community Service
Bringing people together
When she stepped off the train in Winnipeg on that December evening in 1960, after many days of travel from Poland, 13-year-old Zofia de Witt was greeted by blowing snow and extended family she'd never met before. She felt simultaneously chilled and warmed by the reception. "It was all very exciting. As a child in Poland, if you had the opportunity to go to Canada or to the U.S., well, that was just something that was unheard of. It's something that people dreamt about—the land of milk and honey with gold-paved streets—not realizing that when you got here it was a totally different situation. My parents were under that delusion too."
But they managed to find work while their daughter found community in the Polish church, igniting a passion for volunteering that is still with her today.
She has served in an array of roles for various organizations, including chairing the Manitoba Ethnocultural Advisory and Advocacy Council, and serving as president of the Canadian Polish Congress for 15 years. Under her leadership, the Congress provided $250,000 to establish the Polish Studies Endowment Fund at UM, and it now sits at $900,000—nearing her $1-million goal. And de Witt is a key reason UM maintains Western Canada's sole Polish Studies program—the only other being at the University of Toronto. These examples are mere snippets from her lifetime of volunteering for Canada's Polish community, which prompted the Government of Poland to award her its Gold Cross of Merit in 2010.
She is also celebrated for bringing her collaborative spirit to the broader community, developing multiculturalism policies for the provincial government and, leaning on her 30 years of experience as a teacher, helping Manitoba integrate multiculturalism into its curricula.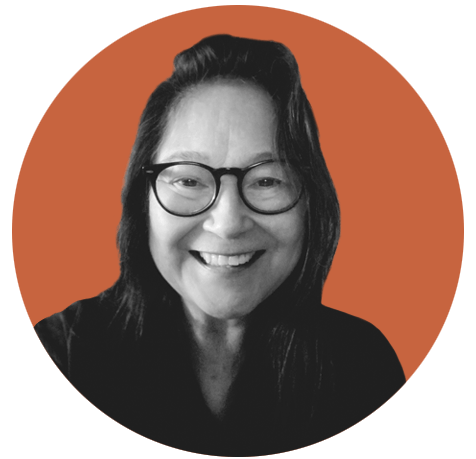 Lita Fontaine
[DipArt/97]
Community Service
Finding balance through art
The blueprint is simple: a bulbous head, big feet, black spade ears and an adorable nose. That's the outline for drawing the cartoon dog Snoopy. Not an obvious recipe for transformation but when an eight-year-old Lita Fontaine drew it for the first time on the chalkboard in front of her class, it ignited a passion. "My teacher congratulated me and gave me a beautiful experience. I had this sense of well-being and that's when I decided to become an artist," she says.
Today, Fontaine still draws Snoopy on the board for students in the Seven Oaks School Division, where she has been the artist-in-residence for 20 years. And she carries that lesson learned from decades ago with her in her service to the community: No gesture is too small to make a lasting difference in someone's life.
Fontaine is a Dakota/Métis/Anishinaabe woman, with band affiliations in the Sagkeeng and Long Plains First Nations, who grew up in Winnipeg, and whose artwork explores her experiences living as an Indigenous female in a colonial world. Her mother, a residential school survivor, was raised by nuns and Fontaine would practice Catholicism but also go to powwows, taking the best from both worlds.
"I grew up with two cultures, with two perspectives. I looked for balance. Psychologically, it all comes naturally because I'm an identical twin too, and I'm left-handed and my sister is right-handed."
When she saw a lack of Indigenous perspectives in the local art scene, she did something about it. In 1996, she co-founded the Urban Shaman Contemporary Art Gallery in Winnipeg, developing an Indigenous-artist-run centre that's now one of the foremost venues of its kind in Canada.
While Fontaine is a renowned artist, her greatest accomplishments emanate through the many young creatives she has guided and nurtured. A tireless volunteer and mentor, she is a beacon for the community who is quick to share her expertise with the next generation.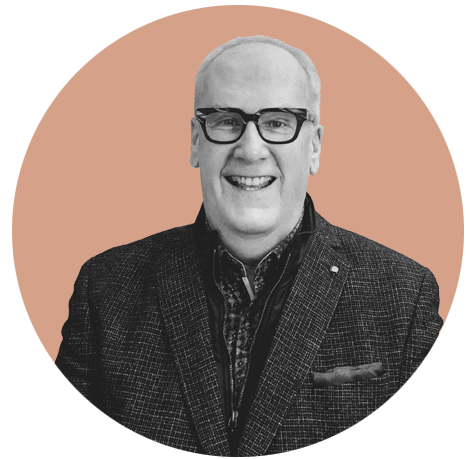 Doug Harvey
[BComm(Hons)/75]
Community Service
'A society of giving'
Aphorisms fly out of Doug Harvey's mouth. Then self-depreciating laughter. "Maybe I could write a book about them," he muses. "It would be a short book, and not a bestseller, but I think it would give us a laugh."
A prostate cancer diagnosis in 2015 has not dampened the 68-year-old's optimistic view on life. He abides by four pillars: his family, his business, his community and his well-being. "I've always tried to live my life so the funeral hall is packed. If it doesn't look like it's going to be packed, I tell my kids to get a smaller hall," he jokes. "But you know, people don't go to a funeral because you had a big house or you made a lot of money. They go because you've had an impact on their lives. I don't measure people's success in what they have. I measure it in what they gave to others."
Harvey is committed to his city. Some highlights from a lifetime of impact: He helped bring many capital projects in Winnipeg to fruition, including the Canadian Museum for Human Rights, the Assiniboine Park Conservatory, and Qaumajuq at the Winnipeg Art Gallery. He was involved with CancerCare Manitoba Foundation for more than 15 years. He chaired the construction of Richardson International Airport. He co-chaired a tourism campaign that increased visitor spending by about $15 million in Winnipeg alone and he helped create and keep 4,000 jobs in the city as chair of Yes! Winnipeg Investor Council.
Whether it's in his role as CEO of Maxim Truck & Trailer or volunteering for a board, he leads by example. When Harvey joined FortWhyte Alive's board he became a significant donor without prompting, and when one of its campaigns stalled trying to complete the final 10 per cent of its goal, he asked what was needed, and donated it himself. Can do. Will do…his philosophy, and perhaps the title of his future book.