Archive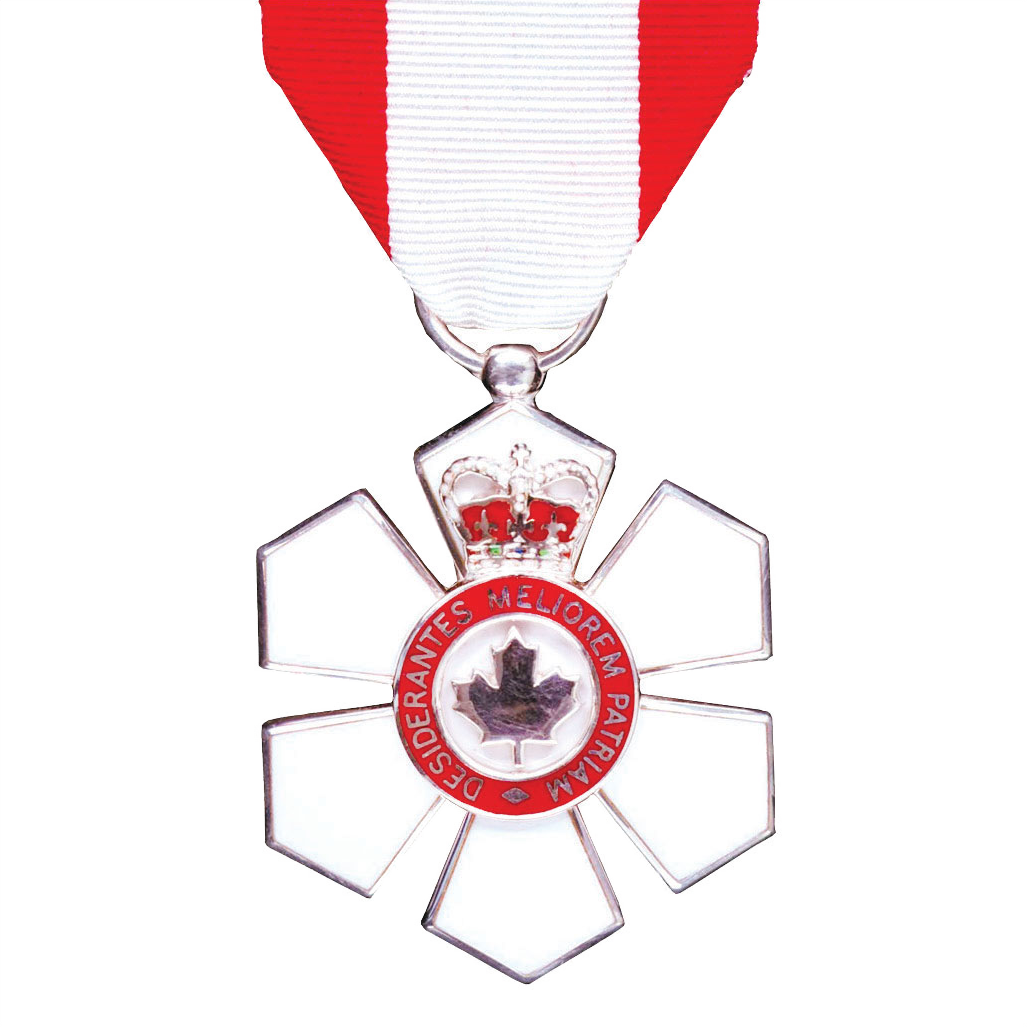 The Order of Canada
Spring 2017
How fitting that a snowflake be the design motif around which Bruce Beatty created the Order of Canada's iconic insignia in 1967. When you consider the 363 U of M graduates who have received the nation's highest civilian honour, they too are like snowflakes—unique in character and merit. Here are just a few, showing the breadth and impact of our alumni. (To see the full list go to news.umanitoba.ca/alumni/honours/order-of-canada)
Dr. Daniel E. Bergsagel, CM [MD/49] developed the first effective treatment for multiple myeloma, a type of bone marrow cancer.
Daniel A. Yanofsky, OC [BSc/44, LLB/51] was a chess prodigy by age 11 and became Canada's first chess grandmaster.
Dr. Cornelius W. Wiebe, CM [MD/25] was a beloved family doctor in Winkler, where he opened one of the first centres for people with mental disabilities.
Roger V. Lucy, CM [BA(Hons)/69] was Canadian Consul in Tehran during the Islamic Revolution and famously aided the escape of six Americans as depicted in the movie Argo.
L. Faye Thomson, CM [BA/72] co-founded the School of Contemporary Dancers in Winnipeg, where many of Canada's best dancers and choreographers got their start.
Leonard H. Shebeski, OC [BSA/41, MSc/46, DSc/81] developed triticale, the now widely-used cereal crop.
Mitchell W. Sharp, CC [BA/34, LLD/64] was a Liberal cabinet minister who refused appointment as Governor General because he advocated for Canada's independence from Britain.
Martin J. Yaffe, CM [BSc(Hons)/71, MSc/73] helped develop digital mammography technology, saving the lives of people with breast cancer.
Graham Spry, CC [BA/22] is known as the father of Canadian public broadcasting for founding what would become the CBC.
Perry Rosemond, CM [BA/58] directed and produced TV shows Royal Canadian Air Farce and Bizarre.
John A. R. Gardam, OC [BA/79] championed effective medical care for veterans.
Joella L. Foulds, CM [BA/66] co-founded the Celtic Colours International Festival.
Gerald S. Halter, OC [BA/24, LLB/27] was the first commissioner of the Canadian Football League.
Dr. Garnette R. Sutherland, CM [BSc/74, MD/78] established one of the first experimental labs for the study of neurological disease using MRI and spectroscopy.
Samuel R. Loschiavo, CM [BSc/46, MSc/50, PhD/64] co-founded Winnipeg's Folklorama.
Roy A. Miki, CM [BA/64] is an award-winning poet who lobbied for justice for Japanese-Canadians interned during the Second World War.
Ethel G. Martens, CM [BA/54] was one of the first health educators in Aboriginal communities in Northern Canada.
Simma Holt, CM [BA/44] was the first Jewish woman elected to the Canadian House of Commons.
Marcien L. Ferland, CM [BA(Hons)/64, MA/65, BSc/68] is a playwright and author who preserved and promoted French and Métis culture.
Sybil F. Shack, CM [BA/29, BEd/45, MEd/46, LLD/69] championed pay equity for female teachers and aid for working mothers.
Dr. Frank H. Gunston, CM [BSc(EE)/57, MD/63] was the first to design a total knee-joint replacement prosthesis and implant it into the human body.
Vernon D. Burrows, CM [BSA/51, MSc/53] is known as "Dr. Oats" for having bred 28 different varieties of oats.
Verna J. Kirkness, CM [BA/74, BEd/76, MEd/80, LLD/08] is a Cree scholar and advocate for Indigenous languages, cultures and education.
Arnold D. P. Heeney, CC [BA/21, MA/23, LLD/50] was Canadian Ambassador to the United States.