Local Roots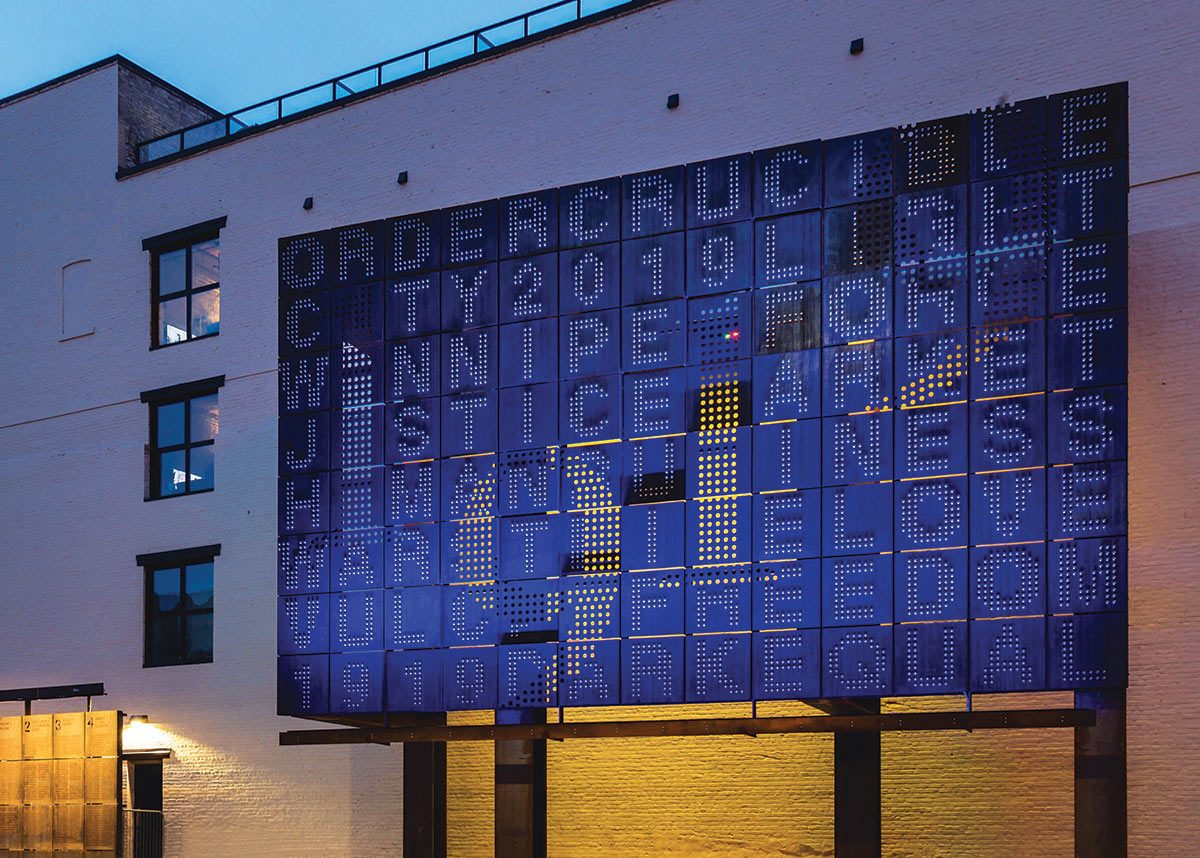 Striking a Chord
Spring 2018
Equal, war, order, freedom, crucible. Tom Monteyne [BES/82] calls these "ghost words."
Look up at the haunting letters made of brass rivets at the corner of Lily Street and Market Avenue in the recently unveiled 1919 Marquee. The monument, designed by Monteyne Architecture Works, commemorates the clashing voices of the Winnipeg General Strike.
"Some words are obscured by time and their meaning is hard to decipher," explains Monteyne, who likens the 40-by-25-foot "billboard" to a massive word puzzle open for interpretation.
He says capturing the complexity of emotion of Canada's most famous strike in a way that's not polarizing was as important as choosing the right materials. The weathered steel pays tribute to Vulcan Iron Works, one of the metal shops where the postwar labour movement first gained momentum.
Close to 30,000 workers walked off the job (from phone operators to mail carriers) to fight for better working conditions and pay, bringing Winnipeg to a halt for 40 days and throwing an international spotlight on workplace rights. At its peak, riots and violence filled the streets and claimed two lives. There were constables on horseback, baseball bats, bullets fired into crowds, an overturned streetcar, fear of revolution and jail sentences.
Monteyne wanted the installation to embody this epic story and, in stark contrast, create a welcoming meeting place for theatregoers or people who work near the site once dubbed Hell's Alley.
He hopes the structure will serve to "amplify an echo from the past" for years to come—its oxidized patina protecting it for at least another century.
When his team won the City of Winnipeg competition to bring their vision to life (beating out 13 other entries), they rang the shiny gold bell in their office, as they always do when they land a contract. But this time felt different.
"We rang it pretty hard that day."