Local Roots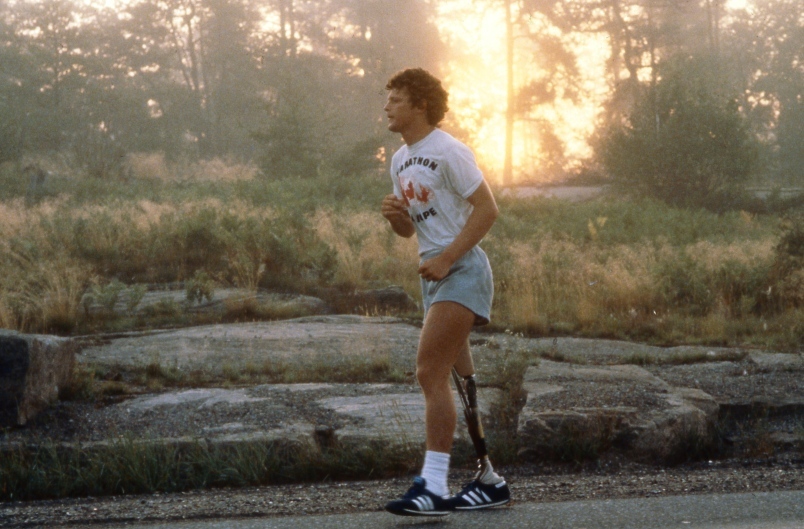 Strength in Solace
Fall 2020
Those of us who watched him run, see him still.
Night after night, the evening news carried Winnipeg-born Terry Fox, a sweet young guy with curly hair and freckles, pounding down the endless sweep of the Trans-Canada highway. A cavalcade of RCMP vehicles crept slowly along behind him, lights flashing to protect our new national treasure.
Terry Fox was the best of Canada, ever-humble and grinning as he stubbornly faced down two nearly insurmountable foes: a painful type of bone cancer and the 8,000-kilometre strip of asphalt that crosses this land. His Marathon of Hope, in the 40 years since, has gotten loud with support but it began with quiet moments.
At the time, Fox made it clear: "People take it the wrong way when I say I want to run alone. But I have to do it my own way. I have to really concentrate to ignore the pain and keep going…"
UM alumni Troy Woods [BComm(Hons)/15], 28, knows the weight of being alone with your thoughts. In fact, Fox has had a mysterious presence in his life. Woods too was a teenager when told he had leukemia, spurred to the doctor when, as the captain of the high school hockey team, he found himself shortening his shifts because he had no steam.
Earlier that year, he had applied for the Terry Fox Humanitarian Award. The application looked for young people who were giving back to their community. It included an essay on adversity, something Woods felt he knew little about, not realizing his own cancer was right around the corner.
Winning the award not only helped pay for university but it provided a lesson in staying the course. When Woods' treatments began, he was entering the Asper School of Business.
"I could sort of call on his story, maybe just to put things into perspective for myself," Woods says. "Running 26 miles a day for 140 days straight, most people—even the most skilled endurance athletes—couldn't even fathom doing that and he did it, just out of pure determination and to raise money for the cause."
Fox began his run in St. John's, N.L. and, in 143 days, covered more than 5,300 kilometres before being forced to stop outside Thunder Bay, Ont. Cancer had spread to his lungs. He died in the spring of 1981 just before his 23rd birthday.
Woods, now an accountant with Canada Life, would go through three and a half years of radiation therapy and chemotherapy treatments, 26 spinal taps and numerous blood transfusions on his journey to get well.
He wasn't surprised when an anniversary edition of Fox's iconic running shoe from Adidas and the Terry Fox Foundation sold out in a mere three minutes. We gravitate towards reluctant heroes.
"It was never about his own bravery or his own courageousness," says Woods. "He never made it a story about himself."
Manitoba beginnings
Terry Fox's parents met at the corner of Portage and Main. Betty Lou Wark was born in Boissevain and grew up in Melita, while Rolland "Rolly" Fox, a worker with CN Rail, came from a Winnipeg family of nine kids. Terry and his three siblings lived in Transcona until his family left harsh Winnipeg winters for British Columbia when he was eight. It was only in recent years we learned the celebrated runner has Métis roots, through maternal grandmother Marian (Gladue) Wark.