Emerging
Gregory Lewis says his violin is probably "freaking out."
He just landed in Winnipeg, flying in from his home in New Haven, Connecticut, and the instrument is reacting to the temperature change. Lewis spends a considerable amount of time humidifying and dehumidifying the inside of his violin case, trying to create ideal playing conditions—and then crosses his fingers it lasts the duration of a concert.
The University of Manitoba alum, who, at 25, is already working on his doctorate degree at Yale University, explains the nuances.
"In humid environments, the violin absorbs all the moisture in the air, all the wood swells, the strings get really tight and it doesn't vibrate freely. Your sound responds similarly—it goes, like, really nasal and shrill. It's hard to find the roundness, the openness that you normally get. And then you can have the opposite problem if it gets really cold and dry. You risk the wood cracking because it shrinks so much it pulls back and the grains separate. And, again, it just doesn't vibrate properly because the grains aren't lying next to each other the way that they normally do," says Lewis [BMus(Perf)/17].
"It's finicky."
But when he plays it's as though the instrument finds a voice all its own. The story it sings rises and falls and rises again. There's longing, excitement, anger, joy. It's this personified auditory narrative Lewis can't get enough of.
He's quick to point out how, when compared to playing instruments like a piano, with its abrupt end to a note once the finger leaves the key, the violin allows a musician to slide between pitches, "accessing that in between" like a singer would. With a slight shake of the hand while the finger is pressed to a string, it also allows for vibrato, creating a quiver that mimics our vocal chords.
"That's what makes it feel so natural and so human when you play it. Then there's the aspect that I hold the instrument and it's touching my face and my neck and my shoulder so you feel the vibrations the whole time you're playing. It's very connected to you," says Lewis.
Gregory Lewis performs Eckhardt-Gramatté Caprice 3 "Chant triste – Chant gai," written in 1924. "It's cliché, but the music inspires me. There's so much history," he says.
He traces his awe back to age three and the first time he heard a violinist in concert, in his home city of Thunder Bay, Ont., from the back row alongside his musical mother, who doubled as a homeschool teacher to her six kids. She remembers how he flung up his arms and broke out into a toddler performance of "air violin."
When Lewis was six, his mom agreed to switch him from piano lessons to violin and, before long, he was practicing up to four hours a day. Every week for nearly three years, Lewis would play at farmers markets to raise enough money to upgrade his instrument. "It was extremely lucrative," he recalls. "I feel like there's not many 11-year-olds that can say they bought a $10,000 violin with money they made busking."
Lewis was eager to explore beyond his small city of 100,000-plus and begin connecting with other young musicians. He fast-tracked high school by studying through two summers, graduated early and enrolled at UM at only 16.
At first he kept his age a secret from his classmates—fearing they'd treat him differently—but he found a community at UM. Lewis says it's where Oleg Pokhanovski, professor in the Desautels Faculty of Music, pushed him to be bold, especially in his career aspirations. "He said, 'Do it. All of it. You try your best. If it doesn't lead anywhere, at least you grew through the process of preparing for it.'"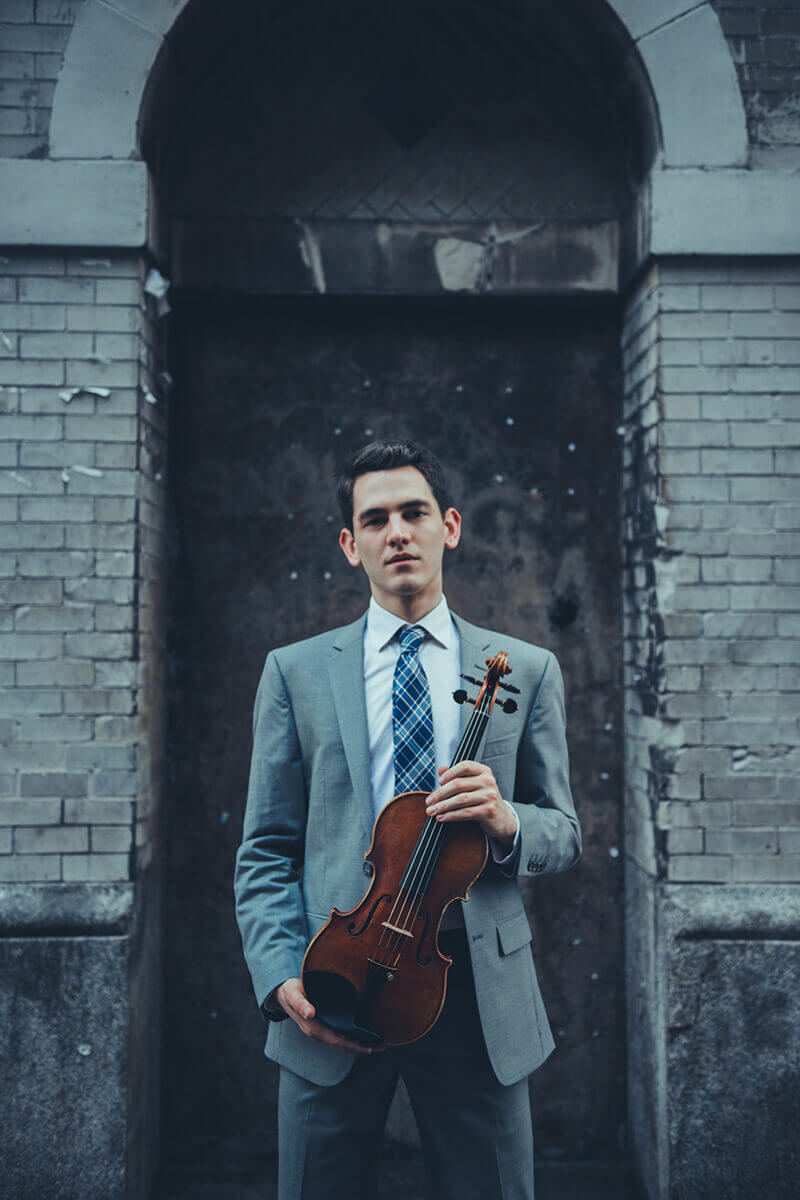 Lewis insists he's not a prodigy, just goal-driven. He graduated from university at 20, completed a master's at Yale by 22, and is now working on a doctorate of musical arts in violin performance at the Ivy League school. He toured Europe with The Julliard School's principal period-instrument ensemble and has taken the stage at Manhattan's Carnegie Hall four times.
Grateful to be among the roughly six per cent of applicants selected to his program at Yale, Lewis is enamored by its history. "Knowing that five U.S. presidents have gone to the same school that I'm going to, and probably I've gone to school at the same time as future presidents—things like that are really fun to think about."
It was at Yale where he met classmate Ariel Horowitz, who created the Heartbeat Music Project, which partners with Diné Elders on a Navajo reservation in New Mexico to bring free music lessons and instruments to school-aged kids. Now an assistant director with the organization, Lewis learned how to play traditional Navajo songs so he could teach youth wanting to explore their culture in new ways. They perform for family and friends during a final recital held in a Hogan, a domed-shaped ceremonial structure. For nearly all of the kids, it's the first instrument they've had access to. Lewis says he wants a career that will help deconstruct the elite nature of classical music, from its limited access to its "stuffy" reputation.
"I just want to see it portrayed as something you can do without being expected to be perfect at it. And that's something that is the fault of all of us in the field. It's easy to understand why we come across as uptight perfectionists who play for rich people, you know? I would love to see classical music presented as something that's fun to experience in the same way that going to a rock concert or sports event is fun to experience," he says.
"The sound is so beautiful and it's so close to the sound of the human voice."
Lewis once played alongside Fall Out Boy during a Grey Cup half-time show. When he brings musicians to perform with him in his home city, they feed off the crowd, with a fresh energy and even some laughs despite playing compositions that date back four centuries.
"A lot of that has to do with us playing in a way that the audience feels they're a part of the experience. We're not on stage for them to observe silently. I want audiences to feel that they're welcomed entirely into the experience," he says. "We're not a bunch of robots that have been playing every note perfectly since we were seven years old. We're humans and we just want to express something and share what we love."
Yet performing at Lewis' level does require extraordinary discipline. He practices and rehearses up to eight hours a day (finding the one spot in his apartment where he can play without neighbours complaining.) You won't catch him listening to music during his downtime; he prefers the silence.
He says a nearly two-year hiatus in live performances during the pandemic shook his confidence. "We spend our entire lives trying to build up the mental game of being able to walk out in front of an audience and just consistently deliver without showing any nerves, without ego getting in the way, or fear getting in the way, and then we all had to go a year and a half without using that skill set, and I lost a lot of progress in that regard. And I know a lot of other people did, too."
But the biggest psychological challenge of mastering an instrument is having to spend the majority of your time focused not on what you're doing well, but on what you're not. It helps that his classical musical community is so tight-knit.
"I don't think I ever hate it but there are bad days," says Lewis. "A lot of classical musicians struggle with negativity because what we do is so critical. It takes a lot of perspective to remember the improvement you have made and the things you have achieved. You remind yourself of how far you've come, where you want to take yourself next and be patient with yourself in the process."
Encore
More from Gregory Lewis…
On the most expensive violin he's played: A $6-million Stradivarius. "They're like paintings, really nice pieces of art. The wood's been vibrating for 400 years and it's been perfectly taken care of and it was perfectly crafted by the people who first made violins."
On goal setting: "I'm definitely pretty Type A. I'm always setting goals in my head, whether it's music-related or in my personal life. I always have an idea of what I want to get out of a situation or how I think I can improve where I want to be in a year, two years, five years. But I feel like I balance it quite well because I also like having fun and I'm a very social person. So I know when to turn that off and step away from it and just enjoy a moment."
On why he and wife Bethany Hargreaves-Lewis, a violist, didn't play for guests at their 2021 wedding: "We were both pretty adamant that on our wedding day we were humans, we were not musicians, which is ironic because my mom's a piano teacher and every single one of our friends in the wedding party were all classical musicians. We like to let it go for a day or two, here and there."
Support the home for the next generation of UM performers
The Desautels Concert Hall, now under construction, will be a state-of-the art, intimate performance venue in the heart of the Fort Garry campus. With its stunning architecture, superior acoustics, optimal sightlines and a configurable stage for a variety of performances, it is set to be the Desautels Faculty of Music's showpiece venue.
Be a part of this legacy project. With your minimum $1,000 gift, a seat in the hall will be named for you.