Field Notes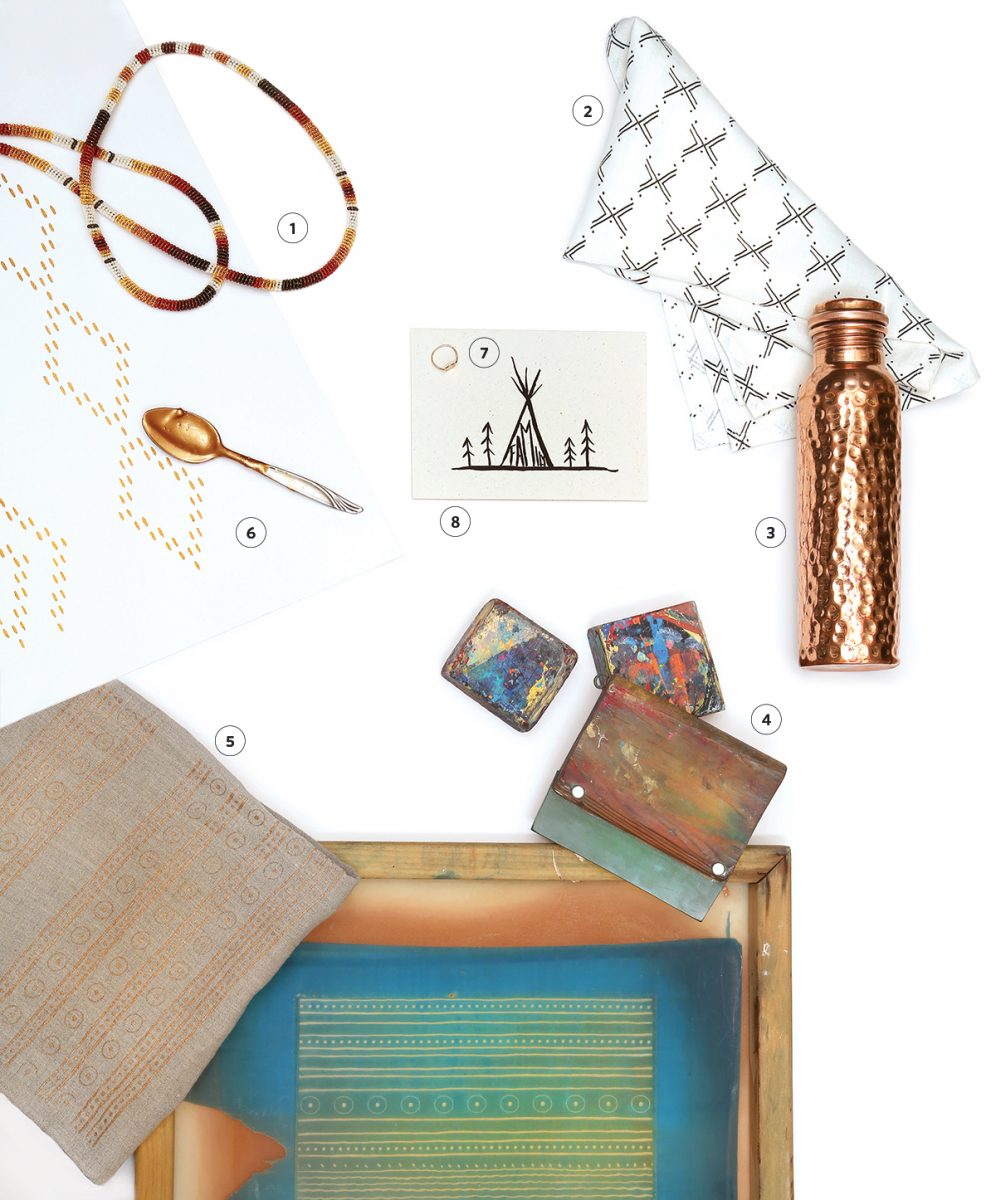 Joy of Making
Spring 2019
Items found in the creative space of Destiny Seymour [BA(Adv)/00, MID/13], owner of design firm Woven Collaborative and of Indigo Arrows, a home décor shop that reimagines patterns found in the pottery and tools of her ancestors.
No. 1 A keychain made by a friend, a fine arts student, who helps with her pop-up shops. "She understands what it means to be a maker."
No. 2 A tea towel inspired by a pattern etched in local pottery chards dated AD 1000-1350. "Women would make the pots together. It's interesting to think about who they were. You have to imagine the story."
No. 3 Her well-used copper water bottle—a birthday gift from husband Alan Greyeyes, who works in the Indigenous music scene, supporting "the business side of things."
No. 4 A squeegee to push paint through the silk screen onto fabric, and their resting blocks. "The nice thing about 'making' is it forces you to slow down or else you mess up."
No. 5 A pillow cover and the screen used to create a design originally etched into a hide scraper tool, made from elk antler 400 years ago and uncovered in Birtle, Man. "Our whole house is full of these pillows and textiles. I love that it's normal for my daughters to grow up around patterns their ancestors made thousands of years ago."
No. 6 Custom copper paint and a pattern she calls Niish (which means "two"). Her dad inspired her to name products in Anishinaabemowin. "His parents hid him to keep him from going to Residential School. He never went and that's why he's still fluent."
No. 7 A ring with the word LOVE engraved, bought in Paris. "I like the simplicity." She hopes to return this fall and show her designs in a festival there called Maison & Objet.
No. 8 A thank-you card she gives customers, crafted with help from protégées: Ella, 8, and Ava, 7. "I like sketching with my daughters. They do animals, owls, lots of rainbows."