The Herd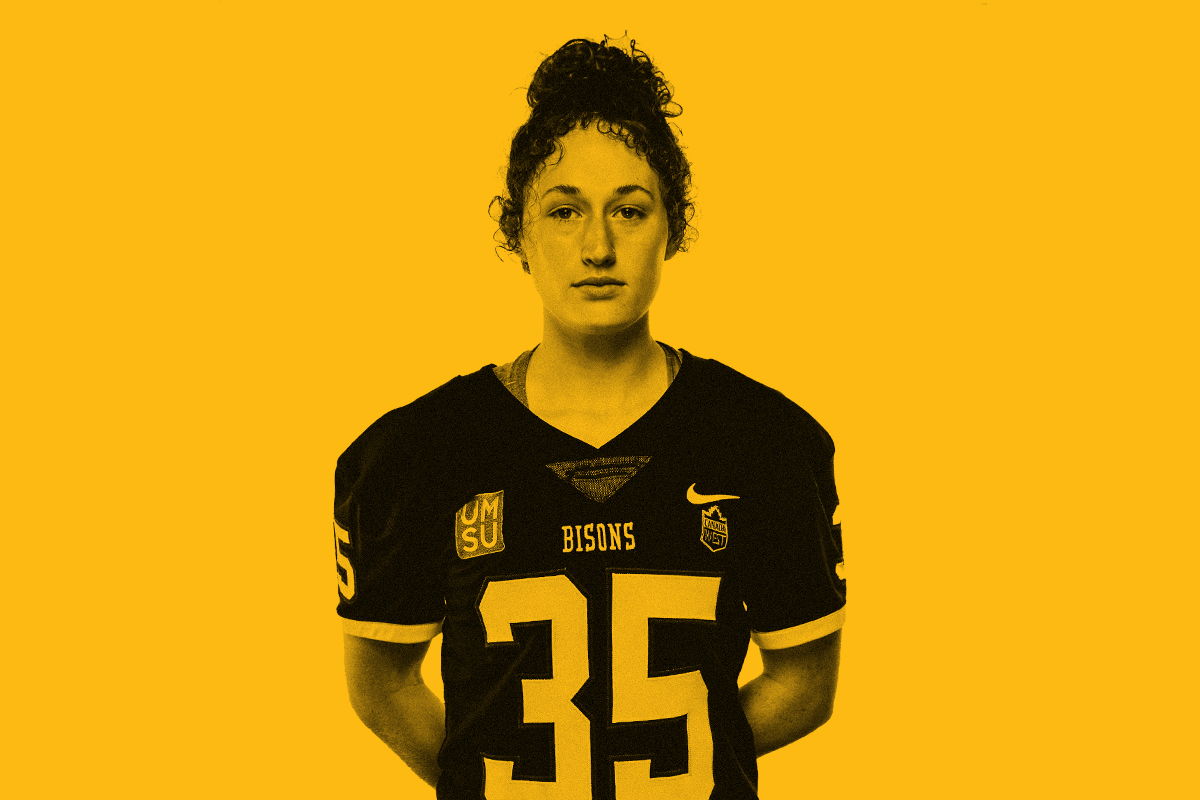 It's tricky for Maya Turner to explain why she's obsessed with kicking footballs. It's something to do with harnessing enough force and control to launch an object further than the distance of an Olympic-sized swimming pool.
"Maybe it's about that transfer of energy…. It's so focused—it's all of your energy and power in focus just for, like, one moment," says Turner, 20.
The U.S.-soccer-player-turned-Bisons-recruit, who this season became the first female in Canada to score a point in a university football game, explains how exacting each kick must be.
It requires multi-level precision, down to the spacing of her three leading steps (112 inches), the part of her foot that connects with the ball, the spot on the ball that receives the impact, the calibrated speed and strength demanded by the varying distances, the upper body shift to generate the right momentum. And then there's the wind.
"There are so many little pieces to it that can always be worked on. It's different for every kicker. You just see what works for you."
How Turner got to UM could be characterized as both a slow-burn and whirlwind. She grew up in a Minneapolis suburb, shuttling to soccer practices and games, and eventually earning a spot on the women's NCAA Division 1 team at Loyola University Chicago. But the 5-foot-9 striker, a go-to for corner and free kicks, found herself ignoring a nagging feeling: She was no longer loving the sport that consumed her. After Turner left soccer, she felt like she'd lost herself.
"When ending a sport…a lot of people talk about having an identity crisis and they're like, 'What do I do with my life?' But when I found playing football, it was something that motivated me," she says. "It was something to work for, and it's something that I could use my past training for."
Up until then just a fan of football, she grabbed a fellow fan—her father, who works in marketing—along with a weathered ball from the basement and a borrowed tee from her friend's brother, and they headed to her high school's practice grounds to learn how to kick a field goal. She sent it sailing some 45 yards (and now averages 55).
I always wanted to play football and try kicking but I just assumed I couldn't really do that because I'm a girl.
After making Loyola's club football team, and later training with some high-profile kicking coaches elsewhere in the U.S., she reached out to Bisons head coach Brian Dobie, who invited her for a visit. When Turner joined the roster in 2022 as a back-up kicker—and made that historic three-pointer during a pre-season game against the University of Saskatchewan Huskies—she did so as the second female Bisons player. Defensive back Reina Iizuka redshirted in 2018 as the first woman in U Sports football.
Not yet dressing for season games, Turner has four years of eligibility to battle for a starter spot. She figures Iizuka paving the way made her arrival less of a big deal for her male teammates. "They've definitely done a good job of treating me like anyone else," she says.
Since moving to Manitoba, the student-athlete has been flexing her creative muscle in the School of Art, with a plan to pursue graphic design. Turner's take on the artistic process also neatly sums up her approach to the gridiron.
"It's about being able to make things your own."
Root for the home team
Are you a UM alum? Cheer on your alma mater in football, hockey, volleyball, basketball and soccer by claiming up to four free tickets per match for every home game. Visit gobisons.ca (use promo code UMALUMNI23)