Emerging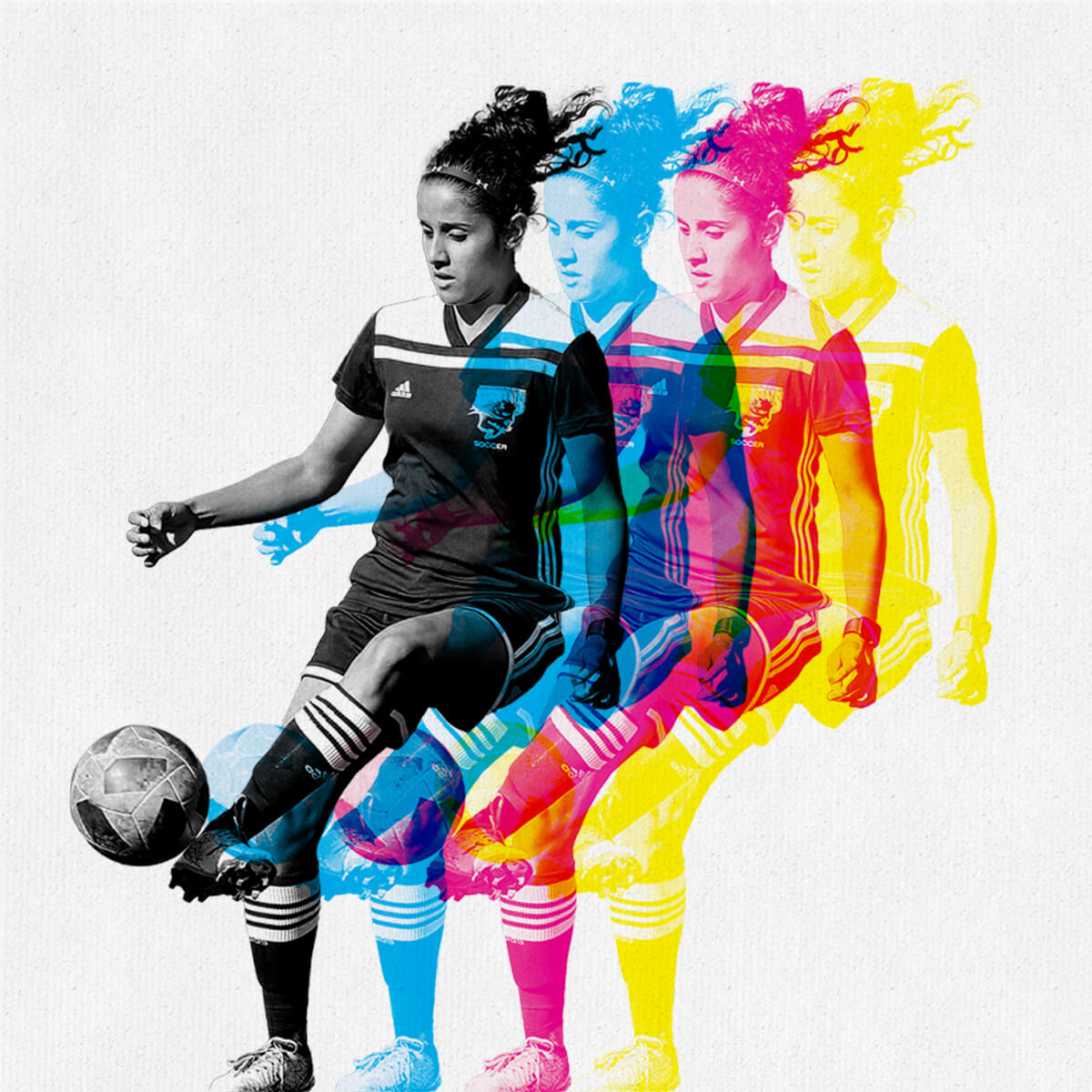 Bend it Like Dalima
Spring 2021
She slid into her aunt's Delhi wedding late, but at least she made it there.
While the bride donned ornate jewels and a ruby red gown for a celebration steeped in Indian traditions, a young Dalima Chhibber arrived wearing her soccer shorts, jersey and cleats.
It was typical for the rising soccer star, who had just come from a game, to miss big family functions; her sport always came first—and for that she's unapologetic.
"I'm pretty much in love with soccer," says Chhibber, who is among the University of Manitoba Bisons' newest recruits.
The misfit scene she's describing, from her Winnipeg home where she lives with three teammates, is not unlike one that unfolded in Bend it Like Beckham, a 2002 movie she's watched so many times she can't give an exact count. In the film a young soccer player in India—Jess—leaves her sister's nuptials to play a big game. Afterwards, the character races back to the wedding.
Chhibber always felt a bit like Jess: fighting to play her sport amid a culture immersed in customs and ideals about what females should be. She says she's thankful she didn't conform.
As captain of her country's national team, Chhibber became the face of women's soccer in India, a bustling country of more than 1.3 billion. UM women's soccer head coach Vanessa Martinez Lagunas says the 23-year-old is the most experienced international player ever to join the herd.
Now settled into a quieter life on the Canadian Prairies, Chhibber talks about a very different dynamic in India, how adoring fans rushed her while she shopped at the mall. People have even asked her dad Om, who is also her lifelong coach, for his autograph.
Her popularity in her native country still feels surreal, she says. "They approach me in public and ask, 'Can I get a picture with you?' Growing up, who would have thought I would be giving an autograph?"
Chhibber became a household name when footage went viral of her free-kicking a ball 36 metres across the field before it magically swerved to the left corner of the post. The goal helped secure a win during the 2019 national championship game against Nepal. Chhibber has since scored 22,000 Instagram followers and 18,000 likes on her Facebook page.
She says she's honoured to inspire young women in a country not known for supporting females in sport. Growing up, certain family friends, acquaintances and extended family warned her parents not to let their daughter take soccer too seriously. They worried the game would be too rough for a girl. They advised she should focus on academics so she could become a teacher or engineer.
"At the end of the day I would ask, 'Am I wasting my time?'" recalls Chhibber, who considered giving up her pursuit more than once.
Dreamer in the making
She grew up a middle child in India's capital, New Delhi. Her parents, both athletes, played on the University of Delhi's first men's and women's soccer teams. It was her father who introduced her to the sport at age seven. Four years later, a scout—who spotted her juggling a ball—helped her land a spot on the state soccer team.
As a pre-teen, Chhibber would practice with her dad at the crack of dawn every day before school. She says he tried to teach her how to kick and score "from any angle." She continued soccer practice for two hours after school, balancing homework, school events, training for games and the games themselves. She managed thanks to her mother Neelam, a senior librarian who took the lead as her academic coach.
Every morning as Chhibber got ready, she would glance at the inside of her closet door where she had taped news clippings of her favourite soccer stars. It was a collection she carefully curated. Even today, she isn't sure why she hid this inspiration rather than post it on her bedroom walls, which were bare. Perhaps she wanted to keep her dreams for the future quiet.
But now she laughs when recalling critics in her family's circle who shook her confidence early on—some of them even phoned her parents after her big, televised win. "They would say, 'That's my girl. I knew she could do it,'" says Chhibber, who came to UM that same year.
Today, she's pursuing a master's degree in sports psychology—an area of study she chose because she's convinced mental will is the main reason athletes succeed.
"There are so many people we see go to the gym, but there are only a few people who are ready to push their limits and work through those limits and through pain," she says.
Her own mental state during her Nepal win is a moment she thinks of often. In a packed stadium on her opponent's turf, and with a crowd cheering for the home team, she silently spoke to herself.
"I said, 'You know what? I'm not going to think. I know I have it in me. I'm just going to go for it.' I went for it. I got that goal. The rest is history."