Accomplishments – Spring 2016
GAIRDNER PRIZE FOR FRANK PLUMMER
Distinguished Professor Frank Plummer [MD/76], Medical Microbiology and Public Health Agency of Canada, was awarded the 2016 Canada Gairdner Wightman Award. Plummer is credited with decades of work in the field of infectious diseases, specifically HIV/AIDS. His efforts have saved countless of lives. This award is given to a Canadian who has demonstrated outstanding leadership in medicine and medical science consistent with the purpose of the Gairdner Foundation.
ORDER OF CANADA FOR OUR ALUMNI
The Honourable Lloyd Axworthy, PC, CC, OM [BA/61, LLD/04], has been promoted to Companion of the Order of Canada for his contributions to international human rights and for his leadership in post-secondary education, particularly in support of Indigenous students.
The Honourable Richard Scott, OC, OM [BA/59, LLB/63, LLD/00], has been appointed an Officer of the Order of Canada for his contributions to the administration of justice and for his service to the community.
Ivan Kenneth Eyre, CM, OM [BFA/57, LLD/08], has been appointed as a Member of the Order of Canada for his contributions to Canadian art.
Dr. Harvey Max Chochinov, OC [MD/83, PhD/98] was invested into the Order of Canada for his work in palliative care. See Field Notes.
Faye Thomson [BA/72] was appointed as a Member of the Order of Canada in recognition of her "contributions to contemporary dance in Canada and to the development of the next generation of dancers."
---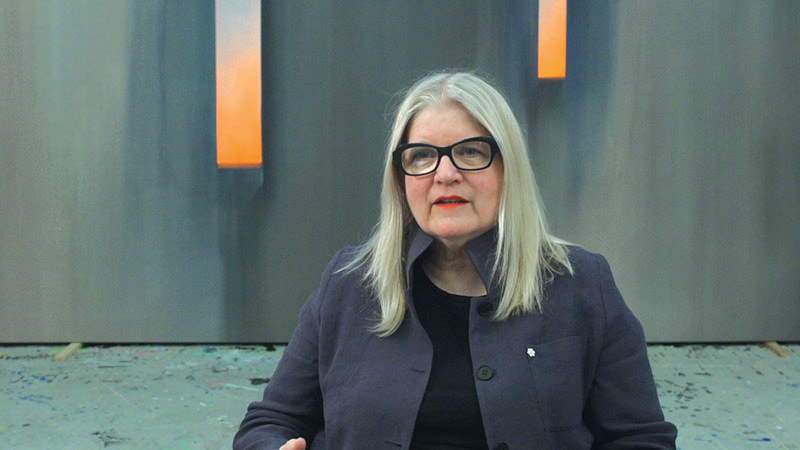 Koop wins Governor General's Award
Wanda Koop [DipArt/73, LLD/09], one of Canada's leading contemporary artists, was named a recipient of the Governor General's Award in Visual and Media Arts in March 2016. Koop, who is also known for her community work and social activism, has had a successful four-decade career, resulting in more than 50 solo exhibitions across the globe. In 2010–11, the National Gallery of Canada and Winnipeg Art Gallery exhibited a comprehensive exhibition of her work.
---
MAJOR DISCOVERY IN PHYSICS
A phenomenon predicted by Einstein 100 years ago as part of the General Theory of Relativity was proven in February. Michael Landry [PhD/00 (Physics)], a University of Manitoba alumnus was one of the lead scientists on the project. LIGO, the Laser Interferometer Gravitational-wave Observatory, announced that they had detected a gravitational wave. This detection, the first of its kind, was accomplished by comparing results from two detectors, one in Hanford, Washington and one in Livingston, Louisiana, using laser interferometers.
---
ALUMNA NAMED NEW PROVOST
On March 16, 2016, it was announced that Janice Ristock [BA(Hons)/83] will serve as the University of Manitoba's next provost and vice-president (academic). Throughout her 25-year professional career at the U of M, Ristock has maintained an active program of research and work with graduate students. For the past four years, she was vice-provost (academic affairs). Ristock is an accomplished researcher, dedicated educator and respected administrator, bringing prodigious experience, talent and leadership skills to her new role, which begins on July 1, 2016.
---
NOTES
Andre, Michael P. [BSc/71, BA/85] has recently published his first book of short stories, First Born of the Moon and Other Stories, mostly in the speculative fiction genre.
Asper, Gail [BA/81, LLB/84, LLD/08] and Levy, Moe [BComm(Hons)/73, MBA/74] were presented with the Mahatma Gandhi Peace Award in Nov. 2015 for their roles in establishing the Canadian Museum of Human Rights.
Bruneau, Michel [BSc(Hons/90, MD/94] has been selected as a Family Physician of the Year for Manitoba by the College of Family Physicians of Canada. The resident of Lac du Bonnet was nominated for his commitment and compassion as an outstanding family doctor and for his focused care for cancer patients.
Cadrin, Elaine [MBA/93] ventured into the CBC's Dragons' Den in Oct. 2015 and emerged victorious. The Calgary entrepreneur pitched her business, CheeCha Puffs, on the hit show, which boosted sales in a "big way."
Carney, Mark [LLD/13] has been appointed chair of the G20's Financial Stability Board and as governor of the Bank of England, the first non-Briton to be appointed to the position.
Chataway, Josephine F.C. McKibbin [BA/35] celebrated her 100th birthday on Dec. 15, 2015. She graduated from the U of M over 80 years ago and has seen many of her nieces and nephews also graduate from the U of M.
Chiswell, Betty [BA/51] celebrated her 90th birthday in Oct. 2014. The occasion was not only celebrated by family and friends, but also by her home city of Houston, Texas, which declared Oct. 25, 2014 as "Betty Chiswell Day."
Chuchman, Andriana [BMus(Perf)/04] made her LA Opera debut as Lauretta in Puccini's comic masterpiece Gianni Schicchi, with Placido Domingo in the role of Gianni Schicchi. Woody Allen directed the performance.
Czuboka, Michael [BA/58, MA/60, CertEd/66, BEd/67, MEd/75] has published a novel called Manifest Destiny about the experiences of a Canadian soldier in the Korean War. Czuboka himself served in the war in the 2nd Battalion, Princess Patricias Canadian Light Infantry. This is the author's fifth book.
Einarson, John [BA/73, CertEd/78] received the Order of the Buffalo Hunt from the province on Jan. 8 for his contributions to Manitoba's culture through his books as well as his dedication to preserving Manitoba's rich musical history.
Funk, Karel [BFA(Hons)/97] will have his work exhibited by the Winnipeg Art Gallery from June to Sept. 2016. Funk is well known for his hyper-realistic portraits featuring people in Gore-Tex outerwear.
Graham, Stephanie E. [BFA(Hons)/10] had her original work featured at the Agora Gallery in Chelsea, New York City in March as part of the exhibition, From Here to There.
Gutkin, Calvin [BScMed and MD/69] received The College Of Family Physicians of Canada's highest honour, the W. Victor Johnston Award, in Nov. 2015 in recognition of his outstanding leadership contributions to family medicine and healthcare.
Hlady, Deborah [BA/85] has taken up a new role as chair of the English department at Camosun College in Victoria, BC.
Jayas, Digvir [MSc/82], Vice-President (Research and International), was recognized with an Honorary Life Membership by the Engineers Geoscientists Manitoba (formerly APEGM). Jayas is a Distinguished Professor of the U of M and former Tier-I Canada Research Chair in Stored-Grain Ecosystems.
Kay, Guy Gavriel [BA/75], Canada's foremost author of speculative fiction, has a new novel, Children of Earth and Sky, coming out in May 2016. Since 1990, all of Kay's books have become national bestsellers. His books are published in over 25 languages.
Koslowsky, Rob [EE/81] has released a new book, Breach of Trust: A Laura Paige Murder Mystery, a compelling synthesis of the modern day battle between the environmental movement and America's energy barons.

Matrick, Lawrence E. [MD/57] has published a book on how to cope with the aftermath of a motor vehicle accident. The unique book, Road to Recovery, covers: aspects of insurance, legal and medical; the types of injuries that occur, both physical and mental; and the various therapies involved for recovery.

McKenzie, Kael [BA/03, LLB/06] made history in Dec. 2015 by becoming the first self-identified transgender judge in Canada. The Manitoban judge, who is Métis, received an outpouring of support from family, friends and strangers from across the country. "I'm just so grateful for the faith that's been bestowed upon me," said McKenzie.
Nowosad, Curtis [BJazz/11] has been nominated for a Juno Award in the Best Jazz Album of the Year: Solo category. The New York-based drummer, composer and bandleader's critically acclaimed sophomore album Dialectics (Cellar Live) was released in March 2015.
Secter, Harvey [BComm/67, LLB/92] was re-elected as Chancellor of the U of M for a third term, starting June 1, 2016. Secter, a highly respected business, community and academic leader with a long history with the university, has served as the 13th Chancellor of the U of M since Jan. 2010.
Stevan, Diana [BScHEc/63, MSW/72] has published her second novel, The Rubber Fence, inspired by her work in a psychiatric ward in 1972.