From the President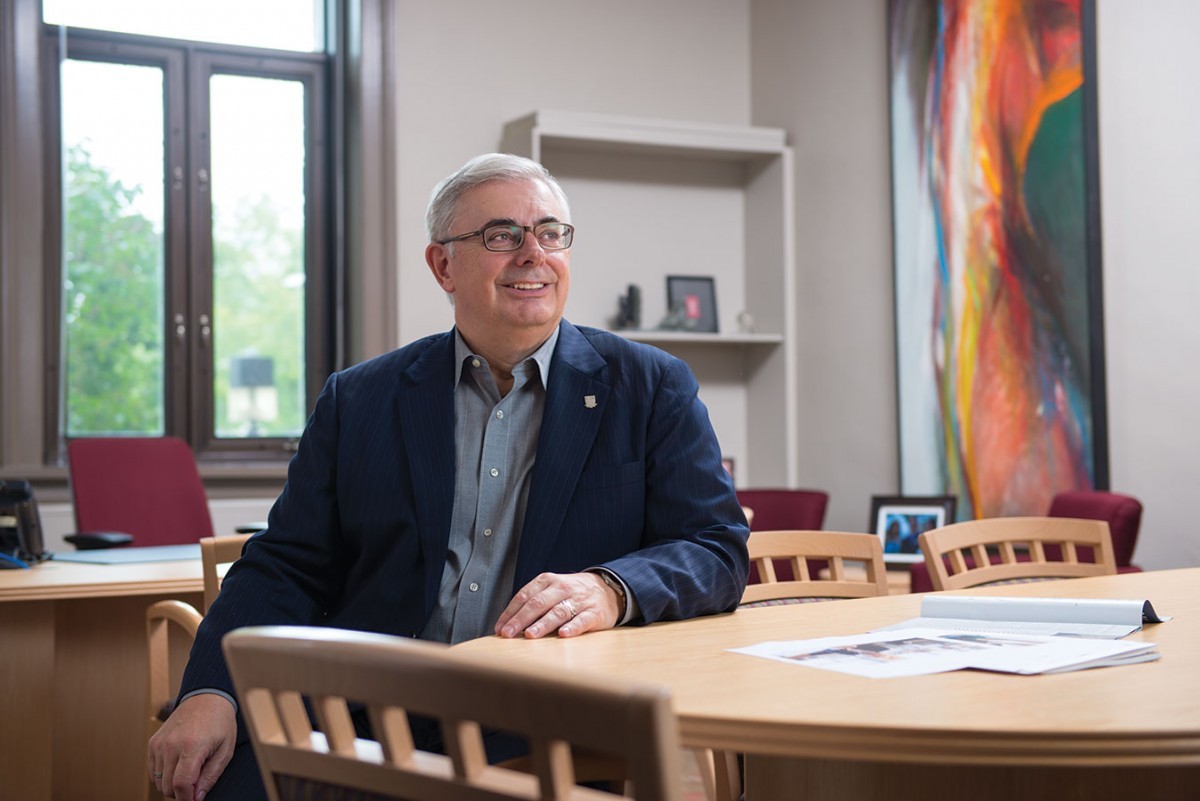 Evolving the University
Fall 2015
There is continuity of purpose and experience between universities in the last century and universities now. But universities have also always been evolving, not only to meet the needs of the communities they serve but to contribute solutions to pressing challenges faced around the world.
This is as true at the U of M as elsewhere, and is true in every aspect of our work: learning, discovery and engagement. Late last year, our Senate and Board of Governors approved a new strategic plan for the university, which—after an extensive period of consultation and conversation—affirms the path we have been following while also defining how we will evolve over the next five years.
For instance, support for and recognition of the critical role teaching plays within the university have never been greater. The traditional model of lectures and labs has evolved to include rich experiences in community service-learning, cooperative education, undergraduate research and student exchanges. Advances in technology have shifted how we think about what constitutes a classroom, and how students can and should engage in their learning. And opportunities continue to increase for faculty members to grow their expertise in teaching, and to be recognized for it.
Discovery—the U of M's scholarly and research work—enhances our common human experience, and addresses fundamental questions and applied issues in many disciplines and geographical settings. Once considered to be primarily the domain of faculty and graduate students, research now plays an important role in undergraduate work. We know that such experiences inform and enhance our students' learning and support their future success. Our expertise in a wide variety of disciplines means that students from across the university will be able to engage with high-quality and innovative research, scholarly work and other creative activities.
The third essential activity, engagement, occurs because scholars embrace the opportunity to have their work understood and used to enrich our collective experience. The curiosity and love for a discipline that make good researchers, coupled with a caring commitment, fuel the broad engagement that U of M researchers—faculty and students—have with the larger community of alumni and citizens. We have changed the ways in which we connect with our communities through means such as providing easier ways for those outside the university to work in partnership with our researchers, broadening the service 
and internship opportunities available to students, and modernizing the ways in which we communicate.
In all of this, the university's commitment to Indigenous achievement has assumed even greater prominence, demonstrating our resolve to make a major contribution to the necessary reconciliation between Indigenous people and other Canadians. As fundamental as the university's mission, vision and values is our pledge to pursue "a renewed relationship and dialogue with First Nations, Métis and Inuit peoples based on the principles of mutual trust, respect and reciprocity" and "to move forward in partnership with Indigenous communities in a spirit of reconciliation and collaboration."
I am inspired by the commitments we have made in our strategic plan, and I am confident that as a community we will achieve our goals. Much of this confidence rests in the fact that supporting our strategic plan is the Front and Centre campaign, which launches on October 3, 
2015 as part of Homecoming celebrations. The largest philanthropic campaign in the history of this province, Front and Centre aligns closely with the university's strategic plan.
Together, Taking our Place: University of Manitoba Strategic Plan 2015–2020, and the Front and Centre campaign, will transform our university, our province and our world. I encourage you to find your place in this truly momentous change.