Insight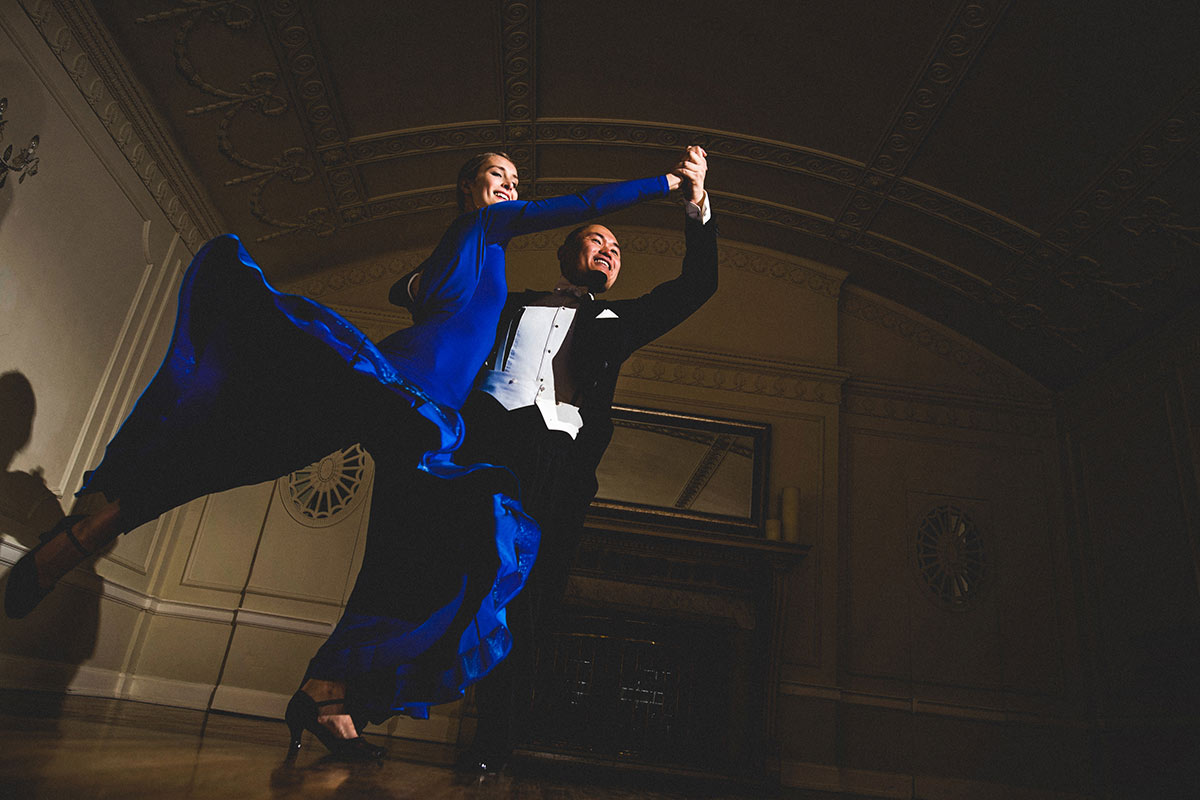 Dancing into New Era
Fall 2020
The Zoom screen lights up and there he is: the consummate dancer and Tai Chi enthusiast at home, smiling, athletic and relaxed in a sporty blue jersey. Swords hang on the wall over one shoulder and a black and white Chinese scroll over the other in what he later describes as his "meditation corner."
In his day job, Horace Luong is a UM organic chemistry senior instructor, but he's also a competitive ballroom dancer and has studied and taught Tai Chi for more than 30 years.
He painted the scroll and translates:
"In the early stages of learning there can be a teacher to transmit the verses, but there is not a form in kung fu skill which doesn't come about from self-study."
Luong says the poem neatly summarizes his own teaching philosophy; we must study ourselves and "learn how to learn."
That mission took on new dimension once teaching shifted in response to the pandemic. Luong, who is associate head of chemistry (undergraduate), spent his spring moving organic chemistry lab programs online. Some classes he live-streams on YouTube and others are taught with Zoom. They're close-captioned so students can pick their own language and he's careful to have a webcam not only on his penned scribbles but also on himself so students feel like he's still talking to them.
Honing his skills as videographer, Luong will film an experiment in progress, inviting students to catch rookie technical mistakes or call out dangerous errors in safety.
The COVID-19 lockdown has brought an explosion of collaborative teaching software. Luong now uses many options, but especially likes the drawing tool that gives him an interactive whiteboard function. "You can annotate notes with the students and draw things with them," he says. "It's really helpful with chemistry because it's so visual and you need to draw structures."
Mindful of new trends, he anticipates greater uptake of video peer-to-peer learning, and AI for things like assessments and marking, but says professors are already very concerned about maintaining academic integrity for online exams.
Luong is also part of a movement towards more open education resources to reduce our reliance on textbooks. Shortly after the coronavirus emerged, a colleague in Ottawa put together a series of Canadian resources, including some of Luong's videos, to be shared among universities and colleges.
"Basically the idea is, if a professor needs to come up with something quickly, I've already done that work and you can just use it with provided permission."
Virtual breakout rooms are also important since students need to get together.
"One of the things I was encouraged to understand early on in my Tai Chi teaching and ballroom teaching is to let people connect. It encourages them to come back."
The 39-year-old says he's tried to create an alchemical blend of the arts and science—a daVinci-esque celebration of the intellectual, physical and spiritual. Sometimes, to discuss a particular chemical reaction, he'll post ballroom competition photos, making comparisons between the movement of molecules during a chemical reaction and the behaviour of partners as they move around a dance studio floor.
"I think students enjoy the discussion and it seems to connect the chemistry content quite well."
He'll even find former chemistry students in the beginner dance classes he teaches at UM's Active Living Centre.
"On occasion, I have the privilege of choreographing their first dance at their wedding."
The son of Vietnamese refugees, Horace Luong has been ballroom dancing for over 18 years and travels the world to train and compete. He completed his Canadian Dancesport Federation exams in 2012—a gruelling technical evaluation that he says was "more difficult than doing his PhD defense." The sought-after instructor also serves as a board member for the North American Same-Sex Partner Dance Association.