Alumni POV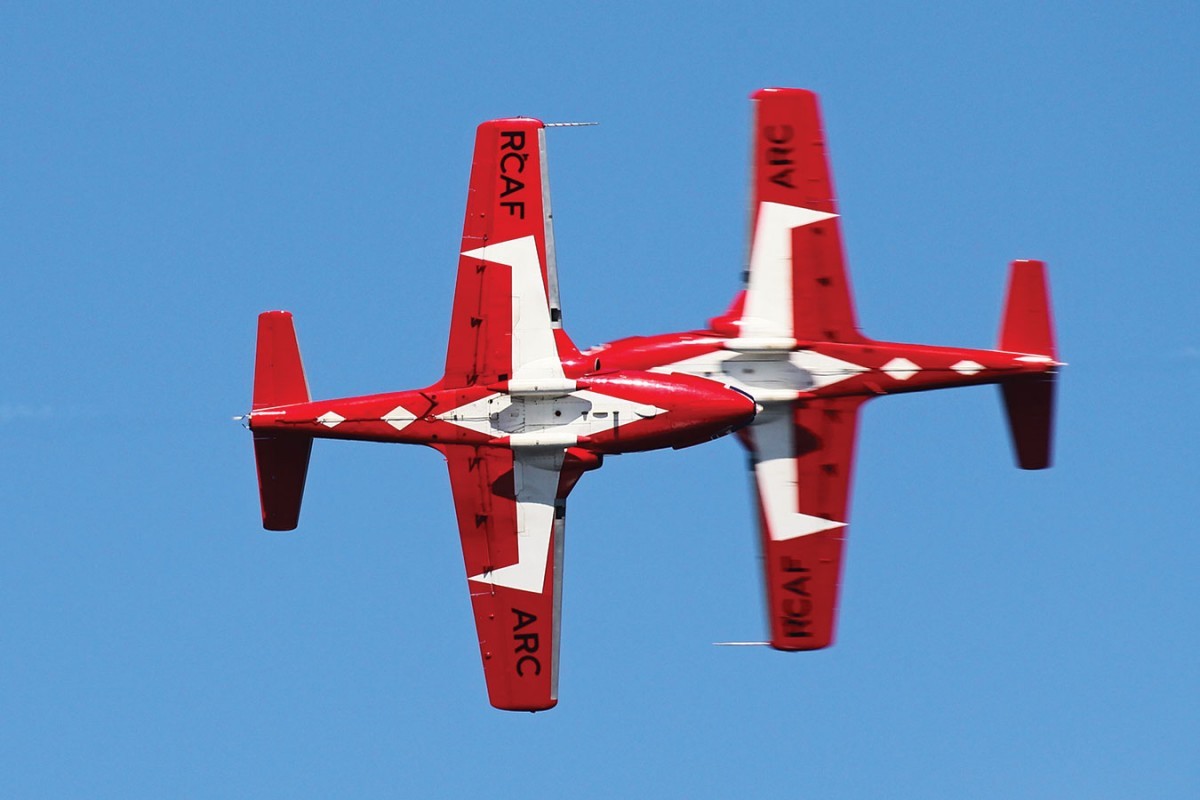 Aggie in the Air
Fall 2015
I throttle the Canadair CT-114 Tutor jet up to 300 knots (560 km/h) and angle the plane so that it is perpendicular to the ground 300 feet (90 metres) below. I can't see the crowd of people watching, but I know the they are there enjoying the show. In just a few seconds I will perform a head-on pass with another Snowbird approaching at the same speed. When we cross in a blur, a mere 15 feet (5 metres) separate our planes.
Not bad for an Aggie who started flying at Harv's Air in Steinbach, Manitoba.
This is my second year as a pilot with the Canadian Forces Snowbirds, my first as lead solo. I've performed at over 100 air shows for thousands of aviation enthusiasts from coast to coast. It's exhilarating and rewarding.
Flying wasn't always in the cards for me. I come from a family of Aggies. My grandfather graduated from the Faculty of Agriculture (now the Faculty of Agricultural and Food Sciences) at the University of Manitoba in 1938. My father did the same in 1969. My brother in 1997. And, in 2002, I received my degree as well.
It was during my time at the U of M that I took an active interest in flying, getting my pilot's license at Harv's Air and developing a passion for aviation that propelled me to join the Canadian Forces in 2004 and the Snowbirds in 2013.
Air show season lasts from May to October. It is preceded by three weeks of dress rehearsal in Comox, British Columbia where we complete two full shows a day, six days a week. During this time we fine-tune every part of the performance, from what our uniforms look like to integrating our maneuvers to perfection. (And yes, we even pick what music to use.)
We strive to fly mostly Canadian air shows, doing as many as 50 during the six-month season. I only get to spend two or three weeks of that time at home—if I'm lucky.
But it's so rewarding to get to know and feel the warmth of the communities that host us. It's also an amazing way to see North America. In my time with the Snowbirds, I have had the pleasure of zipping past the CN Tower and the Statue of Liberty. I have flown over the Gulf of Saint Lawrence to Newfoundland, above the Great Lakes and up and down North America's east and west coasts.
Again, I say, not bad for an Aggie who started flying in Steinbach.

MEET THE AUTHOR
Morgan Strachan [BscAgric)/02] grew up in Carman, Manitoba. He joined the Canadian forces in 2004 and is currently a pilot with the Canadian Forces Snowbirds.