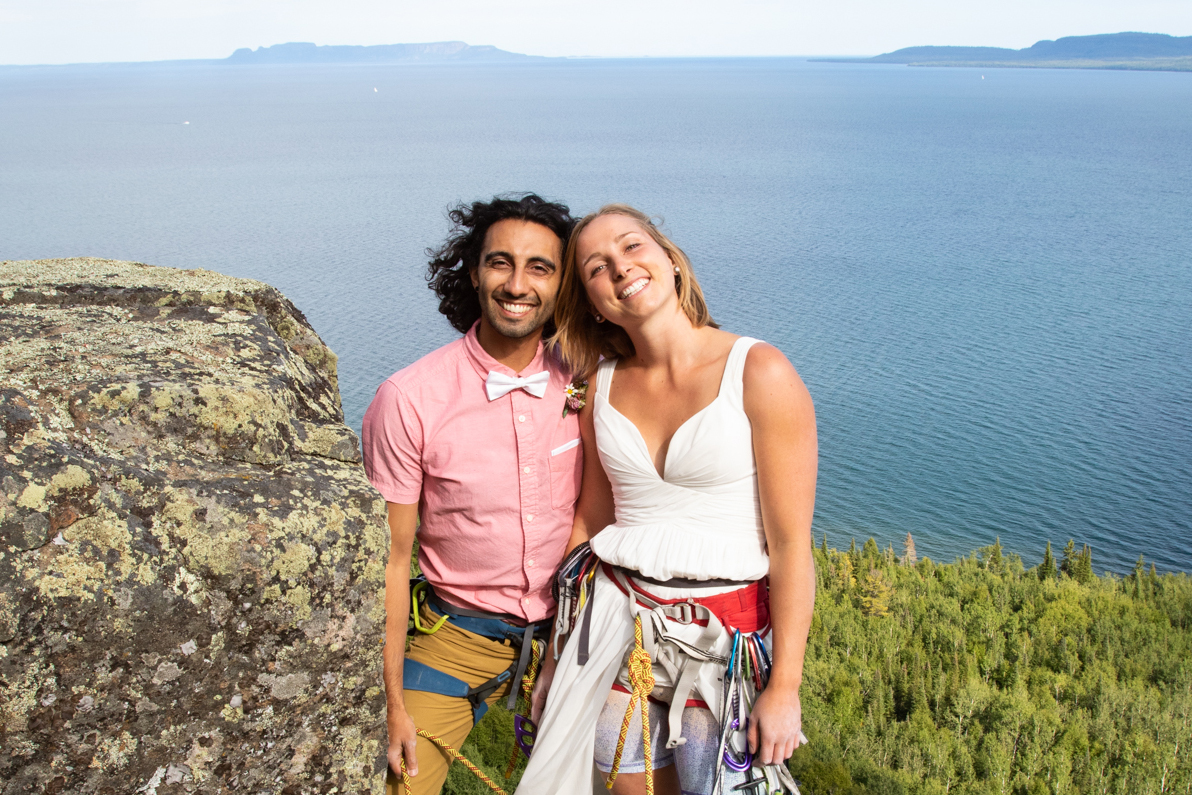 When climbing leads to love
A retrospective on Jocelyn Plouffe and Mario Ferreira's 2019 cliff-top wedding
March 2, 2022 —
On a long weekend in September in 2019, two of our ALC staff members—Jocelyn Plouffe and Mario Ferreira—tied the knot at the top of a cliff near Thunder Bay, ON.
Climbing had been a significant part of Plouffe and Ferreira's relationship since they started dating. The two didn't want a conventional wedding, so they opted to clip in and get hitched cliff-side, Ferreira wearing a button up and Plouffe in a thrifted white gown, with her harness underneath. Alongside a small group of friends and their exceptional photographer, Garrett Fache, they climbed a scenic route that overlooks Lake Superior and Sleeping Giant. At the top, they said their vows and popped some champagne.
In many ways, this moment embodied the overall philosophy of the climbing community, connecting with the natural environment, building community, remaining active, and of course, having fun.
"It was just a fun experience to be climbing in button-up T-shirts and dresses," says Plouffe. "It was a great day," seconds Ferreira.
The two didn't come to climbing at the same time. Ferreria, who currently works at the Hive and with the Climbing Association of Manitoba (CAM) had been climbing some time before he met Plouffe. He started at the club in the Frank Kennedy Centre before the Active Living Centre (ALC) was built and when he met Plouffe they began climbing together as a hobby.
"The sport itself is very inclusive in nature," he says. "It's very much a community-centered recreational activity where people will come together and talk about the wall and talk about the climbs and different body types are able to do the climb in different ways, moving their bodies."
Photos of Joycelyn Plouffe and Mario Ferreira on their wedding day, climbing a route near Thunder Bay, ON, taken by local adventure photographer Garrett Fache
He explains it's an easy sport to do as a couple, because it involves meeting individual goals, which means that people can come to it with different strengths, skill levels and body types. It doesn't hurt that it's also community-oriented and really fun.
"I fell in love with climbing and then I was able to show Joce that too, and she kind of fell in love with it a bit as well," he says.
For Plouffe, a big part of what initially drew her to climbing was the community. "Most of the friends that Mario and I have made since we've been together, almost all of them are through the climbing community," she says. "I was able to create all these special friendships with all these people who have this similar interest, and we would travel to new places . . . it really fostered a love of the sport."
On the topic of travel, Plouffe adds that in the world of Manitoba climbers, Thunder Bay (which according to Google Maps is about an eight-hour drive from Winnipeg) is considered "a close place to travel to."
"It's not so bad, you can leave after work and get there late at night," she explains, laughing. She notes that it's not uncommon for prairie climbers to drive to South Dakota or Utah for climbs, so in comparison the drive to Thunder Bay isn't too bad. But, she adds, there are also some areas people go to climb in the Whitesell or around Kenora that are closer. Though Manitoba is often seen as a dead zone for outdoor climbing, what's good about it is that it's "equally far from a lot of places," she says.
Thankfully for those who can't commit to out-of-town trips, Winnipeg has thriving indoor climbing scene, with places like the ALC, the Hive and Vertical Adventures boasting tons of options for people wanting to integrate the sport into their weekly routines.
Ferreira and Plouffe can vouch for the positive atmosphere at various Winnipeg climbing walls, including the ALC where they both work.
"When new people come to the (ALC) wall it's like 'hi, I'm Mario, this is what we need to talk about before you get started.' I'm introducing myself and then it's kind of like you're making friends right from the get-go," Ferreira explains.
"The running joke is that we need to take the door off the climbing wall," he adds, "I'd say the biggest barrier to the climbing wall is the door."
But, says Plouffe, "you can come in, it's open to everybody, it's a super welcoming inclusive space. So, just show up and we'll figure out how to book you in and get you started."
And both Ferreira and Plouffe can attest, climbing can lead to great places— into large friend groups, to new adventures, beautiful lookouts and beyond.
Though not everyone is brave enough to scale a cliff in a wedding gown, people interested in what the ALC climbing wall has to offer are encouraged to show up, take the first step and open the door.
The FKRM and the University of Manitoba offers a big posthumous congrats to Mario and Jocelyn and wishes them all the best in their future together.
For more information about the ALC climbing wall, visit the Recreation Services website or email our climbing coordinator: Zachary [dot] wronski [at] umanitoba [dot] ca