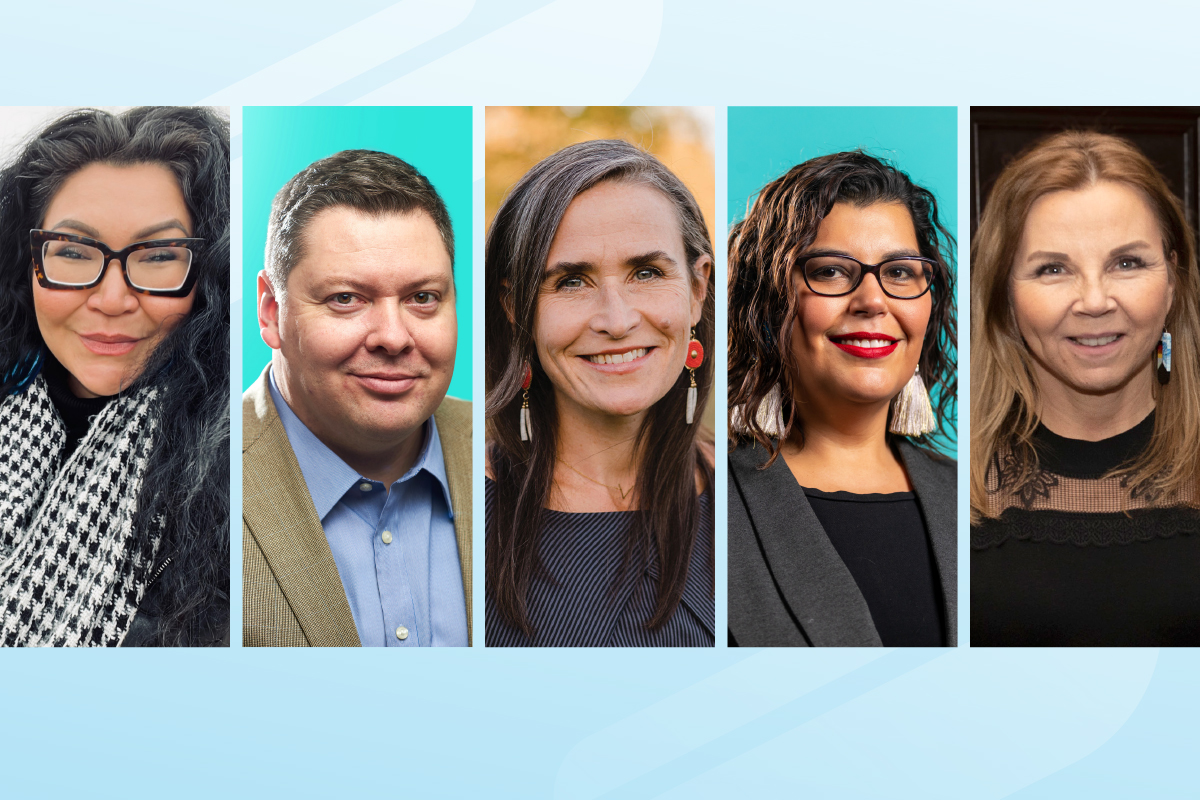 'Weave us all together' 
New Indigenous Senator positions narrow the gap in UM leadership
May 4, 2022 —
Over the years that Dr. Marcia Anderson has been with the University of Manitoba, she has observed the impacts of lack of Indigenous representation on the University Senate.
Throughout her career, Anderson has advocated for a more robust curriculum in Indigenous health and changes in the admissions process that would support the successful recruitment of increased numbers of First Nations, Métis and Inuit students. She perceived that same gap in leadership across UM.
Anderson, who is Cree-Anishinaabe and grew up in the North End of Winnipeg, currently serves as Vice-Dean Indigenous Health, Social Justice and Anti-racism, in the Rady Faculty of Health Sciences at the University of Manitoba. She first joined the university in 2007 and then in 2011 became head of the Section of First Nations, Metis and Inuit Health. From 2017 to 2020 she served as executive director, Indigenous academic affairs, Ongomiizwin-Indigenous Institute of Health and Healing, at UM.
"In all of the different arenas that I work in, I have seen how important it is to have Indigenous people participating in decision-making at all levels of the institution," says Anderson.
Now she is one of five new Indigenous Senators to the membership of UM Senate, as announced in April 2022. The new positions are over and above any Indigenous Senators already serving on Senate as representatives for their respective faculty and school councils.
Anderson says that the development is "a great opportunity for the cohort of us to fully participate, and to bring our perspectives, experience, knowledge and connections into university governance. While this will be particularly beneficial to the university's priorities around reconciliation and Indigenous achievement, it will be beneficial to all aspects of university work and life."
Indigenous

leadership at UM

In 2019, the Provost requested a review on UM's needs for Indigenous senior leadership. A report was tabled with recommendations that would address the organizational and structural gaps or barriers that limited Indigenous engagement in leadership at UM.

Under the leadership of inaugural Vice-President (Indigenous) Dr. Catherine Cook beginning in 2020, six projects were identified to address organizational and structural gaps or barriers that cross all of the major UM portfolios, ensuring a shared responsibility to build on the decades of work started by Indigenous leaders and communities.

The recent senate reform addresses a key recommendation of the Indigenous Senior Leadership Report (2019), which highlights primary action areas including Executive and Senior Leadership, Programmatic Leadership, Faculty and Administrative Units, Campus Community and Governance and Administrative Infrastructure at UM.

The Report's recommendation 5, "Weave Us All Together—Governance and Administrative Infrastructure," states that "Indigenous self-determination and leadership must be embedded within the governance structures of the university."

Cook says that she's excited about the prospect of having greater Indigenous representation on UM Senate.

"It is important that we have Indigenous scholars and students participating in this work to bring Indigenous perspectives and experience to the decision-making specific to the academic issues of admissions, curriculum and scholarship at the University of Manitoba. This will support the goals of Indigenous students and scholars and the University overall."

President Michael Benarroch says, "This step is significant in the ongoing development of a university-wide approach that advances the commitment to Indigenous engagement, promotes Reconciliation and helps address anti-Indigenous racism.

"We are grateful for these individuals to serve in positions that will help to enhance UM's executive and senior Indigenous leadership."
The new
Indigenous
Senators
Elected for three-year terms for the period of June 1, 2022 to May 31, 2025 are:
Marcia Anderson, Max Rady College of Medicine, Rady Faculty of Health Sciences
Margaret Hart, College of Rehabilitation Sciences, Rady Faculty of Health Sciences
Jeremy Patzer, Faculty of Arts
Elected for two-year terms for the period of June 1, 2022 to May 31, 2024 are:
Debra Beach Ducharme, Max Rady College of Medicine, Rady Faculty of Health Sciences
Melanie Morris, Max Rady College of Medicine, Rady Faculty of Health Sciences
See more information on the Election of Indigenous Senators to the University of Manitoba Senate (2022) webpage (UM Governance > Senate).