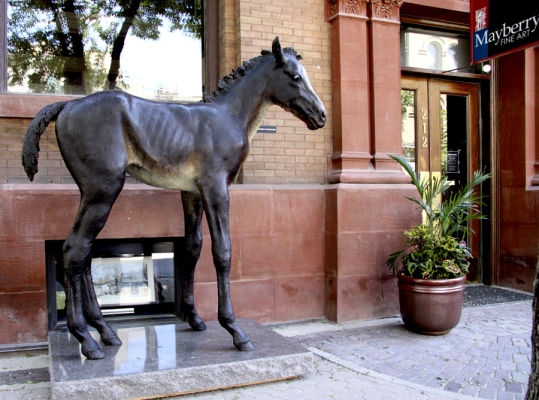 UM remembers visual artist Joseph Fafard
Gifted sculptor, and UM alumnus, renowned for craftsmanship and artistry
March 16, 2019 —
Raised on a farm in Saskatchewan, Joseph Fafard [BFA/66, LDD/07] brought the spirit of the prairies to his work, which often depicted pastoral images of animals, as well as neighbours and friends. Many Winnipeggers will recognize his sculpture of a horse – "Peggy" – which stands outside Mayberry Fine Art in the Exchange District.
Born in 1942 into the rural French-speaking agricultural community of Ste. Marthe, Saskatchewan, Fafard worked on the family farm with an innately keen observation and appreciation of the animals around him. As a young man he studied fine art at the University of Manitoba and went on to earn a Master of Fine Arts in 1968 from Pennsylvania State University.
He returned to Saskatchewan and taught sculpture at the U of S from 1968 to 1974, when he was driven to commit to working with sculpture full-time. Save for a teaching engagement at the University of California at Davis in the early 1980s, Fafard worked and lived in Saskatchewan for most of his life.
In a distinguished career as an artist, Fafard was the modest recipient of many awards, including the Order of Canada in 1981, and the Royal Architectural Institute of Canada Allied Arts Award in 1987, the Saskatchewan Order of Merit in 2002; the National Prix Montfort in 2003; and the Lieutenant Governor's Saskatchewan Centennial Medal for the Arts in 2005.
"He was able to look past the familiarity of subject matter and see the world with affection and empathy. I was continually inspired by his work and was honoured to know him. He will be missed," said David Barnard, U of M president and vice-chancellor.
Joe Fafard died at his home in Lumsden, Saskatchewan.