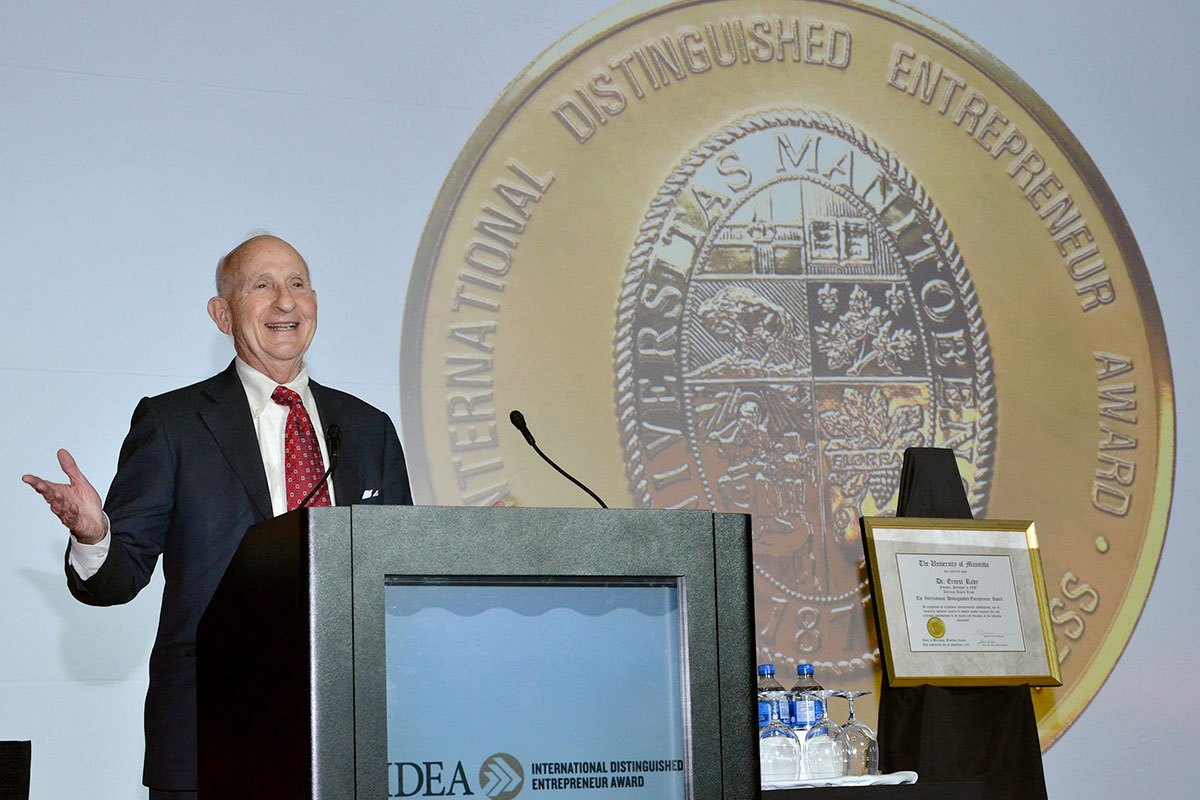 UM alumnus Dr. Ernest Rady receives 2021 IDEA award
Dr. Rady honoured at IDEA event to celebrate his community impact and leadership
November 19, 2021 —
UM alumnus and visionary Dr. Ernest Rady [BComm/58, LLB/62, LLD/15] received the 2021 International Distinguished Entrepreneur Award (IDEA) from The Associates of the Asper School of Business at the RBC Convention Centre on November 17, 2021.
The international business leader, entrepreneur and philanthropist was recognized and celebrated at the IDEA gala for his entrepreneurial achievements and significant contributions in both n Canada and the United States. Dr. Rady's impactful philanthropic and volunteer work has advanced medical education, the health and well-being of children, and scientific research.
In 2016, Dr. Rady, along with his wife, Evelyn [BA/60,BSW/61,MSW/67] donated a transformative $30 million – the largest-ever personal gift to the University of Manitoba – to the Front and Centre campaign in honour of his father, Dr. Max Rady [MD/21], a Russian emigrant and the namesake of the Max Rady College of Medicine, and mother, Rose Rady. UM health sciences students now graduate from the Rady Faculty of Health Sciences.
The Rady Foundation gift, along with Dr. Rady's passion for philanthropy and commitment to the community, is propelling teaching, learning and research at UM. The gift's endowment fund bolsters financial aid to support more students accessing post-secondary education and creates pathways to advance ground-breaking research. The Rady Innovation Fund has allowed UM researchers to study how machine-learning algorithms can determine inherited health risks like diabetes, heart disease and asthma in offspring; to develop a living lab for pediatric rehabilitation research that involves knowledge-sharing of young patients and their families; and to use the latest techniques to investigate cellular level deficiencies in a rare and severe neurodevelopmental disorder.
"I know this (event) is honouring me, but it really gives me a chance to say 'Thank you' to this community, for giving me the chance to honour you all," said Dr. Rady. "Because you gave my family freedom, you gave my family an occupation, you gave me an education and you gave me a great start in life.
"I'm grateful to you for what you gave me."
During the IDEA dinner Dr. Rady was also invested with the the Order of Manitoba which was presented to him by Chief Justice Richard Chartier and Chief of Protocol, Mr. Brad Roberston. He was awarded the province's highest honour for his outstanding contributions to enrich the social, cultural economic well-being of Manitoba and its residents at a virtual event. Wednesday's dinner provided an opportunity to recognize this prestigious achievement in-person.
Dr. Rady, born and raised in Winnipeg, followed in his father's, and sisters' footsteps to study at the University of Manitoba. He received both the Law Society Award for Academic Achievement in Law and the University Gold Medal in Commerce and was a member of the Manitoba Bar Association.
After receiving his commerce and law degrees from UM, Rady moved to San Diego, California in 1966. He went on to found and oversee several highly successful, private and publicly traded corporations including American Assets Trust (AAT), a real estate investment trust with a market value of approximately USD $4 billion where he currently serves as chairman, president and CEO; and Insurance Company of the West, a multi-line property and casualty carrier now part of ICW Group Holdings, with approximately USD $3.6 billion in assets. While CEO of ATT and executive chairman of both companies, Dr. Rady also founded and grew Westcorp, a financial services company now part of Wells Fargo, into a $17 billion-plus company.
Since 1984, the Associates of the I.H. Asper School of Business at the University of Manitoba have presented the IDEA award to 38 outstanding entrepreneurs who have made an exemplary contribution to global economic life.
"As a business leader and philanthropist, Dr. Ernest Rady's legacy at UM, throughout this province and globally, is simply astounding," said University of Manitoba President and Vice-Chancellor Dr. Michael Benarroch. "We are truly grateful to have this opportunity to honour him for his remarkable investments in the future of medicine through the Rady Faculty of Health Sciences as well as his many other immeasurable contributions."