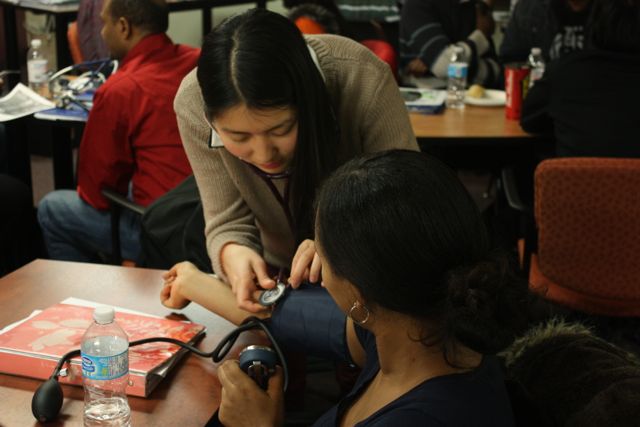 The University of Manitoba Helping Newcomers
March 27, 2015 —
The University of Manitoba's English as an Additional Language (EAL) program has helped thousands of immigrants reach their career, academic and social goals.
Established in 2009, the Adult EAL Program for Newcomers (AEPN) offers English language classes to immigrants in Manitoba to help them develop the communication skills needed for the workplace, for access into educational programs, and for everyday life.
This spring, students in the EAL Program for Newcomers and second year medical students from the Faculty of Health Sciences participated in a collaborative "skills night".
This event was organized by the Immigrant and Refugee Health Group, a student group created with the goals of increasing U of M medical student exposure to issues relating to immigrant and refugee health. EAL students learned about what to expect when they visit their family doctor, how to find a family doctor in Winnipeg and were also able to "role-play" made-up doctor-patient scenarios.
According to Allison Marmel, a second year medical student and chair of the Immigrant and Refugee Health Group, "Skills Night" was a great success and learning experience for the medical students as well.
"The feedback from the medical students was overwhelmingly positive," Marmel said. "They really enjoyed the chance to practice their communication skills and share their medical knowledge with the EAL students. They also benefitted from learning about the health concerns that are relevant to new immigrants to Winnipeg."
The Adult EAL Program for Newcomers is run by Extended Education in partnership with the federal government and is located and coordinated from the Massey building downtown (294 William Ave). At present, the program has 17 classes, with a total of 360 students, from over 50 different countries.