Donor Stories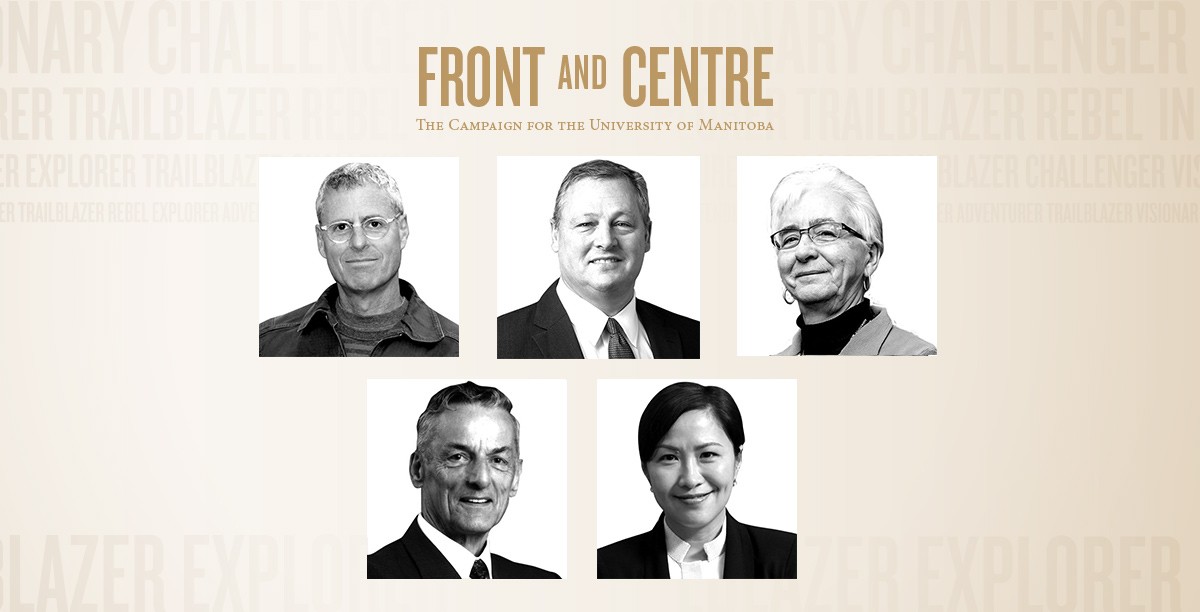 Taking Their Place
Fall 2015
At the centre of every successful fundraising campaign you will find people. People whose inspirational stories remind us that we can all make a difference in our community, and beyond.
Paul Soubry
For Paul Soubry [BComm(Hons)/84], university is "a place where we grow people."
"We go from high school, where you live in this little cocoon and you are protected—you're really not worldly in any way shape or form—to university and your eyes grow wide at how big, how broad and how diverse the community is," he says.
Therefore, to make a difference for the next generation, "the natural and logical place is the university setting; providing a world-class education and also a world-class environment to inspire people to go on and do great things," he adds.
And Soubry, now a pillar of Manitoba's business community, has committed to doing just that.
Soubry and his wife Christine gave to the new state-of-the-art Active Living Centre. To them it's a way to not only enhance the student experience, but also empower students to lead healthy, prosperous, and community-oriented lives.
"As a kid coming out of high school it's not as obvious that physical and mental health, in addition to getting a degree, are part of the learning experience," Soubry says.
Helping young people develop is "like planting and watering a seed," he says. "They're going to continue to grow and develop and nurture the community going forward."
Juliette (Archie) Cooper
When asked what makes her tick, Juliette (Archie) Cooper [BOT/79, MSc/82, PhD/87] has a straightforward answer. "I work at the university and I contribute to the university because it's what I like to do. It keeps me happy."
With an employment record at the University of Manitoba that spans an impressive 40 years, and a monthly donation record nearly as long, Cooper seems very happy indeed. And the U of M is a better place because of her.
Over the years, she has given generously to the Medical Rehabilitation Endowment Fund, and has been an unwavering benefactor of the Neil John Maclean Health Sciences Library—what she calls "the jewel of the Bannatyne Campus."
Upon her retirement, her love for research inspired her to fund a lectureship in rehabilitation science that will bring in experts from all over the country to share their unique research expertise.
A leading thinker in the field herself, Cooper understands the value of interdisciplinary research in disability and rehabilitation.
"It's not just having an architect or a traffic engineer design a better street," she says. "You also need people who understand the social context of disability, or who understand the physical requirements, or the social requirements, or the cognitive requirements of environments in which people with disabilities live."
Jeff Kushner
When Jeff Kushner [BA/82, BSc(ME)/87] set up a scholarship for LGBT students in the Faculty of Engineering, the first of its kind in Canada, he wasn't trying to make a statement about the challenges he's faced as a gay engineer in the oil and gas industry—in fact, he's enjoyed an extremely rewarding and gratifying career.
Kushner, who established the scholarship with his partner Randall McGinnis, was much more concerned with helping his alma mater foster academic excellence in a group not usually thought of as being part of the mainstream engineering community.
"Engineering is not typically known for its diversity or inclusivity," Kushner says. "Any way that we can improve inclusivity or otherwise support women, Aboriginal people, or in this case members of the LGBT community as engineering students will help them as individuals, strengthen the university, and provide benefits to our society as a whole"
Kushner recognizes there's still work to be done in this regard, but notes that society and culture are evolving in a positive way.
"I'm just trying to offer another brick in the foundation of cultural change, which encourages acceptance of all groups," Kushner says. "Engineers will benefit, engineering will benefit, society will benefit, and individuals who really want to pursue that career should be given any encouragement that's available to them."
Esther Suen
There's an old Chinese proverb that Esther Suen [BComm(Hons)/85] likes to share, "It is better to travel a thousand miles than read a thousand books." As a native Hong Kong business leader, Suen knows the value of international education, especially in global commerce.
"The business world, in fact, the entire world, is as we are all aware becoming increasingly globalized and the barriers between nations are crumbling every day," Suen says. "Yet even as more people communicate in one language, there are still vast cultural differences, and if you don't thoroughly understand this, it can lead to misunderstandings."
While she appreciates how important it is that today's students have the opportunity to experience the world, Suen also recognizes that international travel can be very expensive. That's why she has chosen to support exceptional graduate and undergraduate students who are seeking a global perspective and awareness, but who may not have the financial means to access it.
"I hope that my gift can level the playing field somewhat, by giving the less-advantaged students the same chance to acquire this invaluable experience, so they can enter their careers feeling more confident, and knowledgeable when dealing with people of other cultures."
Derek Riley
When Derek Riley [BComm/43, CA/49] looks back on his extraordinary life, a number of experiences stand out. He served aboard a Canadian Navy destroyer during the Second World War, he represented Canada at the 1952 Summer Olympics, he built and sold a multi-million dollar company, and he was inducted into the Order of Canada—to name a few.
But one experience in particular inspired this modest businessman-cum-philanthropist to give to Indigenous achievement at the University of Manitoba. In the late 1980s, after becoming the founding chair of the newly named North West Company, Riley found himself travelling between many of Canada's northern Indigenous communities.
He was shocked and saddened by the low standards of living and education he witnessed, and was inspired to affect change. "It's going to take time, but I think the only answer is education."
By establishing an entrance bursary and mentorship programs for northern Indigenous youth, Riley wants to reinforce success and support Indigenous role models like community leader Robert Falcon Ouellette.
"We need another 10 [Ouellettes]" he says "If we can get another 10, we can get 10,000 more."
---
Related stories: