manitoba great lakes project News Archive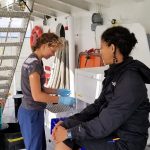 September 12, 2018 —
It's 5:00 AM. My cabin mate and the science coordinator, Morgan, gets up and leaves. She'll figure out the plan for the day based on the weather with the captain of the MV Namao so that we can start sampling for the Manitoba Great Lakes Project.
+