James W. Burns Leadership News Archive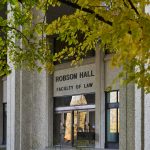 September 10, 2021 —
This summer was unusual for 3L Shawn Singh. For one thing, he worked as a research assistant for Assistant Professor Brandon Trask, published three articles including two in the Manitoba Law Journal, and one in a book published by Springer Nature. He got married – that was huge. Oh yes, and he was the only law student to be selected to take part in the University of Manitoba President's Student Leadership Summer Program.
+