Information Services & Technology News Archive
December 2, 2019 —
The Information Services and Technology (IST) is pleased to announce that our Client Services department has changed its name to IST Engagement Services. "We are excited about the new department name. It reflects the importance of engaging with our colleagues, partnering with faculty, staff, researchers and students and focusing on long-term relationships with our peers at the university," says K-L Holter, Director, IST Engagement Services.
+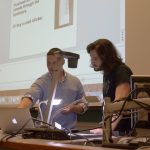 August 6, 2019 —
Want to take the stress out of the first day of teaching and feel confident using your electronic classroom? We can help! IST Audio-Visual is hosting demonstrations of the university's installed classroom and portable audiovisual equipment.
+