Co-curricular record News Archive
September 29, 2020 —
UM offers many programs that can help you get connected, meet other students with similar interests and make the most of your post-secondary education. Just because you're learning remotely, doesn't mean you are going through your university journey alone.
+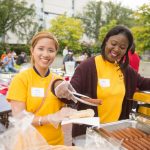 December 6, 2017 —
Interested in helping out at an event on campus? The University of Manitoba Volunteer Program (UMVP) allows you to gain experience by lending a hand in support of various U of M initiatives.
+