Astronomy and Physics News Archive
April 30, 2021 —
UM physicists Drs. Juliette Mammei and Micheal Gerricke are part of an international research experiment that has made the most precise measurement yet of the neutron distribution in a heavy nucleus, with implications for the structure of neutron stars. Their paper, Accurate Determination of the Neutron Skin Thickness of 208Pb through Parity-Violation in Electron Scattering has just been published in the Physical Review Letters.
+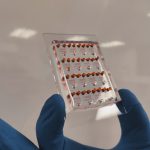 April 16, 2021 —
Researchers at the University of Manitoba have developed a credit card-sized device to test for chronic kidney disease so compact and inexpensive that patients will be able to take the test at home. Test results would be available in just five minutes from a handheld device, called the Microfluidic Albumin Testing Lab on Chip (MATLOC).
+