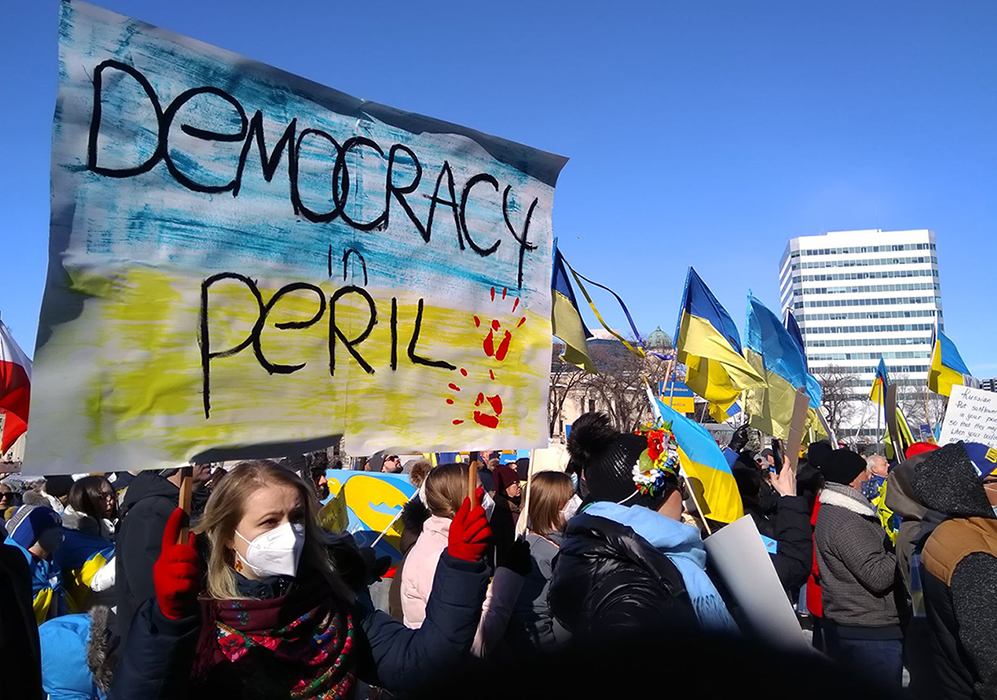 Rady Faculty students aid Ukrainian relief effort
March 9, 2022 —
Two weeks ago, Roma Zayats was a PhD student in immunology at the Max Rady College of Medicine, looking forward to international conferences, graduating and moving on to the next phase of her career.
Suddenly, her life changed when Russia led a full-scale invasion of her homeland, Ukraine. Now Zayats, who immigrated with her family to Canada in 2006 from the city of Ivano-Frankivsk in Western Ukraine, can't stop thinking about the safety of her family and friends in the war zone.
When Zayats heard the news of the Russian attack, she gathered with her mother and sister to talk.
"We just couldn't believe it," Zayats said. "Our bodies and minds were simply just paralyzed with fear. Now, the first thing I do each morning is check that my loved ones in Ukraine are still alive, which is just a horrible thing to even say."
Zayats felt she had to help her homeland in any way she could, so she has been assisting the Ukrainian National Federation (UNF) with the collection of medical supplies to be sent to Ukraine. She said they received so many donations of supplies that the logistics of shipping everything to Ukraine was no longer manageable.
The UNF has switched its focus to aid incoming Ukrainian refugees and are now asking people to make monetary donations, she said.
Alon Golubchik, a first-year medical student at the Max Rady College of Medicine, also felt a strong need to help the Ukrainian people.
"While I'm not ethnically Ukrainian, I do have a very deep personal connection to Ukraine because both sides of my family lived there and called Ukraine home for a very long time. I'm very empathetic to the struggle of the Ukrainian people who are currently fighting for peace, security and independence," Golubchik said. "I felt like as a future physician, it's my responsibility to seek out injustice wherever it exists and do whatever I can in order to alleviate it."
Golubchik is collecting items to be sent to Poland and then distributed in Ukraine. He's asking people to donate medical supplies (including first-aid kits, bandages, syringes and anti-burn gel) and items for soldiers and citizens (such as thermal clothing, tactical backpacks, flashlights and socks).
Golubchik is also helping raise funds for the Canadian Medical Students Aid for Ukraine initiative that is raising money for the Canadian Red Cross.
Other ways to help the Ukrainian people include donating to organizations helping with the humanitarian crisis, such as the Canada-Ukraine Foundation, Doctors Without Borders, UNICEF and the Office of the United Nations High Commissioner for Refugees.
Zayats said that the people of Ukraine deserve all the help people can give them.
"An acquaintance of mine, a talented Ukrainian writer, gave birth on Saturday to her first child in Kyiv in a bunker," Zayats said. "Children don't deserve to be born in bomb shelters. Ukrainians don't deserve to die this way for their homeland. The people in Ukraine are fighting for the democracy of the world, not just their country."
Supports are available to University of Manitoba students and employees impacted by the invasion. Dr. Michael Benarroch, UM president and vice-chancellor, outlined the various supports in a message to the university community.