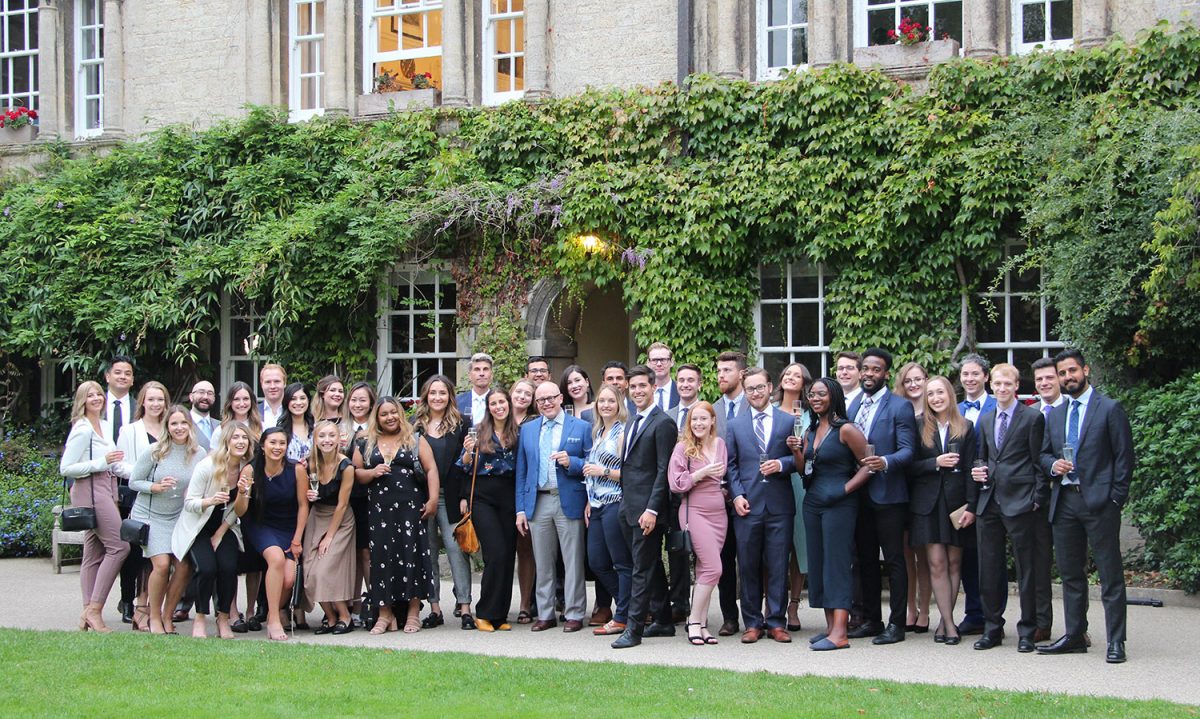 Practicing law in a global village
Robson Hall students gain new perspectives from UK learning experience
September 11, 2019 —
The idea was to expose law students to the actual practice of International Law and all that it entails. The end result was 40 young minds changed forever with new perspectives of what it means to be a lawyer practicing business law in a global economy.
Jet lag is all part of the job when working in the field of International Business Law – that and so much more, as 40 University of Manitoba law students learned this August when they flew to England for a new UM, Faculty of Law two-week international program offered by Robson Hall.
Dr. Jonathan Black-Branch, Dean of Law wanted to make the experience as real as possible for the second and third-year law students who took part in the first Desautels Program in International and Comparative Business Law and Society, a UM Faculty of Law course held at Hertford College, Oxford.
"By creating this program, I wanted to give Robson Hall students the opportunity to experience and witness how the moving parts of a global economy work, with the hope of teaching them that International Business Law is not a remote concept that has nothing to do with our daily lives," said Black-Branch. "As an educator, I feel it is my duty to share my knowledge and experiences with our students, and it was very important to me to help them understand the practice and implications of international law in person through this experience."
Lessons for this program focussed on European Union law and business law within the European and international context. Students learned about laws pertaining to the free movement of peoples, goods, services, and capital in a Europe without borders, and the legal enforcement of the EU Treaties. Importantly, they also learned about the protection of human rights including economic rights.
"It was fascinating being in England, studying European Union law at a time when Boris Johnson's strategies to achieve Brexit were leading headlines around the world," said Dr. Bruce Curran, Associate Dean of the J.D. Program who assisted Black-Branch with organizing the program, and whose own research focuses on labour and employment law, and dispute resolution using empirical methods.
The class did a case study on the BMW and Mini Cooper merger, looking at the effects of automation and artificial intelligence in manufacturing, and at the supply chain and movement of goods within a global economy. This involved a visit to the Mini manufacturing plant located in Oxford.
"As a labour and employment law scholar," Curran said, "I found our tour of the Mini car plant in Oxford fascinating. We got to witness first-hand the impact of the free movement of peoples permitted by EU law: Our tour guide was Romanian, and the workforce at the Oxford plant comes from approximately 70 countries."
The fact of Brexit happening around them served to drive the lesson home for student Nick Noonan, who said the biggest lesson he learned was come to realize "that international business law does not happen in isolation; it is not easily separable from the socio-political realities of the regions." Noonan explained, "We so frequently assume that countries will act in their own best interest, as purely rational actors, yet a close examination of history tells us otherwise. The close examination of Brexit we underwent over the course of the program effectively emphasized this principle, which is something that is vital for every lawyer and businessperson to understand."
Coming face-to-face with workers directly affected by international business law situations had a strong impact on the students. Noonan observed, "It's very easy, at a Canadian law school in the middle of the prairies, to get an insular view of 'our law' as all there is, and our legal institutions as the only legal institutions. When in reality, there is an entire world of different legal systems and vastly differing precedents, with their own legal institutions. Being aware of the true scope of the difference present in the legal community across the world is going to help me to put my legal education in a global perspective."
Similarly, Adam Vander Linden found, "It has opened my eyes to the prevalence of International Business Law in our society. In our modern world, almost everything we do has international implications."
This newfound perspective made student Pio Araneta think differently about his job options: "I think the program nudged me to think in a wider perspective regarding my future career instead of focusing simply on what is directly in front of me in the Winnipeg market," he said. "I think the ability to keep an open mind in terms of being open to new opportunities as well as seeing oneself as capable and able of acting in a more global capacity is extremely valuable, and something that Winnipeg law students often forget about."
Part of the lessons Black-Branch wanted the students to learn related to legal issues surrounding brand management both within a global market and in the context of managing a professional brand of one's own legal practice. Students learned of the legal and ethical choices that lawyers must face in daily practice, to which Araneta attested the Dean "did an excellent job of tying our existing legal knowledge from our studies at Robson Hall and demonstrating how that kind of knowledge and skill-set can be applied in international business contexts."
Vander Linden agreed, saying, "The emphasis on international business law and brand management was interesting as it forced us to think outside of the box and outside of the scope in which many of us normally would."
Being based at Hertford College gave Robson Hall students opportunities to meet other students from around the world. As Noonan found, "The opportunity to take a course here gave me exposure to the degree of work ethic and passion of other students. Furthermore, the casual nature in which people I met talked about their future jobs at some of the biggest Silicon Valley firms helped to put in perspective that these jobs are not necessarily beyond my reach, and will encourage me to reach further and apply broader within my career."
But capturing the whole experience in one – seemingly – mundane tribulation of international experiential learning, was the lesson that student Andrew Weber identified: keeping it together despite jet lag. "Professionalism and academic performance easily suffer without enough sleep," he said, "yet learning to handle this element – which is a skill – is something obviously critical to one's success in the arena of facilitating international commerce."
Robson Hall students will have another International learning opportunity in May of 2020 when Dr. Bryan Schwartz, who holds the Asper Chair in International Business and Trade Law, offers the 10th Annual Israel and International Law program. This three-week program is an academic partnership between the University of Manitoba law school and the Hebrew University of Jerusalem, and is open to Robson Hall law students, Asper School of Business students, and law students across Canada.